Using Cloches in Holiday Decorating
You'll love these ideas for decorating with cloches during the Christmas season. A simple and beautiful way to dress up your home for the holidays!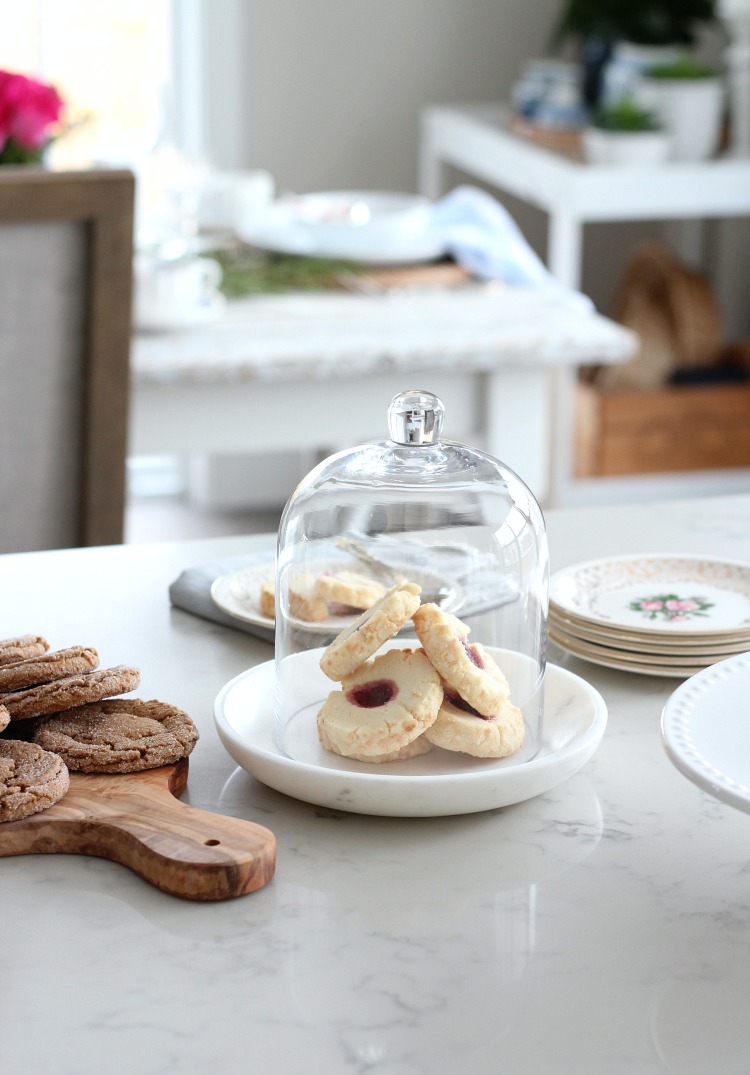 As usual for November, I've been looking for new holiday decorating ideas. Each year, I try to switch up my Christmas decor, even if it's ever-so-slightly. I added photos in small silver-leaf frames to the tree last year, and we replaced the old style exterior icicle lights with some silvery-blue larger bulbs. Small changes are often all you need to create a new look.
I typically don't buy many Christmas decorations. First off, we simply don't have the extra storage room. Secondly, I'd rather invest in accessories that are on display more than a couple months within a year. Agree? Having said that, I decided whatever I added this year needed to be multi-purpose. Then one day, while I was scoping out Pinterest, I spotted this beautifully adorned Christmas Cloche. I had my inspiration!
Decorating With Cloches for Christmas
The options for decorating with cloches during the holiday season are pretty much endless. I've gathered up some of my favourites to inspire you, including ornament cloches, cookie cloches, table setting cloches and more. Simply click on each link to get to get the full details. Enjoy!
This ornament cloche by Craftberry Bush is stunning with a simple mercury glass ball and faux snow. I love how it sparkles next to the Christmas tree lights.
This place setting cloche via The White Company is sophisticated and smart. I love how it makes the simple gift box seem even more special.
My Romantic Home used simple ornaments and pearls to create this winter white cloche. The etched glass cloche and ribbon are so pretty.
I love this collection of cloches filled with trees, ornaments and lights by So Much Better with Age. Be sure to use different heights and sizes of cloches to recreate this look.
This mini wood house Christmas cloche by First Day of Home is so adorable. Follow her step-by-step tutorial to make a set of your own out of scrap wood.
Thistle Key Lane put together this charming Christmas table centerpiece using a cloche, poinsettia, vintage books and mini bottle brush trees.
And, be sure to check out this cloche with bright ornaments and this red ornament cloche too. Such lovely ways to style a cloche!
Some links used in this post are affiliates. Please refer to my disclosure policy for more information.
What to Put Under a Cloche for Christmas
greenery
plants and flowers
pine cones
faux snow
ornaments
decorations
mini lights
small wrapped gifts
battery operated candles
baked goods
As you can see, there are many cloche decorating ideas for the holidays. I look forward to trying each and every one of them! Do you have a favourite?
If you're looking for a new glass cloche, I've rounded up some of my favourites below. Thrift shops are another good source.

Update: See how I used glass cloches to decorate our home for Christmas over the years.
More Christmas Cloche Ideas
In our kitchen, I used a marble serving plate and glass cloche to display Christmas Cookies for our holiday party.
For our dining room, I covered mini bottle brush trees with a small glass cloche to create a vignette on a tray. Next time, I plan on adding faux snow and mini lights to make it sparkle.
I also love this cloche church ornament I used to decorate our mantel for Christmas. If you're wanting to make your own, check out this DIY ornament cloche by my friend Janine.
Are there any new holiday decorating ideas you're planning on adding this year?
Want more holiday and seasonal ideas like these sent directly to your inbox? Be sure to SUBSCRIBE.
Enjoy your day!

This Christmas cloche post was originally published November 2011 and updated with new ideas and photos November 2019.