These gluten-free chocolate oat breakfast bars are perfect for busy mornings or after-school snacks. Simply make ahead and pop in the freezer.
Although I try to eat healthy most of the time, the holiday season has a way of turning those good intentions upside down. It starts with one shortbread cookie, then a tiny piece of fudge, and the next thing I know, I'm eating handfuls of caramel popcorn. Yikes!
Now that it's January, I've hit the reset button and I'm on a mission to clean things up.
One has to be sensible about these kinds of things, though. We lead busy lives that often require running out the door with coffee in hand along with a store-bought granola bar to eat along the way. I work from home, so my morning routine allows for healthy things like green smoothies or steel cut oats or quinoa breakfast pudding. But, for many, that simply isn't the case.
For people like my husband who commute in to the city everyday for work, mornings are rushed. That's when homemade chocolate breakfast bars are there to save the day.
It makes it so much easier to back away from the lunch room cookies and donuts if you know what I mean. Thank you, thank you, thank you!!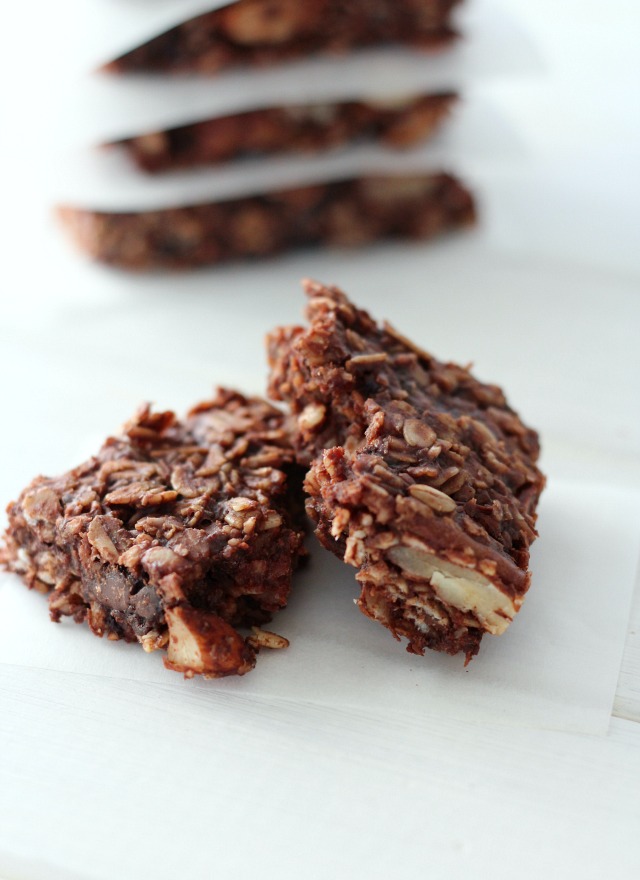 Don't limit these gluten-free oat bars to the morning only. They're also a perfect on-the-go, energy-packed snack to get your kids through their after-school activities or to munch on during homework time. Their rich and fudgy goodness will satisfy their sweet tooth too.
Make a batch ahead of time, pop them into the freezer, and you'll be ready anytime hunger strikes!
These chocolate oat breakfast bars are seriously good!
Chocolate Oat Breakfast Bars (gluten-free)
These gluten-free breakfast bars are perfect for busy mornings or after-school snacks. Wholesome, filling and delicious!
Ingredients
3

cups

whole grain rolled oats

gluten-free

1/2

cup

warm water

1/2

cup

unsweetened shredded coconut

1/2

cup

chopped raw almonds

1/2

cup

chopped raw pecans

1/2

cup

dark chocolate chips

1/4

cup

natural raw honey

3/4

cup

nut butter

or nut & seed butter combo

1/4

cup

coconut oil

1/2

cup

almond milk

1/4

cup

cocoa powder

3

Tb.

pure maple syrup

1

tsp.

pure vanilla extract
Instructions
Preheat oven to 350 degrees F. Grease a 9 x 13 baking dish.

Add rolled oats and water to a large mixing bowl. Stir until well combined and set aside for 5 minutes.

Add coconut, almonds, pecans and chocolate chips. Mix and set aside.

In a medium saucepan over low heat, melt honey, nut butter and coconut oil. Add almond milk, cocoa powder and maple syrup and mix until completely dissolved. Remove from heat and stir in vanilla.

Pour over oat mixture and mix thoroughly.

Press into baking dish using a spatula or wet hands.

Bake for 15 minutes. Remove from oven and let cool slightly. Cut into 18 even-sized bars.

Transfer to a parchment lined baking sheet and return to oven for another 10-12 minutes (until the edges are dry to the touch and golden brown).

Allow to cool for a few minutes, then transfer to a cooling rack. Store in an airtight container for up to a week or pop into the freezer.
Recipe Notes
Gluten-free rolled oats are labelled as such. I used Bob's Red Mill brand. If gluten isn't a concern, you can use any whole grain rolled oats.
Some dark chocolate chips contain milk or milk ingredients. Be sure to read the label if dairy is a concern.
Prefer energy bites? Click here to try this chocolate chip peanut butter recipe. They're super good!
Or, maybe you'd like these blueberry oat breakfast muffins.
Enjoy your day,