This winter wonderland themed fireplace is a vintage and white lovers dream! Get fool-proof tips for putting together your own beautiful Christmas mantel!
Happy December! Can you believe how quickly Christmas is coming?
One of the projects I looked forward to most this holiday season was decorating our mantel. Although we had completed our living room makeover last November, I was suffering from renovation burnout and barely mustered up enough energy to put up a tree and wrap gifts. With all of that behind us now, I'm having fun coming up with fresh new ideas for the Christmas decorations we already had on hand, as well as some recent decor finds to add to the mix.
This year, I decided on a Vintage Winter Wonderland theme for our holiday decorations. With very little snow to date, I wanted to create the feeling of Christmas indoors whether it decided to eventually show up outside or not. Being Canadian, it doesn't really feel like Christmas without a bit of snow.
And, of course, it wouldn't truly be my style without adding a touch of vintage to the mix. All of those flea market and thrift shop finds need to be put to use!
For our mantel, I always like to start the decorating process with a foundational piece, such as a mirror, artwork or large wreath. As I was searching for the perfect mirror to soften the square lines of our fireplace, I remembered an antique one I had tucked away in the basement that could possibly work. Although it was the wrong colour (see its matching dresser), a coat of grey chalk paint made it a lovely complement to our marble subway tile surround.
That's an important point to note. Before you purchase any new decor, first take a look at what you have in another room or stashed away in storage. I'm always amazed by what I forgot I had. And don't be afraid to break up matching pieces like I did with the mirror and dresser. I find it's more interesting that way.
Because the mirror is very heavy, I was happy we didn't have to hang it. I simply placed a bit of felt under the flat bottom to protect the painted finish on the mantel and prevent the mirror from sliding around. If you use a lightweight mirror, it's best to anchor it to the wall with some wire and a screw.
To create a winter wonderland feel, I started with some snow-covered bottle brush trees. Aren't they adorable?
I opted for large bottle brush trees in varying heights to create some movement. If you look closely, you'll notice the styles are slightly different but read the same from a balance standpoint because of their consistent shape and colour.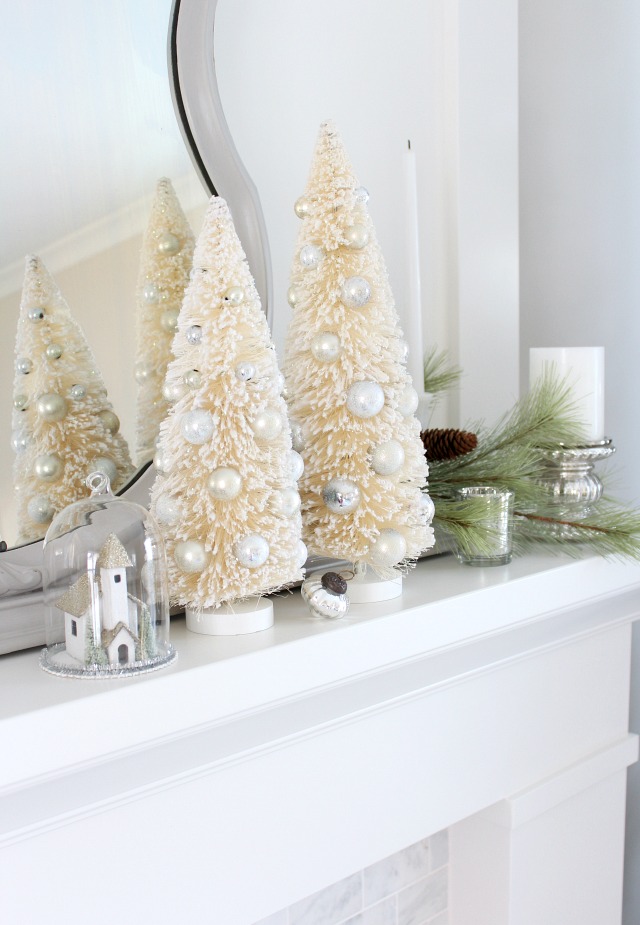 To see if you're on the right track with your decor selections, stand back from your fireplace and squint. If something pops out too much on one side, it's best to add a larger or darker object to the opposite side. Feel free to mix things up or create an exact mirror image if that's more your thing.
Originally, I had vintage book bundles on either side of the trees, but I found the mantel needed a little more breathing space for my liking. A stylist's trick is to gather up more than you'll need at the start, play around, then edit, edit, edit.
I'm certain I'll use the book bundles on a table or, perhaps, under the tree.
To build on the white theme, I added tapered candles to some vintage milkglass vases I picked up at a thrift shop some time ago. My collection has definitely grown over the years, and I love being able to incorporate pieces whenever possible.
Two of my latest Christmas decoration purchases are the Eiffel Tower snow globe and church cloche. It's my dream to visit Paris during the holiday season, so it was only fitting!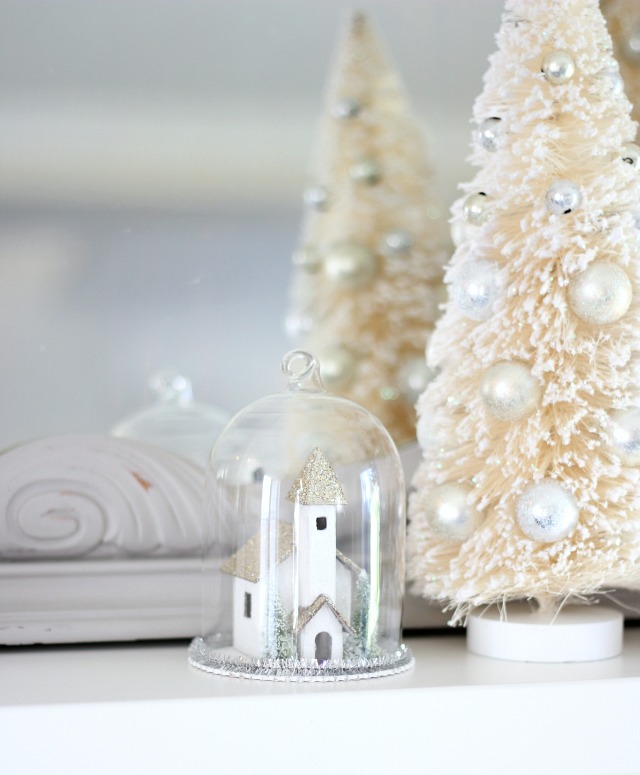 You can never go wrong adding a bit of greenery to your holiday decor, whether it's real or faux. I love the texture and bit of nature it adds to the mantel, as well as the "neutral" pop of colour.
Adding a touch of mercury glass, in addition to more white candles, was the last step in bringing the mantel to life.
I love the shimmer and sparkle metallics bring to a space during the day, as well as the glow they create along with candlelight in the evening.
For our stockings, I haven't decided whether I'm hanging them over the fire this time or not. In the past, I've used tacks or small nails, but I don't want to damage our new mantel. If you have any safe solutions, please let me know. I'd use stocking hangers but I'm worried about them falling down and smashing our marble tile as I've heard about that kind of thing happening!
Christmas Mantel Decorating Tips
Decide on a decorating style or theme.
Start with a large foundational piece.
Use decor in varying heights and shapes to create movement.
Mix colours and/or textures for interest.
For balance, keep your decor pieces consistent on either side or use different items that have the same visual weight.
Light it up.
Think about creating the outline of a large triangle with your decor pieces.
Thank you to Wayfair for collaborating on today's Christmas mantel decorating post. As always, all thoughts are my own. I greatly appreciate your support for the brands that make Satori Design for Living possible!
Now that our mantel is decorated, I'm focusing on finishing up our Christmas tree. Can't wait to use these vintage ornaments I found at the thrift shop for next to nothing!
It's almost there, but I need to add a few finishing touches. I'll be sharing our tree and more Christmas ideas as part of the Canadian Bloggers' Home Tour next week. I'll also give you details about our new blue and grey area rug I ordered from Wayfair too. I'm in love with the colours!
Update: Go HERE to see our Christmas tree and house tour.
What decorating projects are you most excited about this season? Have you tackled your Christmas mantel yet? Struggling with anything or do you find it easy peasy? What are some of your favourite Christmas mantel decorating ideas? Let me know in the comments!
xo,