Shabby Chic Christmas Gift Toppers
These shabby chic Christmas gift toppers take minutes to make and look so adorable. The perfect way to dress up your holiday packages with love!
Are you almost ready for Christmas? We're close with a few gifts left to buy and a bit of baking to finish up. Of course, there's quite a bit of gift wrapping to do, but that's to be expected at this point in December, right?
Honestly, wrapping presents is a task I look forward to anyway. I put on some cheery holiday music, make myself a hot drink and really get into the swing of things. There may or may not be some singing that goes along with it, especially if it involves Michael Bublé ;)
Every year, I enjoy coming up with a new holiday wrapping scheme. It's a great chance to be creative without spending too much.
Two favourites from the past are my vintage glam gift wrap and the personalized gift wrap I had custom made. So fun!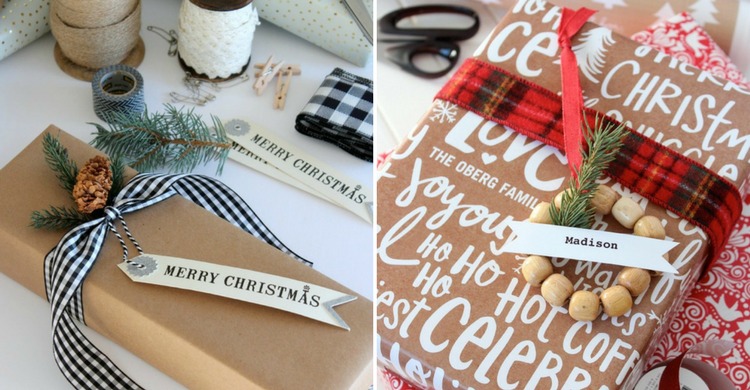 How do I decide on the paper, ribbon and tags? Most times, I think about how I'm going to decorate the tree first and the wrapping evolves from there.
This year, our Christmas tree is mostly white and silver and has a bit of a boho, shabby chic vibe. So, naturally, I went in that direction. Shabby chic gifts under the tree will definitely finish off the look.
Christmas Present Toppers
I have 2 DIY gift topper ideas for you. As well, I'm joining some of my blogger friends (thanks to Krista from The Happy Housie) to share even more gift wrap inspiration. Be sure to read to the bottom to get all of the details!
Let's get started…
I was inspired to make these tassel gift embellishments after seeing Aniko's version during our ornament blog hop a couple weeks ago. Basically, they cost me nothing but my time since I used a spool of leftover string, as well as wood beads from my mini wreath gift tags. I love frugal projects like these!
I like the combination of natural string (with a tiny silver thread running through it) and the wood bead. Just the right amount of sparkle to go along with the silver foil wrapping paper, don't you think?
Love is in the details, after all. (I think Oprah said that.)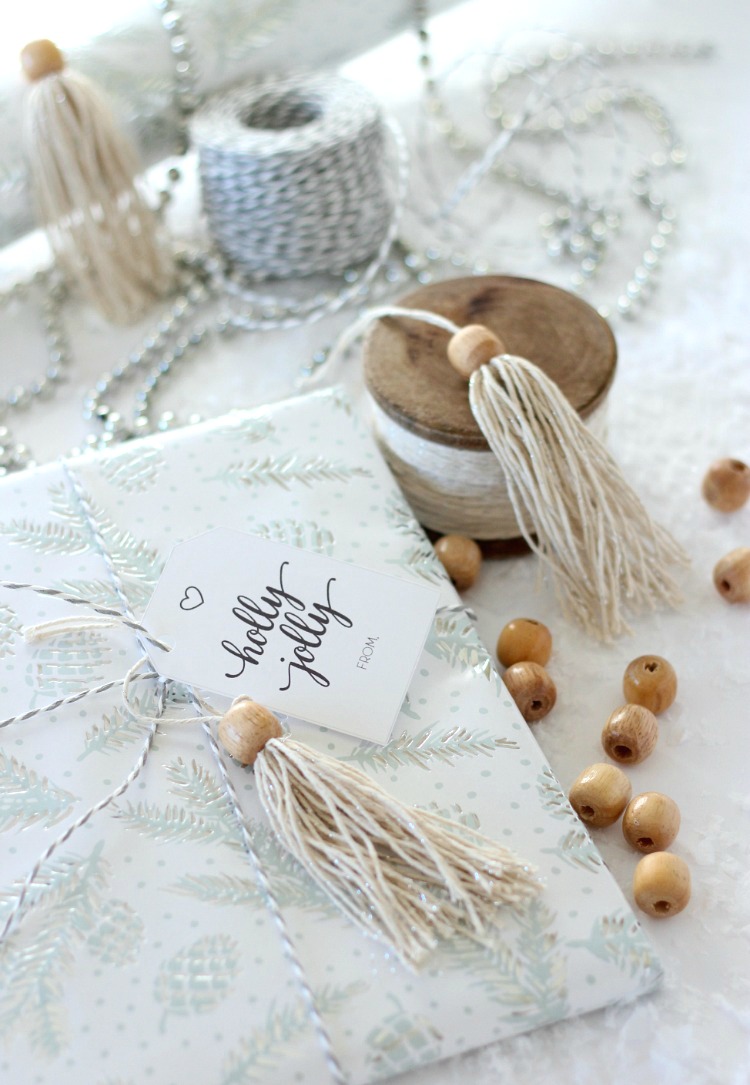 Take this tassel idea and make it your own by using brightly coloured string, a glittery bead or whatever your little heart desires.
I ended up making some extras and adding them to our tree (I seem to play around with our tree every year right up to Christmas). And, apparently, my husband says I suffer from POPD or Perfect Ornament Position Disorder (he heard it on the radio). I can't argue with that. Are you similar?
These tassels are so easy to make that you can probably figure it out by looking at the photos. But, just in case, I put together a little tutorial for you.
How to Make Tassel Gift Toppers
I picked up many of the supplies for this project at Michaels and HomeSense. I've also included affiliate links to similar items below. See my policies for more details.
Supplies
String (I used natural with a silver thread)
Wood Beads (I used 16mm natural drum shaped)
Scissors
Find the free printable gift tags at I Heart Naptime
Instructions
Wrap the string around your hand or a sturdy piece of cardboard (3-4″ wide) about 25 times (will vary depending on thickness of string).
Cut bottom edge open (remove from hand first) and lay collection of strings on a flat surface so the edges line up on either end (it's okay to have slightly varying lengths).
Cut a piece of string about 12″ long and lay it stretched out on a flat surface. Pick up grouping of strings and lay the centre over the middle of the long string.
Grab either end of the long string and tie a knot over top of bundle.
Feed a wood bead through the top making sure to get both ends of long string through (use a skewer or embroidery needle for a bit of help).
Add a few drops of glue to the inside edge of wood bead a press bead down firmly, holding for about 15 seconds until it's set up.
Finish tassel by tying a knot firstly at top of bead, then near top of the long strings.
Trim the fringe at the bottom if necessary. I left mine slightly frayed and uneven for a shabby chic, boho vibe.
Now for the second gift embellishment idea…
Bottle Brush Tree Gift Toppers
To decorate other Christmas gifts, I made these mini bottle brush tree gift decorations.
–>Learn how simple they are to make in this tutorial: Bottle Brush Tree Gift Embellishments
So, there you have it! Two Christmas gift toppers that are simple to make and easy on the pocketbook!
More Christmas Present Toppers
Pin these DIY Christmas gift decorations for later!
More Christmas Gift Wrapping Ideas
Ready to see the other Christmas gift wrapping ideas from my friends? Hop over to check out what they have in store for you…
Jingle Bell Gift Wrapping by The Happy Housie | Tassel Gift Toppers by Satori Design for Living | Lazy Gift Wrapping Guide by Maison de Pax | Christmas Gift Box Wrapping by Town and Country Living
Christmas Gift Wrapping Station by The Turquoise Home | Bath Salts with Christmas Tag by Clean and Scentsible
Kraft Paper and Greenery Wrap by Lindi & Russ | Photo Gift Wrap by Lovely Etc. | DIY Hand Lettered Holiday Wrap by Lemon Thistle | Hand Printed Christmas Wrap by Restless Arrow
Want more holiday and seasonal ideas like these sent directly to your inbox? Be sure to SUBSCRIBE.
Season's blessings,