Thirsty? This ginger mint iced tea is refreshing, healthy and delicious. Put together a jar in minutes using only a handful of clean, simple and fresh ingredients. So easy!
Hello everyone! I hope you're holding up well. The beautiful spring sunshine certainly helps. It's always nice to get back outside and do a little yard work. Helps to switch things up, right?!
With the arrival of warm weather, we've definitely been reaching for more cold drinks. So, once again, I've been making different flavours of homemade iced tea. Over the spring and summer months, I tend to keep an oversized jar or two in the fridge at any given time. This ginger mint iced tea recipe has become one of our favourites since it's caffeine-free, tummy-soothing and so tasty. It has many benefits!
Homemade Ginger Mint Iced Tea
At first, I wasn't going to share this iced tea recipe since it's so darn easy. I thought everyone was doing this sort of thing…
However, while at the grocery store this week, I saw several shoppers with jugs of iced tea in their carts which tells me, maybe not?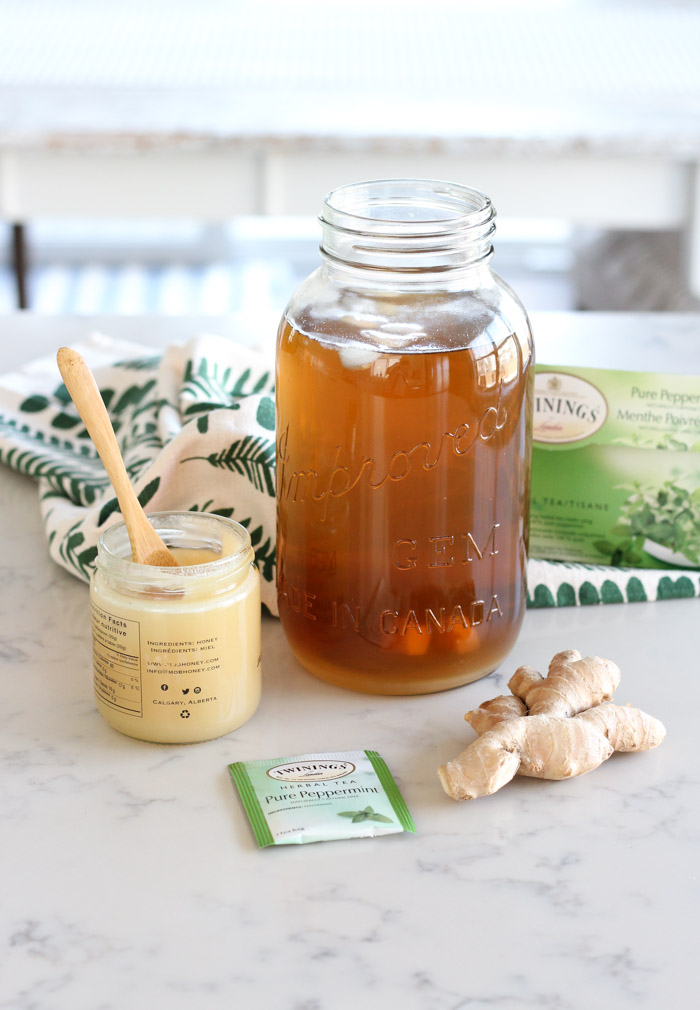 So, here I am sharing this super simple way to make iced tea for much, much less than store bought. It's also a good way to reduce wasteful packaging.
And, probably the most important reason to make iced tea from scratch is being able to control the ingredients. Craft it with little or no caffeine, sweet or unsweetened, light or robust in flavour. The possibilities are endless!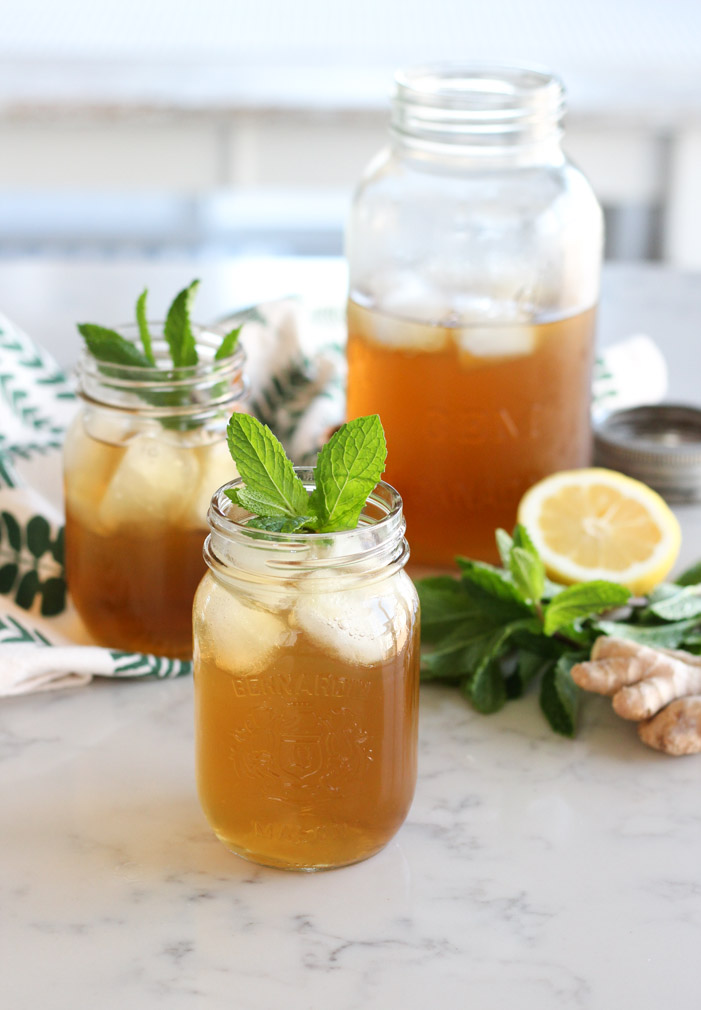 Some links used in this post are affiliates. Please refer to my disclosure policy for more information.
Homemade Iced Tea Ingredients
All you need to make your own iced tea is:
Then you can add your flavour boosters like:
fresh ginger
honey
mint
lemon and more
Follow the basic instructions on the recipe card below and have fun experimenting with different combinations.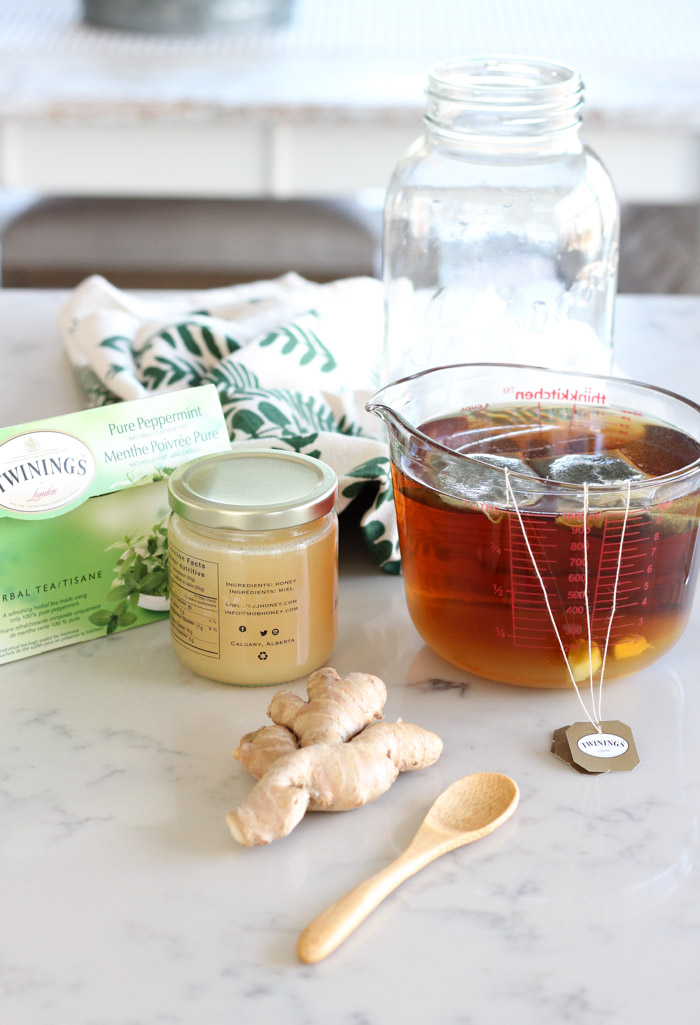 Favourite Ingredients for Making Iced Tea
Earl Grey, Rooibos, Chamomile, Jasmine, Mint, Green and White Tea
Honey, Agave, Coconut Water
Fresh Mint, Lemon Balm, Lavender, Basil, Lemongrass, Thyme
Lemons, Oranges, Limes, Raspberries, Blackberries, Strawberries, Peaches, Cucumbers
Ginger Mint Iced Tea
This ginger mint iced tea is refreshing, healthy and delicious. Put together a jar in minutes using only a handful of clean, simple and fresh ingredients. So easy!
Ingredients
4

cups

hot water

3

peppermint tea bags

or 3 teaspoons loose tea

1"

chunk

fresh ginger, peeled and cut in quarters

⅛

cup

raw honey

4-5

cups

ice cubes

cold filtered water

fresh mint for garnish

optional

lemon

optional
Instructions
Pour hot water into large measuring cup or jug. Add peppermint tea and ginger. Steep about 10 minutes.

Remove tea and stir in honey.

Add ice cubes to oversized jar (about 50-64 oz. size). Slowly pour in tea mixture and top off with cold water.

Secure lid, then place in fridge until chilled, at least 2 hours or overnight.

To serve, add ice cubes to small jar or glass and fill with iced tea. Garnish with fresh mint (optional). As an option, squeeze in one or two lemon wedges for a citrus flavour.
Notes
Store in airtight jar in refrigerator up to 3 days.
Other Refreshing Drink Recipes
Want more delicious recipes and ideas like these sent directly to your inbox? Be sure to SUBSCRIBE.
Enjoy your day!

This iced tea recipe was originally posted April 2020 and updated with fresh content and details May 2022.