Lavender infused sugar adds flavour to iced tea, fruit, desserts and more. So easy to put together using fresh or dried lavender.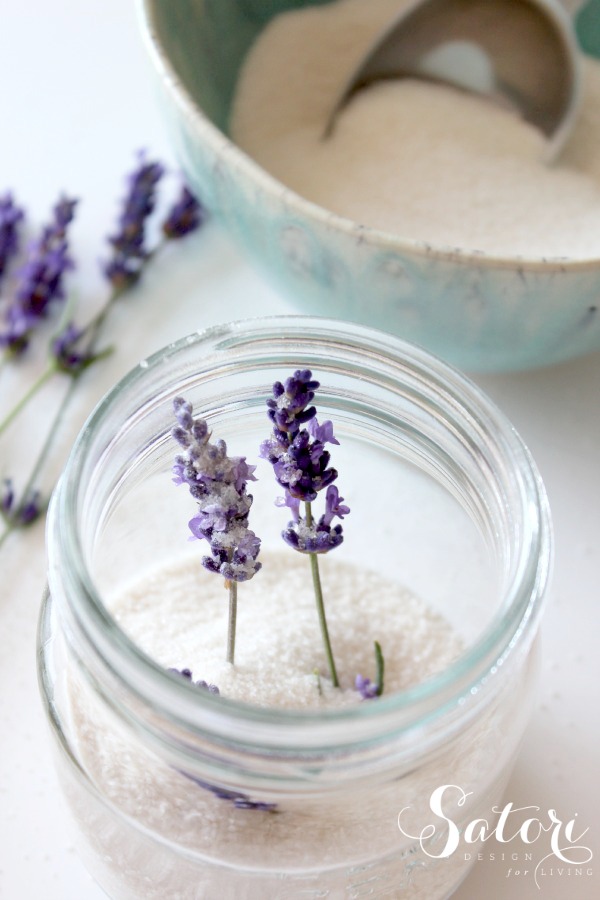 I started with one tiny lavender plant years ago that has spread into a tiny garden of sorts. Nothing like the beautiful fields of Provence, but my own little pièce de résistance.
Until last year, I had only enjoyed the heavenly aroma and beautiful colour of these tiny blossoms. Then, I baked lavender shortbread cookies for the first time and, my goodness, they were so tasty. I was definitely on to something!
This summer, I decided to branch out and try a few more lavender recipes. Desserts caught my attention right away, of course! But, before I could get started with any of those recipes, I needed to get my lavender sugar started so the flavour had time to infuse.
How to Make Lavender Infused Sugar
Making lavender sugar is a simple as it gets. First, make sure you're using an organic culinary lavender plant (I used English lavender).
Then, simply cut a few stems, wash them and allow the excess water to dry on a paper towel. If you're impatient like me, put them in a sunny window or on your front porch to speed up the process a bit.
Next, dump a little sugar into the bottom of a jar and place a few prepared lavender stems inside. Keep adding sugar until it's almost to the top of the jar.
A rule of thumb is one tablespoon of fresh lavender (or about 3 stems) to one cup of sugar. It's better to err on the lighter side so your sugar doesn't end up tasting like perfume.
Note: I prefer using whole lavender stems (fresh or dried) instead of loose buds to keep them mostly separate from the sugar. Then, I simply remove the stems once the sugar is flavoured enough (a few buds left behind are fine).
I used a Canadian gem jar, so add a bit more lavender if you're using a larger mason jar. I used organic evaporated cane juice for sugar, but you can use white granulated sugar too.
Keep the airtight jar stored in your cupboard or pantry for at least a few days before using it. The flavour will become stronger within a week or so. You can remove the stems once it's strong enough.
Using Dried Lavender
If you only have access to dried lavender, that will work too. The important thing is to make sure it's still aromatic or the flavour won't be there. A couple of teaspoons of organic culinary lavender (about 2 sprigs) in a jar is all it will take (or one teaspoon to one cup of sugar).
Not sure what to do with this lavender infused sugar? I'll be sharing a recipe soon (you'll need about half a cup), but you can also add it to tea (hot or iced), lemonade, whipped cream or on top of your morning grapefruit. Experiment a little…
How to Use Flavoured Sugar
sprinkle over oatmeal
add to the top of your favourite sugar cookies, shortbread, muffins or scones
rim a cocktail glass
make simple syrup
add to plain yogurt
sprinkle over fresh berries
So pretty, right?
Want to try making your own lavender infused sugar? Pin it for later.
More Recipes Using Lavender
Tried any recipes using lavender sugar? Good in your books or will you let this one pass?
Want more delicious recipes and ideas like these sent directly to your inbox? Be sure to SUBSCRIBE.
Have a sweet day!