It's back! Top design and DIY bloggers share their favorite paint colors for interior spaces in this popular series.
You may recall the bloggers' favorite paint colors series I hosted two summers ago. It actually doesn't surprise me that it continues to be one of the most popular series on the blog of all time. I mean, paint is one of the easiest and least expensive ways to transform a space in very little time. Yet, selecting just the right color for a space can be so daunting.
If you've ever had paint color swatches taped to your walls for weeks and still can't make a decision, this series is for you. These recommendations are coming from gals who have shortlisted some tried and true paint colors through hands-on trial and error (yes, they make mistakes too). They're even offering up some tips and tricks too. Think of it as cliff notes for paint selection (no, you don't have to read the entire book on this one!).
This time around, I have a few of the same design and DIY bloggers joining me, as well as some fresh faces (you'll most likely recognize). Trust me, they've created some swoon-worthy spaces and I know you'll walk away with some fresh new color ideas for your home. (I did!) Let's get started…
Top Paint Colors
Butler's Pantry Sherwin Williams Mindful Gray
I was so excited when Shauna asked me to share some of my favorite colors.
So excited….I almost forgot what they were.
And if you know me….if you have ever read my blog….Thistlewood Farms…..you know I couldn't just write a post about paint colors. I have to offer up a big opinion. However…..I preface any and all big opinions offered here with the disclaimer that….
…I'm not an expert.
I don't work for a paint company.
I have not gone to paint color school.
What I am…..though…..is so much better. I am the person who has painted and repainted and repainted rooms because I couldn't figure out the answer to this simple question, "Why did the paint color in the store not look like the paint color on my wall?"
So if you have ever stood in front of a paint chip display and closed your eyes and pointed….
…..here's a few tips just for you.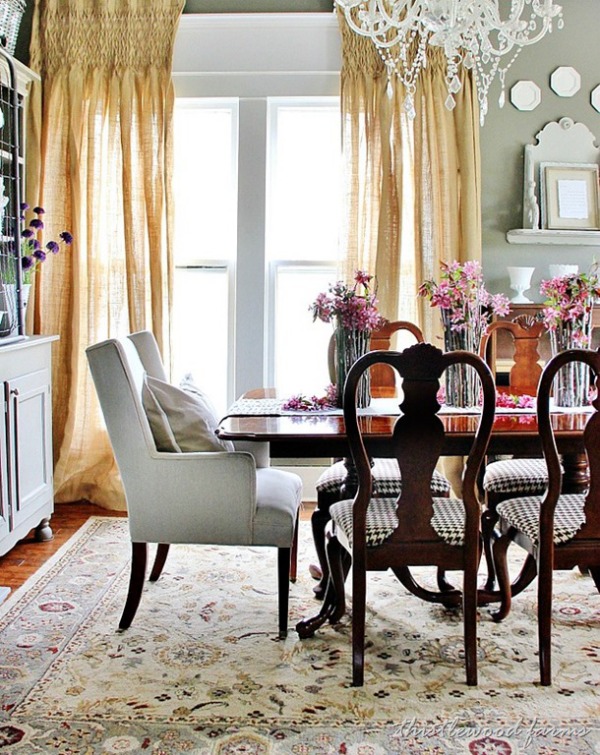 Dining Room Sherwin Williams Anonymous
(1) The darkest color on the paint strip is your best friend
When you are looking at colors on two (or three different) strips of paint chips, many times the colors will appear to be the same. THEY ARE NOT! Do not be fooled. Each strip of paint color chips is tinted in a slightly different direction.
(2) Saturation is the Key
If you remember nothing else from this post. If in two months you say, "thistlewood who?"
Please, please remember this unsolicited advice when you are standing in front of that paint display:
Find the color you want…..and then go one shade darker.
Kitchen Sherwin Williams Rice Grain
(3) You Can Never Have Enough Paint
You have seen them in the paint store mixing paint. They take the tinted base and then add different colors. Here's the secret: no can of paint is exactly the same. They are close. Maybe you won't see a difference. Maybe you will.
Don't take the chance.
Buy a five gallon bucket and mix your cans together before you paint.
Not that I would ever know anyone who painted a two-tone room. :)
And lastly… for my favorite white paint colors….click here.
For my favorite gray paint colors….click here.
Hi there, I'm Emily from Emily A. Clark. Since participating in Shauna's last paint color series a couple of years ago, I'm still on somewhat of a neutral kick, with navy being my go-to color to pair with light grays and whites.
Speaking of white, it can be tricky when trying to find the right shade. I've painted our master bedroom (and several other rooms in our house) Sherwin Williams Shoji White. It's a really soft—not bright—white, with a subtle gray undertone. I layered off-white curtains over it beside of our bed and am loving the soft look of it all.
For a bolder contrast, I painted our armoire a classic blue—Benjamin Moore's Hale Navy—and paired it with gold hardware. This seems to be a tried and true color all over the Internet, and for good reason. It's a true navy, without being too dark. I plan on using this color soon for a couple of other projects around our house.
Hi there Satori readers! I am Shannon, a Canadian writer, interior designer, wife and homeschooling momma. As well, I'm the writer and half of the creative duo behind the lifestyle blog, AKA Design.
I am so happy to be back at Satori to share my favorite paint colors in Shauna's paint color series! The last time I was here, we actually lived in a different house so I have a couple of new favorites to share with you. I do find it interesting that my favorite paint color hasn't changed though…
Sherwin Williams Analytical Gray
Analytical Gray was the color in our old living room and is definitely my all time favorite paint color.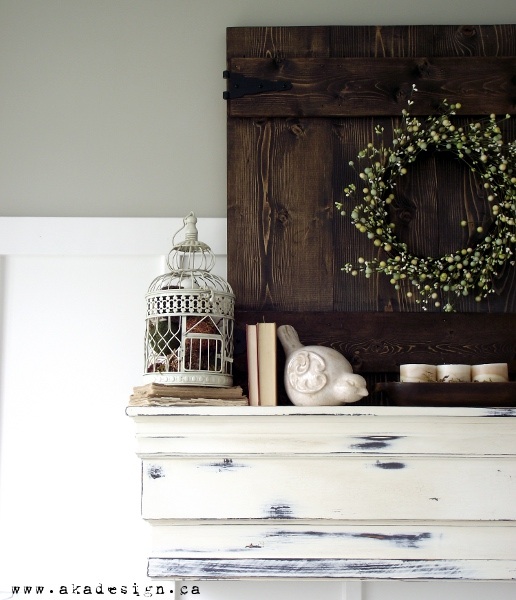 We loved it so much we used it again in our current dining room.
Analytical Gray tends to be the color we recommend first to friends looking for that perfect taupe gray. It just plays so nicely with almost all colors because it's not too blue and not too green!
Sherwin Williams Peppercorn
A newly discovered color for us, Peppercorn is the moody gray/eggplant/navy color of our master bedroom. (*note: Shannon originally thought this was a CIL color, but it's actually Sherwin Williams Peppercorn.)
Depending on the light and time of day, Peppercorn looks like many different shades of dark gray. Because of this it is perfect for a bedroom or even a powder room!
Sherwin Williams Snowbound
Also a new-to-us color, Snowbound by Sherwin Williams makes a wonderful neutral background color in almost any space. We've used it in our bathroom and I plan to use it in my office studio because it doesn't cast any colors onto things I'm trying to photograph!
Right now I'd say those three are my favorite paint colors.
Thank you so much Shauna for hosting this helpful round up of great paint colors!
Impressive, right? Loving them all, especially the Snowbound and Shoji White walls. I'm a sucker for white!
If you're looking for a few more tips, check out the post I wrote on selecting paint colors with confidence. It's the step-by-step method I use to find just the right color every time.
Considering a new door color? Check out these beautiful front door picks!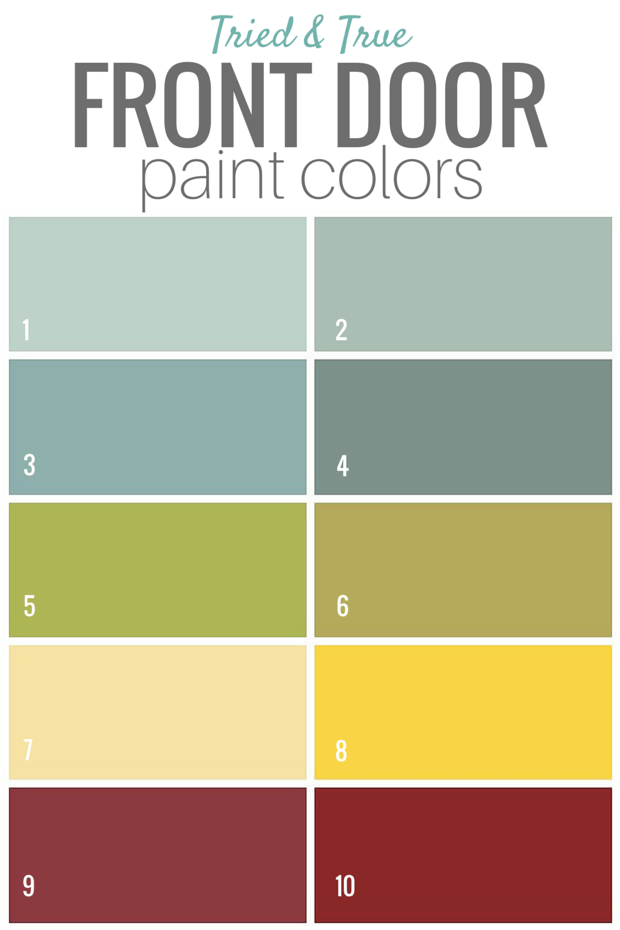 Be sure to come back tomorrow for part two of this paint color series featuring more top home bloggers. I promise it will be worth your time!
Thanks for stopping by!