Top Paint picks from the Bloggers' Favorite Paint Colors Series, plus three colors I'm digging right now.
Back in August, I invited a few of my favorite design bloggers to share some of their favorite paint colors. Perhaps you'll remember the eye-catching color of Ashley's playhouse or John and Sherry's beautiful bedroom? Those turned out to be some of my most popular posts ever, telling me that paint is a hot topic. It really didn't surprise me, since paint consultations are amongst the most requested services within my business, and I'm often asked about the latest trends in paint colors. Just yesterday, I was picking up items from the dry cleaners and somehow the conversation led to paint!
When I wrote those posts, I told you I had a list of my own paint front-runners that I'd share with you. Some of them are paint colors I've used within our home and others are suggestions I made for clients (that I couldn't be happier with). It's always important to keep in mind that, although these are tried and true colors, they don't work in every situation. Lighting, both natural and artificial, flooring, and other room elements can greatly affect how a color appears on a wall. It's important to go through a paint selection process to come up with the best color for your space.
My Favorite Paint Color Picks
1. My current top paint selections for an all-over, use almost anywhere neutral is Cashmere, a beautiful soft greige from the Sarah Richardson Collection for Para. We painted most of our basement this color and I love how light and airy it makes the space feel, while providing an element of coziness with it's warmer undertone. I'm planning on carrying this color (or something similar) up onto the main floor.
2. Although we've been seeing black chalkboard paint around for a while now, it's still one of my favorite wall paint treatments to add personality, fun, and a bit of drama to a room. I think it looks smashing in Kevin and Layla's kitchen.
3. To pick just one more paint color, I'd have to go with Benjamin Moore Schooner. This color reminds me of summer or a tropical vacation, which makes me happy on a dreary and cold winter day. Paired with white, this blue-green color is crisp and fresh, but can be warmed up with a touch of red or orange accessories like this bedroom from Pottery Barn.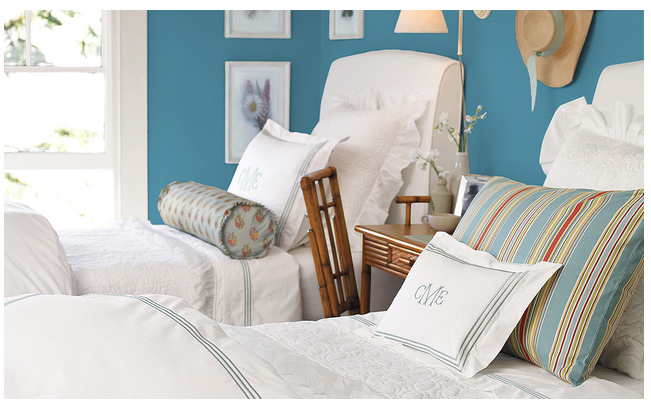 Here's a breakdown of the bloggers' favorite paint colors from this series:
Ashley from The Handmade Home
Whispering Spring by Benjamin Moore
Chantilly Lace by Benjamin Moore
Calypso Blue by Benjamin Moore
Shannon from aka Design
Analytical Grey by Sherwin Williams
Scotch Mist by PPG
Wexford Fog by CIL
Sherry from Young House Love
Rockport Gray by Benjamin Moore
Dragonfly by Benjamin Moore
Sesame by Benjamin Moore
Emily from Emily A. Clark
Stunning by Benjamin Moore
Urbane Bronze by Sherwin Williams
Worldly Gray by Sherwin Williams
Tiffany from Living Savvy
Worldly Gray by Sherwin Williams
Smoke by Benjamin Moore
Albescent by Benjamin Moore
My Paint Picks
Cashmere by Sarah Richardson Collection for Para
Black Chalkboard Paint
Schooner by Benjamin Moore
Did you miss these paint color suggestions? Go here to see these colors put to use:
What are some of your favorite paint colors at the moment? Do you have any eye-catching color of Ashley's playhouse you're working on? I'd love to hear about them!
Want more paint colour suggestions like these sent directly to your inbox? Be sure to SUBSCRIBE.
xo,