Choosing Paint Colors with Confidence
Check out these tips and tricks for choosing paint colors for your home. Achieve a beautiful look and feel every time!
From Simply White and Revere Pewter, to Pure White and Repose Gray, choosing paint colors for a room can intimidate even the most experienced DIYer. With so many colors, finishes, and brands of paint on the market, it's easy to understand why many live with builder's beige for so long. In fact, when it's time to repaint, most play it safe with an off-white that often doesn't complement the decor or evoke the desired feeling. Can you relate?
I'm here to reassure you that selecting the right paint colors doesn't have to be as daunting as you may think if you spend some time considering a few factors.
How to Choose Paint Colors
Start with inspiration
When developing a color scheme for a room, one of the last decisions I make is the wall color. Start with a fabric you love or a piece or artwork. Think about colors you are naturally drawn to by looking in your wardrobe or jewelry box. Take a look through magazines or Pinterest, or visit stores and make note of what you are drawn to and the colors they represent.
By identifying the colors that you're naturally attracted to, whether bright or subdued, you'll start to form a vision of a hue that is perfectly suited for your personality.
how do you want the room to feel?
While color preferences are very individual, scientists have proven that certain colors have consistent emotional and physical effects. For instance, oranges and reds stimulate the appetite, making it a great choice for dining rooms. Purple is known to spark creativity and change, whereas brown connects us to the earth and makes us feel safe. Blue brings a feeling of peace and tranquility and green tends to connect us to nature and makes us feel secure. Finally, yellow is associated with sunshine, a stimulating color that can be too much in large doses, making it a poor choice for nurseries.
Consider lighting
Both natural and artificial light play a huge role in how a paint color will look in a room. For instance, rooms with a southern exposure will be washed in warm golden light and northern exposures tend to be cooler blue light. The same rules apply to types of light bulbs, whether incandescent or fluorescent or LED.
Check paint swatches by moving them around the room at several times of the day to see if they still appeal to you. For instance, dining rooms are usually used in the evening, so it is important to like the color in dim light.
In addition, if you find the room often feels too warm, paint it a cool color, such as blue or green. However, if it's a room in the house that feels chilly, select a warm color, such as taupe or red.
Work with fixed elements
Unless you're starting from scratch, there are often furniture pieces, flooring finishes or other elements you need to work with. Small rooms tend to work best with the least amount of contrast to make them appear larger. For instance, if you have a medium gray sofa, choose a wall color in a medium intensity to cut the contrast to a minimum. Contrast also draws attention, so it's important to keep your walls in a similar shade to the floor if it isn't something you like, but can't change for a while.
Balance practicality and style
Although you may be drawn to the crisp and fresh look of white walls, forgo painting high traffic areas in your home this color if you have small children or teenagers. A high maintenance white would be better suited for your master bathroom. In addition, just because pink may be the hot trend of the season, don't go wild painting your entire main floor. Trendy colors are great for powder rooms or small areas that can be changed quickly and easily.
Although there are guidelines to help you make paint colour selections for your home, it really comes down to discovering what you're comfortable with, what's appropriate for you, and what makes you feel good. It's about stepping out of your fear and creating a home that is a true reflection of you and your family. It's about a space that tells your story.
See how I used this process to select the perfect paint color for our living room.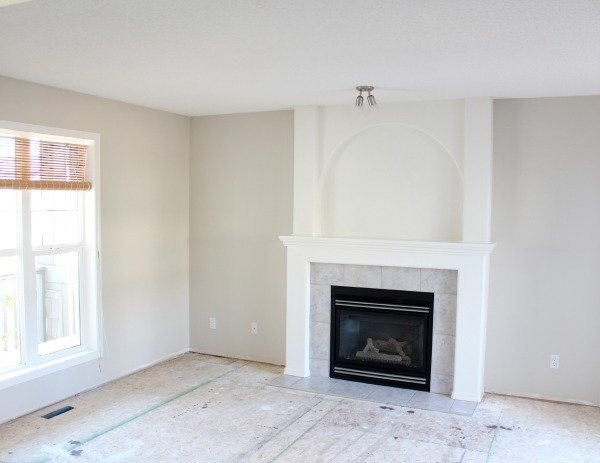 Looking for some tried and true paint colors for your interior and/or exterior? Check out the Paint Project Gallery.
Want more paint colour suggestions like these sent directly to your inbox? Be sure to SUBSCRIBE.
Happy Painting!