Changing it Up: Fall Decorating
Started your fall decorating yet? Check out these tips and tricks for creating a cozy and interesting space on any budget.
Fall is the time of year when my focus turns from outside to in. Although the season is probably my favourite, I reluctantly say good-bye to the carefree days of summer. I love the warm weather, casual BBQ dinners, and sitting around the outdoor fire at night sipping a glass of wine and chatting with friends.
Although autumn brings cooler days, fuller schedules with shorter days, it also has its rewards. It is a time when I begin to cultivate the feelings of warmth and coziness in our home. BBQ dinners are replaced with satisfying soups and stews simmering on the stove. The lightness and brightness of décor is exchanged for rich colours, chunky textures and a layered effect. These refinements, as small as they may be, bring a sense of comfort that makes it easier for me to say, "Good-bye summer, we'll see you again soon."
How can you make your space more interesting and inviting for fall?
Fall Decorating Ideas
One: Add throws and plump, down-filled pillows to your sofa. Choose fabrics, such as chunky wools or big knits or global inspired graphic patterns.
West Elm
Two: Brighten your space and appeal to your sense of smell with candles in spiced or "baked goods" scents. Candleholders in silver and gold will add a reflective quality.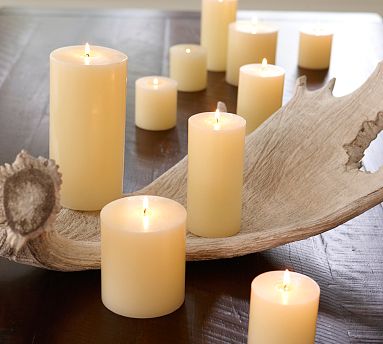 Pottery Barn
Crate & Barrel
Three: Paint a room in a seasonal hue, such as warm grey or taupe.
Four: Accessorize with some of today's hottest colours, including aubergine, indigo or citrine. Choose a tone that speaks to you.
West Elm
Five: Add an element of rustic or weathered wood to your space in furniture or accessories.
Six: Be creative and liven up your mantel or table with seasonal elements, such as dog wood, gourds, moss balls, acorns or leaves.
Remember, fall is a gradual changing of colours, weather and landscapes. Transitioning your home for the season can be the same. By bringing in a few subtle touches here and there, you'll create the look and feel you desire.
Visit the Fall Project Gallery to see even more ideas!
Enjoy your day!