Isn't there something comforting about soup simmering on the stove on a chilly fall day? Yesterday, I made one of our family favorites, and the timing couldn't have been more perfect with our first flakes of snow to hit the ground this season. As I look outside my office window right now, heavy winds are blowing snow straight sideways as it comes down. I don't think I'm ever prepared for the return of cold weather, but fall comfort food somehow makes it a little more tolerable.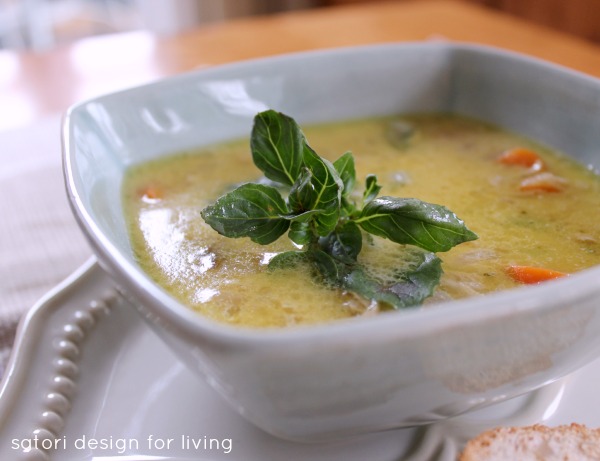 Coconut Curry Chicken Soup
1 tbsp. coconut oil
1 medium sweet onion, chopped
2 tbsp. Thai green curry paste (I used Thai Kitchen brand)
2 coarsely chopped garlic cloves
3 cups low sodium chicken broth
¾ cup thinly sliced carrots
2 tbsp. fish sauce
2 tbsp. brown sugar
½ chicken bouillon cube (add more if desired)
1 ½ cups cooked chopped chicken
1 can (400 mL) coconut milk
1 ½ cups cooked brown rice (about ½ cup uncooked)
1 bunch of Thai basil
Directions:
Heat coconut oil over medium heat in a large pot until it is melted. Add onion and cook until tender.
Add curry paste and garlic, stir and cook for one minute.
Add chicken stock, carrots, fish sauce, brown sugar and bouillon cube. Cook covered until carrots are tender.
Add chicken, coconut milk and cooked rice. Simmer for at least 10 minutes on low heat, stirring occasionally.
Tear pieces of Thai basil and add to the top of each soup bowl serving.
Note: This recipe works well using leftover roasted chicken and homemade stock. Adjust the amount of flavoring you need based on how you prepared your chicken stock.
If you're looking for a treat to follow, check out my soft and chewy ginger cookie recipe– another family fave!
Hope you enjoy our fall comfort food as much as we do!
xo,