Mission: Jewelry Organization
Beautiful and clever jewelry organization ideas, including the steps for putting together a handy drawer using tea cups and pretty storage boxes.
I'm not the fashionista with boxes, bags and containers over-flowing with jewelry. I love it, but I'd say that I'm more of a bag girl when it comes to accessories. I'm also lucky to have access to my aunt's jewelry collection at any given time, making it unnecessary to find a home for too many pieces.
The jewelry I have is a collection of vintage pieces I bought or were handed down, gifts from friends and family, and some selections I found impossible to walk away from while shopping. I'm finding this last category is growing (could be something to do with Anthropologie opening up), but the incidence of wearing this jewelry has not. I tend to wear the same pieces over and over, like that same comfy sweater we always seem to reach for.
I wondered WHY this was the case. When I looked at how I stored my jewelry, the answer became apparent. We do what is simple and easy. Easy isn't spending time looking for the match to an earring. Easy isn't finding the right necklace and/or bracelet to go with those earrings if they're mixed up and tangled in a bag. Easy is grabbing a pair of silver earrings off the dresser and heading out the door.
My goal was to create an organizing system that encouraged me to wear all of my jewelry pieces. (And if I didn't have an event to wear a special piece to, I would create one!) I also needed to make room for these new earrings I bought a while ago.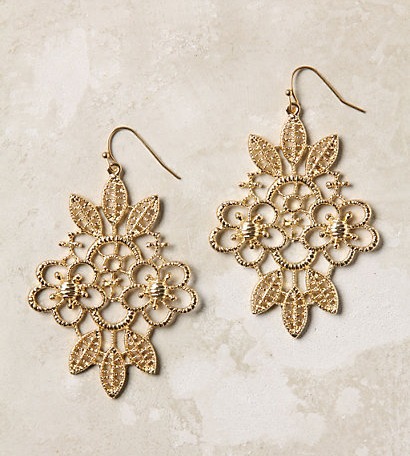 Some links are affiliates. Check out my blog policies.
Jewelry Organization
The Jewelry Storage Solution had to:
be easy to put items away and retrieve
have simple organizational categories (colour, style, etc.)
be inexpensive
allow my collection to grow (shh…don't tell my husband!)
be beautiful
It didn't take long to find inspiration for jewelry storage ideas.
This shadow box jewelry storage idea from Martha Stewart is stylish, easy to make, simple to use and can be customized to work with your decor. However, I don't like my jewelry stored in the light because it tends to tarnish quickly and I'd need several boxes hanging on the wall to store everything. This option would be excellent for hanging a few pieces that you're planning on wearing over the next couple of days to coordinate with the outfits you also choose ahead of time. I think this will be a project for another time.
This earring holder from Real Simple ensures that pairs are always kept together and the artistic quality of earrings would display nicely in a room. The construction is very simple, using a frame, a few eyelets and some wire. However, it doesn't meet all of my specifications since it would only address the issue of earrings and a few bracelets.
I've always been a fan of the Pottery Barn jewelry boxes. Their classic styling, as well as cubbies and compartments provide endless storage, but fold away into a neat and tidy box. They come in a variety a variety of colours to coordinate with almost look and can be monogrammed to add that personal detailing I love. This all sounds like the perfect solution, but they come with a pretty hefty price tag for the size I would need. (Perhaps a Christmas gift idea!)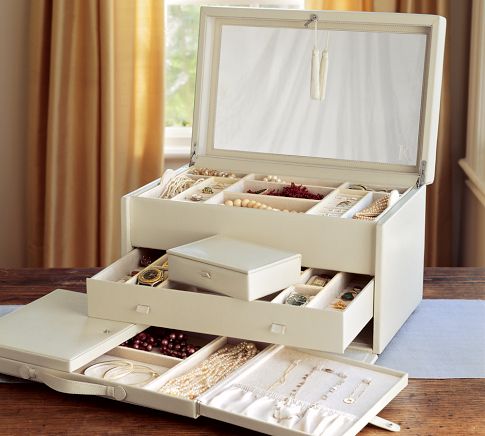 This teacup jewelry storage idea from Martha Stewart is very clever. Not only does it allow you to see everything, items can easily be retrieved and put away. The variety of saucers and teacups creates a number of compartments that allows you to categorize. In addition, everything is closed up in a drawer to keep light out. Because teacups can be found at many second hand stores (or your grandmother's cupboard collecting dust), it makes this an inexpensive way to store jewelry. I think we have found a WINNER!
My Newly Organized Jewelry
Everything is easy to see…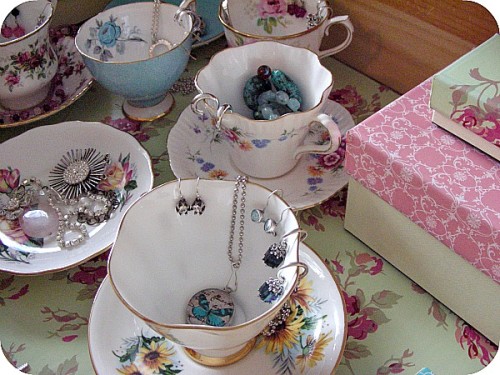 Pretty boxes provide additional storage…
Earrings hang from teacup edges…
Necklaces stay tangle free…
How I Put Together this Jewelry Storage System:
I emptied out the top drawer of one of my dressers that previously housed most of my jewelry in cosmetic bags, as well as a shoe box filled with papers and some other junk. Most of it went in the recycling and donation box.
Then, I selected a shabby chic drawer liner from Michaels that looked vintage to reflect the age of the dresser, as well as the style of the teacups and some of the jewelry. (Also, I thought this was the perfect place to add pretty without freaking out my husband!)
I measured the inside of the drawer and cut the self-adhesive liner to fit. Next, I applied the liner, pressing from the center toward the edges to prevent ripples from forming. I would suggest cutting the liner a little larger than the bottom of the dresser and trimming the excess with an exacto knife. My dresser is an antique and isn't exactly rectangular, so the liner is a bit off.
I gathered a number of teacups and saucers from my kitchen cabinet (I rarely pull these out, but couldn't part with them because they are so beautiful and many belonged to my grandmothers).
Then, I arranged the teacups and saucers in a random fashion and began organizing my jewelry pieces by color and style.
I took sturdy boxes (that were previously in the drawer) and covered them with another drawer liner pattern from Michaels. I placed chunkier necklaces, as well as special occasion jewelry in these boxes. Then, I added ribbon to the smallest box.
I plan on adding a couple more teacups and/or saucers as needed. In the Martha Stewart example, they suggest lining the drawer with felt or velvet. I didn't find that the teacups shifted around when I opened and closed the drawer, so I used the liner instead.
How do you organize your jewelry? I'd love to hear about it!
Want to see more? Check out these beautiful and clever organizing ideas.
xo,