Woodland Wreath Made with Twigs and Pine Cones
Make this woodland wreath using twigs and pine cones gathered on a family nature walk. A fun and thrifty home decor project for fall or any time of the year!
I'm thrilled to be kicking off the One Item Project Challenge today. If you recall, I started this series two years ago as motivation to get a few projects done before the busy Christmas season, as well as the opportunity to collaborate with some of my blogger friends. Working by myself from a home studio can feel isolating at times, you know?
This go-around, I have a very talented bunch joining me, including Lucy from Craftberry Bush, Virginia from Fynes Designs, Krista from The Happy Housie, and Jamie from So Much Better With Age.
For this series, each blogger was given a specific craft or decor item to work with per week and was challenged to create or decorate something with it. To kick off this 3-week series, we started with twigs.
What Can I Make Using Twigs?
I had all kinds ideas running through my head for this first challenge, but I kept going back to the same thing. Deciding to stick with it, I created a simple WOODLAND WREATH that works with our decor now, as well as into the Christmas season.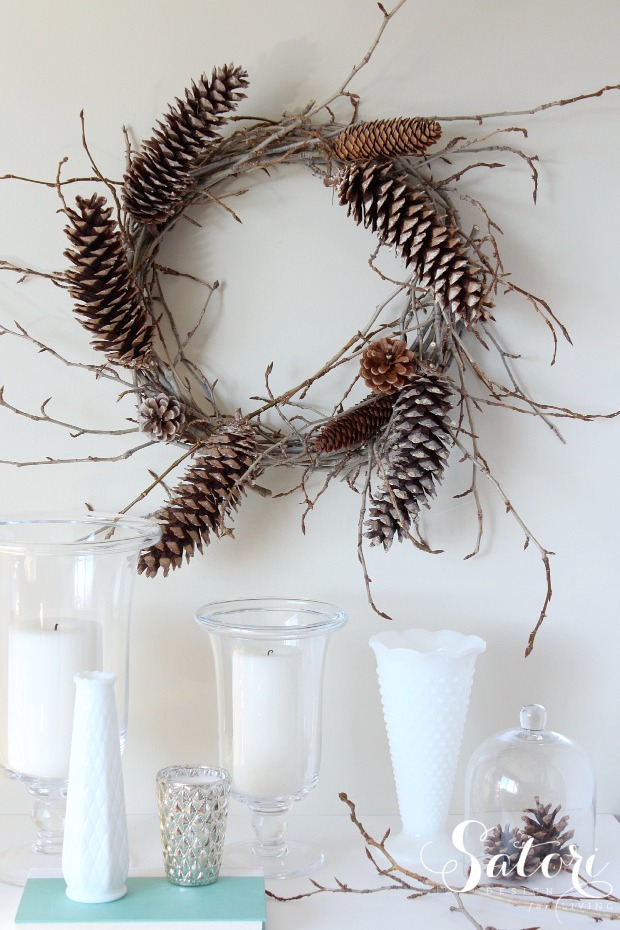 I like decor pieces that have longevity like that, similar to the Book Page Wreath I created last year.
Projects using elements from nature are some of my favourites because they're usually free and readily accessible. For my project, I took a trip down to the wooded river valley near our house and gathered up most of the materials I required to make this twig and pine cone wreath.
Woodland Wreath with Twigs and Pine Cones
Supplies and Tools
Twigs/branches (10 or more)
Pine Cones (various types)
14″ Embroidery Hoop
Florist wire (26 gauge)
Garden snips
To allow the branches to bend around your embroidery hoop, make sure they are freshly cut. I stored mine in our garage for a week or so and they worked fine.
For the pine cones, gather what you can. I ended up buying a large bag of western white pine cones from a local greenhouse for $2 (and only used half the bag).
I found the bamboo embroidery hoop from Michaels for around $2 with a 50% off coupon.
For the florist wire, I used what was left over from my jingle bell ornament project.
Total cost for this project- Under $5
Twig Wreath Instructions
To make this woodland wreath, start by wrapping one of the twigs around the embroidery hoop, securing it with wire at the back.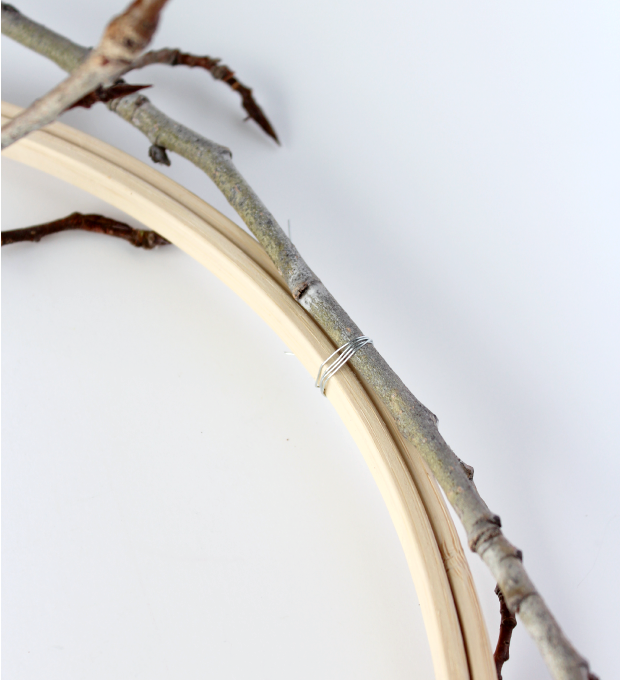 Continue working around, overlapping the end of the next twig just after the previous one until the entire embroidery hoop is covered and it looks full and fairly even. I left a few branch ends unattached as I went along to give it a rustic feel.
For the bare spots on the wreath, cut some of the twigs from the branches and wire them in place (I tried a glue gun, but it didn't seem to want to hold).
Finally, place the large pine cones where you want them and wire them to the wreath. Follow up with the smaller ones. So simple!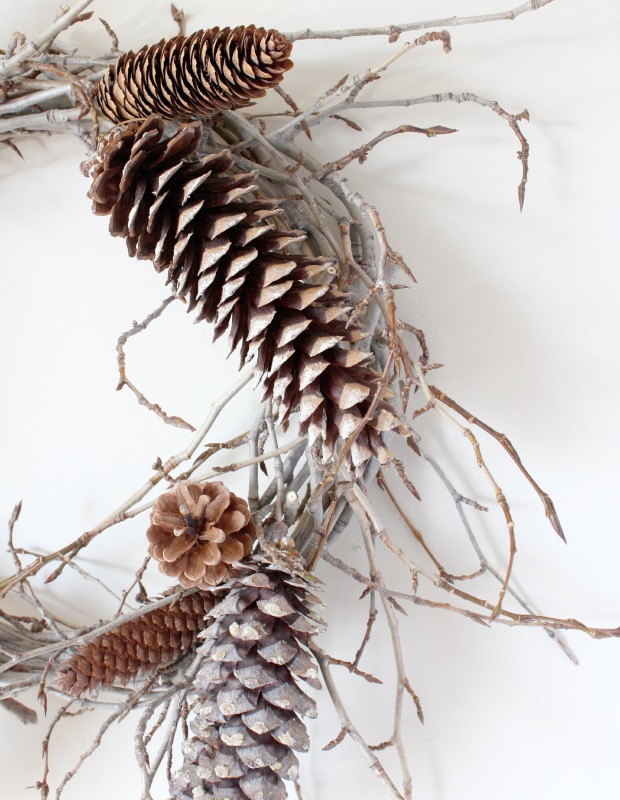 Tip: I found it best to get the large pine cones in place, hang the wreath up and then add the smaller ones after playing around a bit.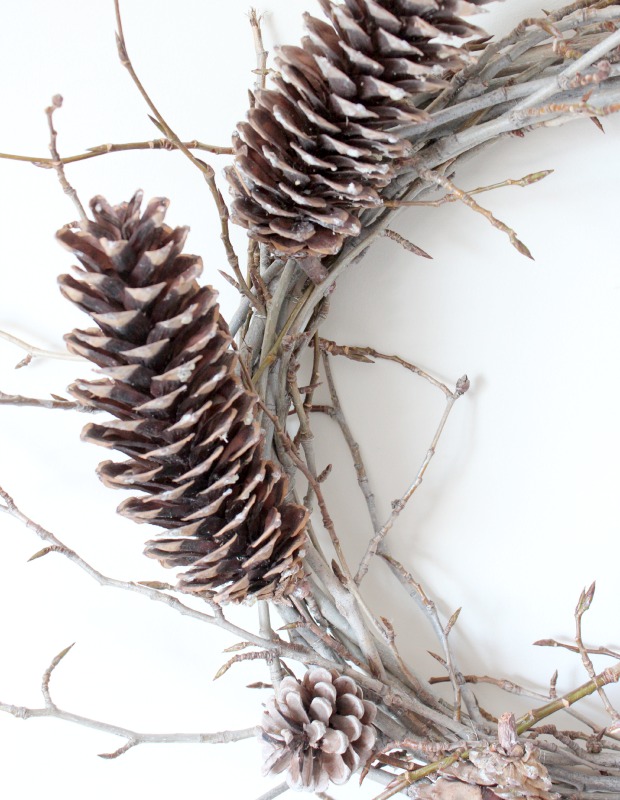 As you can see, I have them following the circular direction of the wreath.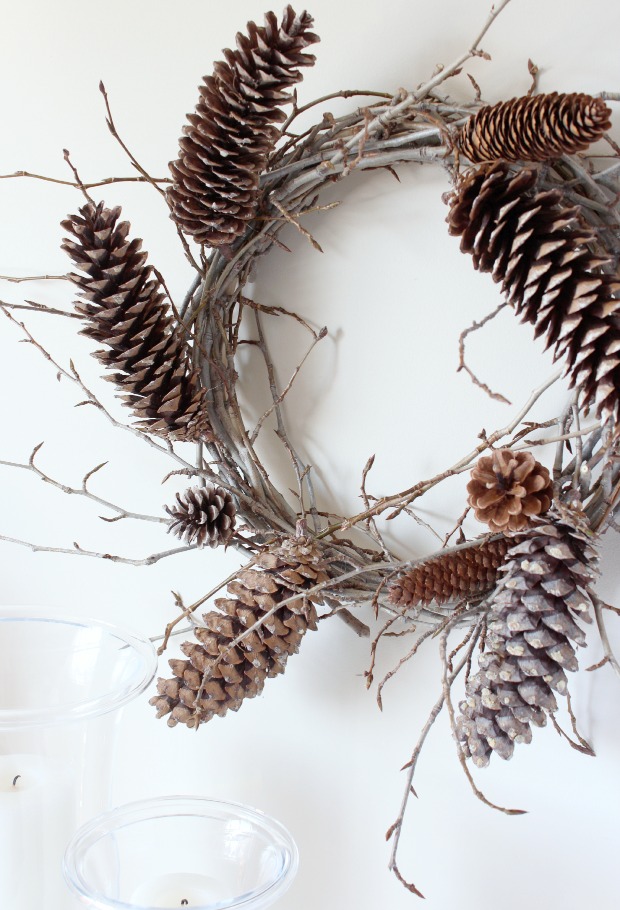 This DIY twig wreath definitely took some time. However, the cost of this project made it so worth it!
Like this twig and pine cone wreath? Be sure to pin it for later.
I hung this twig and pinecone wreath all over our home, including our front door. It's perfect for fall, as well as the upcoming holiday season.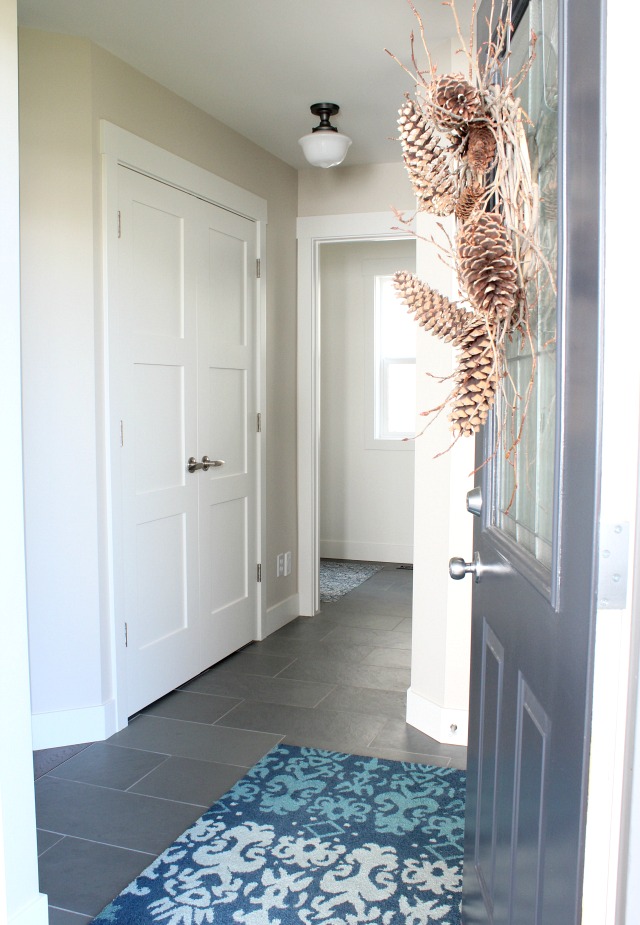 I love decorating our home using materials from nature. What about you?
And now for my favourite part of the One Item Project Challenge series…
More Twig Project Ideas
Driftwood Deer Head Taxidermy by Craftberry Bush
Twig & Pine Cone Wreath by Satori Design for Living
DIY Twig Monogram by The Happy Housie
Snowy Twig Ornament by Fynes Designs
Twig Heart Art by So Much Better With Age
Now, be sure to stop by and check out these twig project tutorials!
I also have these Christmas tree fillers made using twigs and pinecones.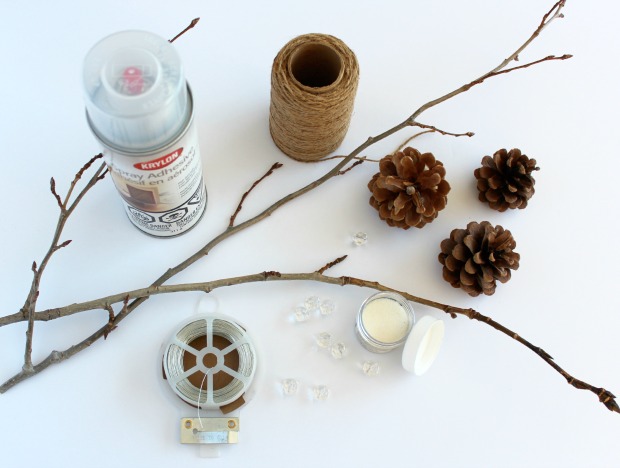 Wondering what the other craft items will be? Come back next Wednesday to get the scoop.
Week One (today)- Twigs
Week Two (Nov. 12)- ? (update: see my fabric project)
Week Three (Nov. 19)- ? (update: see my wallpaper project)

Want more home decorating ideas like these sent directly to your inbox? Be sure to SUBSCRIBE.
Enjoy your day,