These mini chai scones are a bit sweet, a bit spicy, and a whole lot tasty! A good compromise to cutting back on carbs while still getting your fix.
Although we've cut down on eating bread, muffins, cookies and those types of carbs around here, occasionally it's nice to have some sort of baked good paired with a Sunday afternoon coffee or tea. Are you with me?
I think it's something that reminds me of my mom. She was always baking on the weekends growing up.
To this day, her deep freeze is filled with containers of squares and cookies for busy times at the farm, or just in case people stop by (that's just part of living in the country). My husband and son call her freezer "Mr. Dressup's tickle trunk" because you never quite know what you'll find when you open it. Our deep freeze, a big disappointment, so I'm told.
But, I do break down once in a while and make some goodies. Just to string them along, you know?
These mini-sized scones are a good compromise if you're wanting to cut back on carbs, but still need your fix (and have a family to please).
Mini Chai Scones
The best part is, they're made with ingredients you probably already have on hand. So, go ahead, whip them up in a moment's notice.
A bit sweet, a bit spicy, and a whole lot tasty!
Mini Chai Scones
These mini chai scones are the perfect small treat to go along with your afternoon tea or coffee!
Ingredients
1

cup

milk

4

bags chai tea

1 1/2

cups

all purpose flour

1 1/4

cups

whole wheat flour

3/4

cup

sugar

1/4

tsp.

cinnamon

1/8

tsp.

ground cloves

1

TB.

baking powder

3/4

tsp.

salt

1/2

cup

+ 2 TB. unsalted butter

chilled and cut into small pieces

1

egg

1

tsp.

pure vanilla extract
For the Glaze:
3/4

cup

confectioner's sugar

2

TB.

reserved chai milk

see below
Instructions
Preheat the oven to 375°F. Line a baking sheet with parchment paper.

Bring the milk to a simmer over medium heat (bubbles will just start to form around the edges) and remove from the heat. Add the tea bags and steep for 5-6 minutes. Remove the tea bags (squeezing excess liquid out). Measure out 2 TB. of the chai milk and set aside for the glaze. Place the chai milk for the scone mixture in the refrigerator to cool while preparing the other ingredients.

In a food processor (or large bowl), mix together the dry ingredients (flours, sugar, cinnamon, cloves, baking powder and salt), pulsing a few times until combined. Add the butter and pulse until mixture resembles coarse crumbs. Whisk egg and vanilla together in a small bowl, then add to the food processor. Pulse until moist clumps form. Add the chai milk, and pulse just until the dough comes together.

Transfer dough to parchment lined baking pan. Using floured hands, shape into an 8 inch square (dough will be sticky). Dip a large knife into flour and score the square into three even rows and three even columns, forming 9 squares in total. Score each square in half diagonally to form two triangles, making a total of 18 triangles.

Bake until the edges are golden brown (about 25 minutes). Allow to cool for 2 minutes and cut along the lines to create 18 scones. Transfer to a wire cooling rack.

For the glaze, whisk together the confectioner's sugar and reserved chai milk. Allow the scones to completely cool before drizzling the glaze over with a spoon.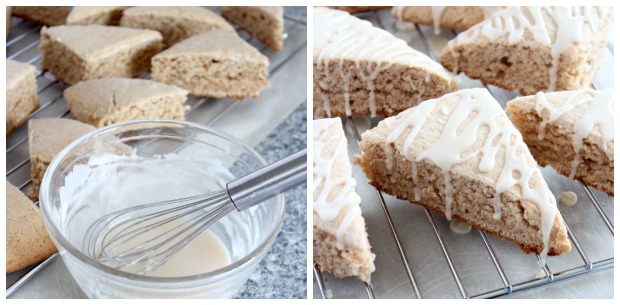 These chai scones are best eaten the day they are made, but can be frozen too. We like to eat ours warmed in the microwave or oven just a bit.
For guests, I like to serve them on my tiered cake stand. A bit Downton Abbey if you know what I mean.
Now to switch gears…
Holiday Countdown Week 3:
Did you get your tasks completed from week two? I started a new board on Pinterest to collect ideas for this year's decorating scheme. If you're looking for inspiration, check out All Things Christmas, a curation of some of the best posts by fellow home bloggers.
Simply click on the image below to get your Week Three homework and free printable (note: it's a post I put together last year but the tasks are still the same)!
Be sure to let me know what you've been up to in the comments below and/or social media!
P.S. If you don't want to miss a thing, I invite you to SUBSCRIBE to updates in the sign up form below this post. I'll also be posting reminders each Friday on Satori's Facebook Page.
 Enjoy your weekend!