Get inspired by this Canadian Fall Home Tour, including our newly renovated kitchen and dining room decorated in eclectic vintage style with a touch of rustic.
Hello friends, and welcome to Day 2 of the Canadian Bloggers Fall Home Tour. Firstly, I want to thank my friend Christina from The DIY Mommy for being our gracious hostess, along with 18 other talented home bloggers. Take a minute to grab a cup of coffee or tea and get comfy. If you're like me, you'll want to take in every last detail of these beautiful homes decorated for the fall season. Links to each one are located at the bottom of this post, so please take a look as they unfold over the week.
Whether you're a first time visitor or one of my longtime readers, I'm so glad to have you here! We bought our builder grade house over a decade ago and have been working on adding character and personality, both inside and out, ever since.
I'm a believer that creating a home that feels right to you and your family is a process and takes time. The important thing to remember is we're all along a spectrum in achieving the home of our dreams. I'm by no means there, yet, but I do appreciate how far we've come. Please feel free to pin and share your favourite ideas.
Canadian Fall Home Tour
Let's get this fall home tour started, shall we? Come on in…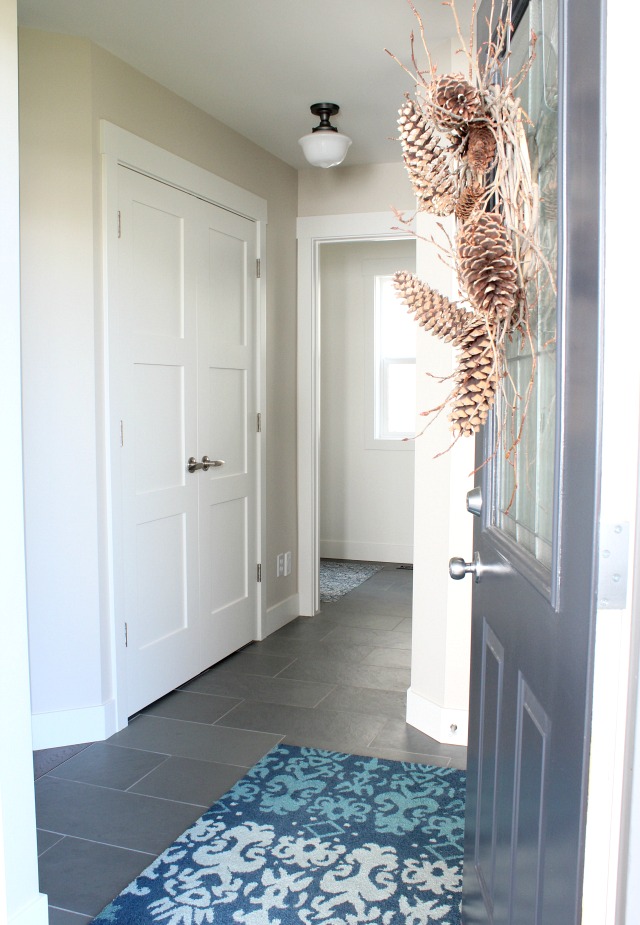 Our entryway is one of the spaces we updated most recently. It may be small (little we could do about that), but the grey slate tile, white shaker style closet doors and trim are much more functional and pretty than what was there before.
To keep it looking fresh and uncluttered, I added simple fall decor like this twig and pinecone wreath I put together a couple seasons ago.
Although our living room is the next space you see as you enter our house, I thought I'd save that tour for another day while we wait for some key decor pieces to arrive, like a new area rug and artwork. You can check out our fireplace remodel if you're curious to see what it looks like.
Next stop on this fall home tour is our dining room, aka eating area of the kitchen…
At first, I planned on keeping the whole area neutral with shades of grey, white and taupe combined with textures of wood and linen. Greenery would make up the only sources of colour to be found. It made sense to go in that direction since our DIY rustic farmhouse table lends itself to that kind of style.
Why all the blue then?
Well, on one of my weekly stops at a local thrift shop, I spotted these indigo "depression era-esque" glasses with their fabulous bubbles and knew I had to have them. I splurged a whole $4 for the bunch.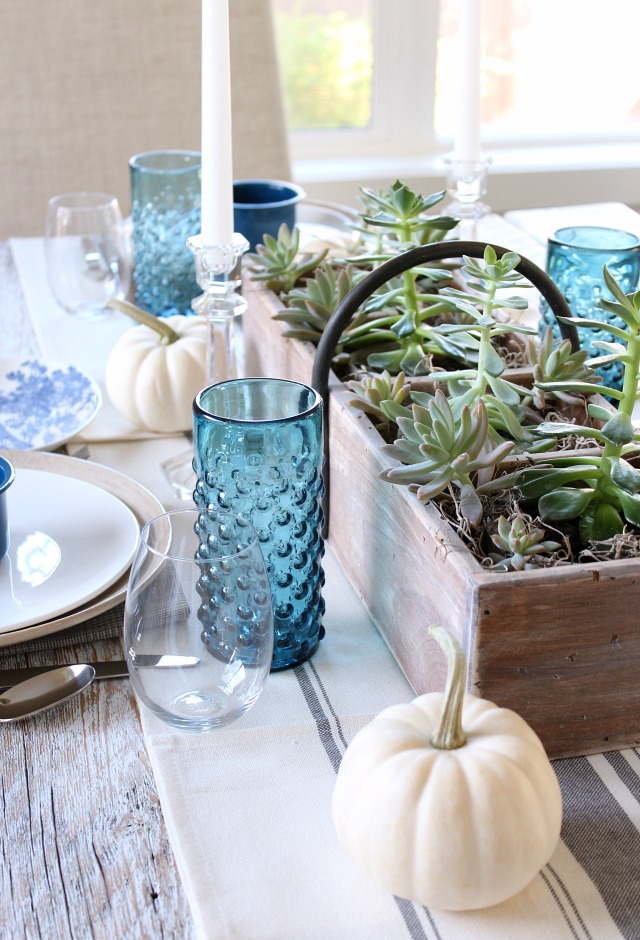 I embraced the neutral and moody blue fall tablescape idea, and out came my other thrift shop finds, including these enamelware soup mugs and vintage toile dinnerware pieces.
Okay, so they're typically not what you'd see put together in a fall table setting, but I liked the eclectic vintage vibe they gave off. Breaking rules and letting go of fuss is what casual dining is all about.
For the table centerpiece, I pulled out my trusty vintage toolbox and added moss and succulents I potted earlier in the spring.
I like to shop our home first when decorating any space to save time and money.
Speaking of which, I put 3 grain sack tea towels together to make up the table runner. Always think about ways to repurpose items when decorating your home.
Evenings tend to come quickly once fall hits, so adding candles to the table is a must. I love the amber glow of real flames, which reminds me of a beautiful autumn sunset.
For extra storage, I pulled out our DIY bar cart and styled it with some rustic wood serving boards, seasonal fruit, wheat from my parents' farm, as well as other vintage decor items I've picked up on my travels.
I even found the plaid fabric to make the napkins at a thrift shop and will be sharing those details in an upcoming post. They ooze fall, don't they?
Update: Learn how to make those fringe napkins.
One thing we did splurge on during our kitchen and dining renovation was the beaded chandelier. However, most of the options I had been looking at prior to finding this beauty were 3 times the price. Sometimes all it takes is a little patience and resourcefulness (and good luck) to get what you want for less. My advice is to always shop around and decorate using a high/low formula.
From our dining area, you can see the hardwood staircase leading to the second floor. We're enjoying the look of the white-painted risers and hardwood treads that match the rest of the flooring on the first level. The makeover did wonders to open up the space.
To the left is our white kitchen…
This transformation was by far the biggest home improvement project we've tackled to date. If you've ever gone through a kitchen renovation you know how challenging it can be!
Was it worth it? I can say yes now, but I'm not sure I'd live without a kitchen ever again. I felt unsettled for months. We're definitely not a take-out kind of family. We LOVE home-cooked meals and spend a lot of time in this space.
For me, decorating the kitchen for fall is all about embracing simplicity and allowing seasonal produce to be the feature.
That's the beauty of having a kitchen made up of shades of white, including our subway tile backsplash, IKEA Bodbyn cabinets and marble quartz countertop.
My favourite improvement of the entire space is the large one-level island. We used to have a tiered island that was awkward and seemed to cut the room in half.
Now it's open and full of functional storage.
With just the two of us at home for most of the year (our son is in post-secondary), we eat many of our meals here. It's so convenient!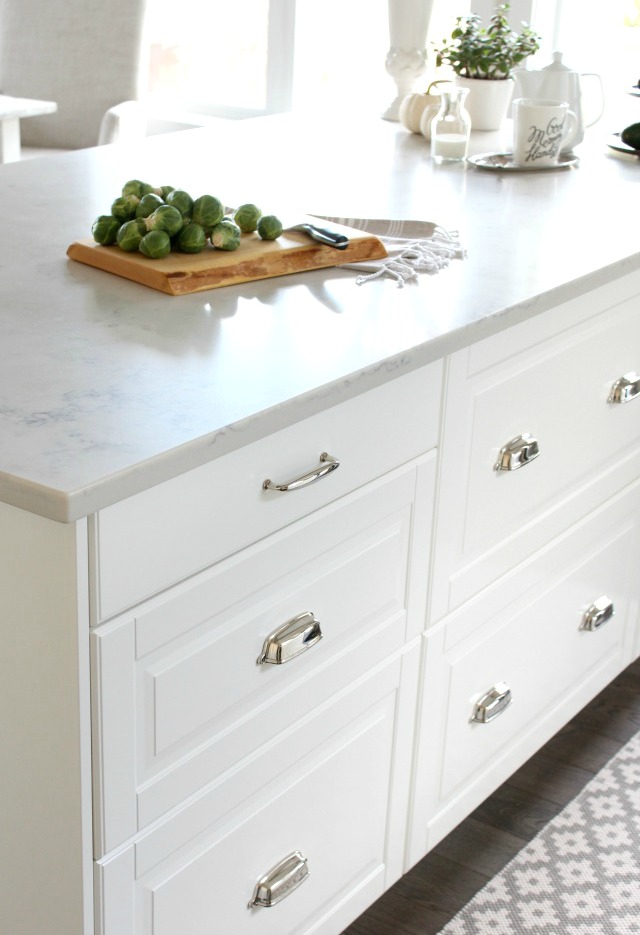 We also have loads of counter space for prepping and serving and adding fall decor, like this vase filled with ornamental grasses clipped from the outdoors.
Do you need to refill your coffee cup before we move on?
I also love that I'm able to see what's going on in the living room while I'm cooking. I'm nosy like that. You?
Now that you've taken a little peek into our living room, it's time to send you along to see what my blogger friends have been doing to get their spaces ready for fall. I hope you'll be back to see future home projects like our new living room decor, staircase makeover, or my favourite season to decorate, Christmas!
Before you head out, I invite you to subscribe to get more decorating ideas like these delivered straight to your inbox. I'd love for you to join our growing community of home & garden enthusiasts!
Pin this Canadian Fall Home Tour for later!
Some links used in this post are affiliates. Please refer to my disclosure policy for more information.
ENTRYWAY: Pinecone Wreath
DINING: Farmhouse Table | Linen Chairs- Restoration Hardware | Beaded Chandelier | Linen Stool | Vintage Tool Box With Succulents | Wood Serving Boards, Tea Towels, White Plates- HomeSense | Blue Dishes, Candle Holder, Baskets, Blue Glasses, Napkin Fabric- Thrift Shop | White Bar Cart
KITCHEN: Cabinets- Ikea | Faucet | Nickel Pulls, Light Fixtures, Stools- Restoration Hardware | Patterned Rug | Calligraphy Mug, Marble & Wood Serving Board, Marble Salt Holder- Chapters Indigo | Espresso Machine | Vase, Bowls, Tea Towels- HomeSense | Silver Tray- Thrift Shop
Fall Home Tour
Each day, a new group of Canadian home bloggers will be sharing their decorating ideas. Be sure to visit each fall home tour by following the links on the days below. I know you'll leave feeling inspired and ready to embrace the autumn season. Enjoy!
Thanks for stopping by our fall home tour!
Sending you fall blessings,