Vintage Tool Box Planters
These vintage tool box planters with flowers and herbs are a fun trash to treasure project. Learn how to create your own, plus get inspired by all kinds of plant and flower ideas shared at this year's Outdoor Extravaganza!
Hello friends! Can you believe it's time for this year's OUTDOOR EXTRAVAGANZA? If you haven't started any outdoor projects, now's the time! I promise you'll be inspired to whip your backyard (or any part of your outdoor space) into shape.
I've invited some creative blogger friends to join in the fun. Over the next few Wednesdays, we'll be sharing Plants & Flowers projects, Outdoor Decorating & Entertaining ideas, as well as Build-it & Paint projects.
Then, on May 28th, we invite you to come back for one big OUTDOOR EXTRAVAGANZA link party, where you can share your own outdoor projects!
To kick things off, we're sharing our PLANTS & FLOWERS projects today…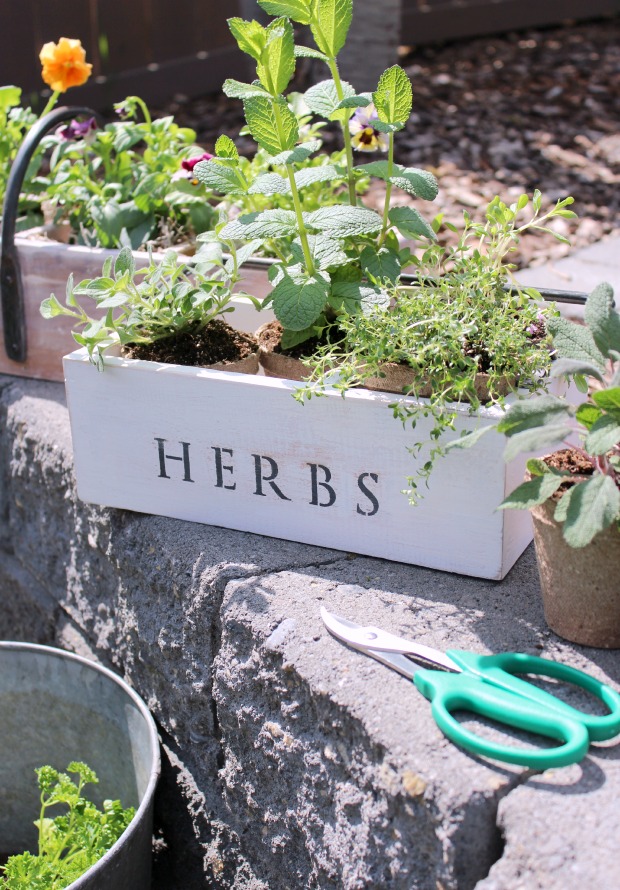 Vintage Tool Box Planter How-to
For a while now, I've had two vintage tool boxes sitting in our garage. I found the first one in front of a garbage and the other was rescued from the back of my cousin's truck, which was en route to the dump.
Transforming the Tool Boxes
When I brought these old wooden caddies home, I wasn't sure what to use them for. I mean, that orange paint job was hideous. But, they both were solidly built and deserved a second chance.
So, I did what I usually do with old wood, and pulled out my sand paper, white paint and some rags and brushes. Of course, I gave them a good cleaning first.
The orange caddy got a few coats of indoor/outdoor paint, whereas the wooden one got a watered-down wash that I wiped off with a rag. I covered it just enough to tame down the stain colour.
Aging Terracotta Pots
Then, I aged some terracotta pots with the same watered-down indoor/outdoor white paint. I brushed it on and used a rag to remove a little here and there. Some areas required two coats. Don't worry if you mess up. Dampen the rag to remove the excess and apply a little more. Be sure to finish at least the rim part of the inside too.
Assembling the Tool Box Planters
Next, I placed each pot in a section of the larger tool box along with some spanish moss.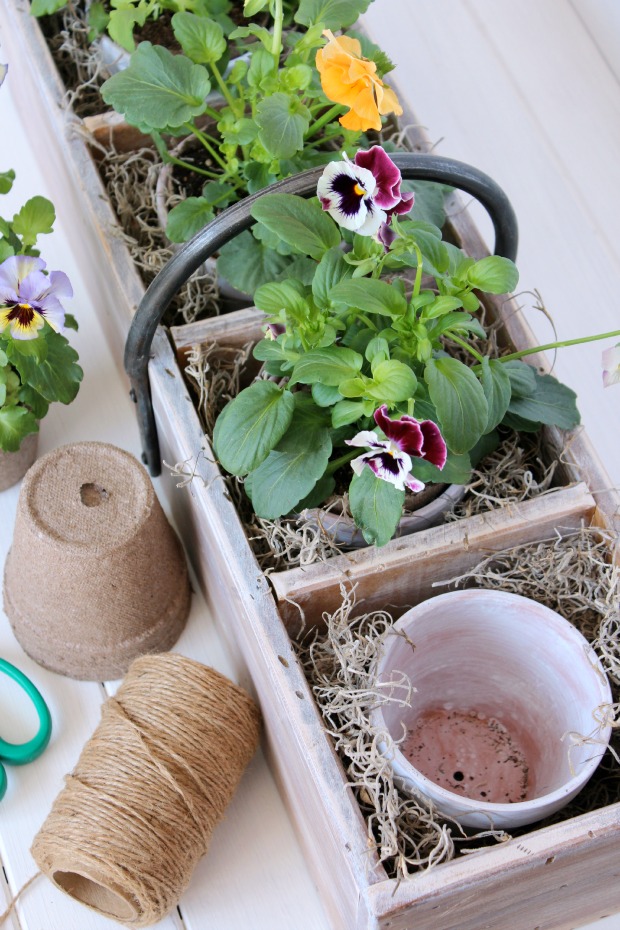 To keep the plants from drying out too quickly, I transferred them to peat pots first and then placed them in each terracotta pot. They'll still likely need a daily watering, but the fiber will help hold in the moisture.
Don't you love these frizzle sizzle pansies? Adorable, I say.
For the orange caddy, I stencilled HERBS across the front using self-adhesive stencils and charcoal paint I had left over from my printed tea towel project. Then, I lightly sanded the letters to give them a slightly-weathered look.
I like how it serves as a garden tool caddy…
Or, it can simply be a cute little herb planter.
I think these vintage tool boxes are better served here than in a landfill. Agree? Have any other wood tool box ideas?
Of course, you could also build your to use as planters if you can't find any vintage ones. I also have some other creative and unique planter ideas you may want to check out, including a planter made from a drawer.
Ready to take a look at the other Plants & Flowers projects?
Texas Centerpiece by The Blissful Bee
Whimsical Herb Garden by Craftberry Bush
Front Yard Garden Tour by The Happy Housie
Vintage Tool Box Planters by Satori Design for Living
DIY Patio Planter by Fynes Designs
How to Make a Fairy Garden by Echoes of Laughter
Be sure to come back next Wednesday to check out our Outdoor Decorating & Entertaining projects. As well, mark your calendars for our big OUTDOOR EXTRAVAGANZA link party on May 28th!
Thanks for stopping by!