Project Powder Room: Eastmoreland Double Sconce
Bathroom lighting need an update? Check out the vintage-inspired double sconce light fixture we selected from Rejuvenation to install in our powder room.
Thank you to Rejuvenation for collaborating on today's post and helping us get one step closer to finishing our powder room renovation. Affiliate links are included for some of the light fixtures.
Last fall I set out to add some much-needed personality to our builder basic powder room. We refinished the ceiling (bye-bye popcorn), added new shaker style trim, freshened up the paint and hung some wallpaper. Then, Christmas preparations took precedence, and we put everything on hold…
When I finally picked this project back up, my first order of business was finding a new light fixture. Seemed simple enough, but the double sconce I envisioned for the space didn't seem to exist. My search finally came to an end when I spotted the perfect choice from Rejuvenation.
If you appreciate classic and vintage-inspired design as much as I do, you'll probably want one of everything after you look through Rejuvenation's beautiful selection. I chose the Eastmoreland light fixture for our powder room, and started a wish list for more items I'd like for the rest of our house. You must check out their hardware, mirrors, pendants and more. Absolutely gorgeous!
To keep the bathroom finishes consistent throughout our house, I selected polished chrome. Most of their sconces also come in antique copper, brushed nickel, oil rubbed bronze, old brass and more. I'm definitely considering some of these other options for our upcoming kitchen renovation.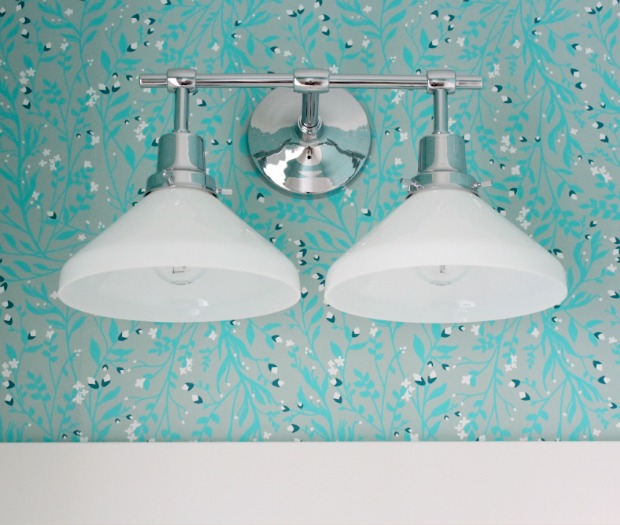 There's a light fixture style for everyone with 30 different shade options. I like how the shades I chose resemble milk glass and allow light to diffuse throughout the room. Definitely something to keep in mind when selecting a bathroom or powder room light fixture.
The Eastmoreland sconce is made to order, but Rejuvenation also has some beautiful quick ship lighting if you're pressed for time.
I think it's the perfect light fixture for this little bathroom. You?
What's left on our Project Powder Room list?
Scrape popcorn ceiling
Remove mirror, towel bar and toilet paper holder
Remove current baseboard and door trim
Install crown moulding
Install paneling (nixed)
Replace subfloor and install tile
Install baseboards
Fill, prime and paint woodwork, walls and ceiling
Replace light fixture
Change mirror
Replace towel bar and toilet paper holder
Add decorative details (including a secret project): that was the wallpaper!
We're getting there! Next up is installing the tile floor followed by the baseboards. The mirror, towel bar, toilet paper holder and some of the other decorative details are waiting in my office to go up.
Giveaway Time!
Rejuvenation wants to help you with your next home improvement project. Enter for your chance to win $250 USD in Rejuvenation products! Open to Canadian and US residents only (void where prohibited).
Wait for the rafflecopter box to load below (if it takes too long, try another browser) and log in using the Facebook tab or your email (spam safe). Follow the instructions.
Good luck!