Top Picks: Double Sconce Bathroom Lighting
Looking for new bathroom light fixtures? Check out my top picks for vintage-inspired double sconce bathroom lighting sourced online.
Remember our powder room renovation we started back in November? The last image I left you with was something like this after we scraped the popcorn ceiling, installed new trim, added a fresh coat of paint and put up some pretty wallpaper…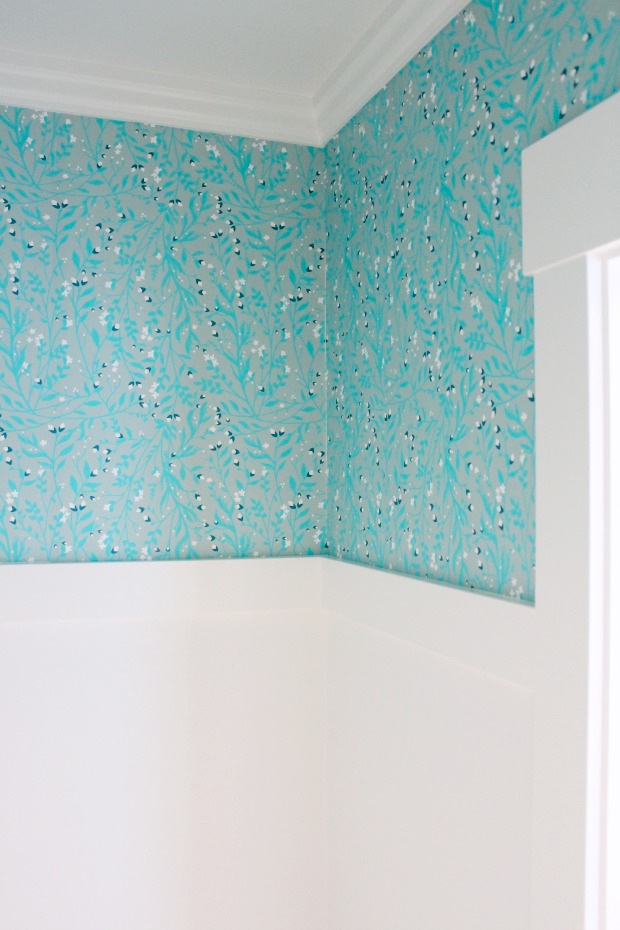 I still smile every time I walk past that room. That's until I think about the parts left unfinished…
Since then, we've gone on to plan and start the rest of our main floor renovation, including the kitchen, living room, entryway and laundry room. If you've ever gone through a renovation of your own, then you know there's an order of steps that need to be taken that can interfere with finishing off any specific room. For the powder room, it's the tile floor that can't be installed until the entryway and laundry room are at the same stage.
In the meantime, I've selected the remaining finishes for the powder room, including a pivot mirror, towel bar, toilet paper holder and glass shelf. They're all sitting in our basement waiting to be installed. I've even gone as far as picking up pretty hand towels and soap that I'm dying to put out. I love adding details.
Another element we're planning on replacing is the ugly vanity light fixture. My first choice was to install individual sconces on either side of the mirror, but given the narrow width of our powder room, a double sconce above the mirror makes more sense.
After several trips to various lighting stores and coming up empty-handed, I decided to do a little searching online. Most of what I liked was based in the US and, unfortunately, shipping to Canada (especially factoring in the exchange and duty) is challenging to say the least. However, after considering all the options, I found exactly what I wanted and decided to go for it. Sometimes it's worth spending a little more and waiting a little longer when it means you get exactly what you want, right?
Which double sconce bathroom lighting options did I find?
If you're looking for a good quality, classic bathroom lighting with a vintage nod, I've you covered.
Some links are affiliates. Check out my blog policies.
Sources:
Have a favourite double sconce bathroom fixture in the bunch? I certainly do.
You'll have to wait to see which light fixture I chose after we get it installed. Hopefully very soon.
Shop Bathroom Double Sconces


And, if you're looking for more vintage bathroom inspiration, I suggest checking out my friend Deb's gorgeous makeover. She offers some great bathroom renovation tips too. Don't you just love character homes?!
Update: Check out our new powder room sconce that I'm loving so much!
Thanks for stopping by,