We're finally able to kick back and enjoy our new backyard updates we've been working on the past month!
How is your summer going? We had a busy week of graduation celebrations around here and everything is finally cleaned up and back to normal after our BBQ bash on Saturday. The plan was to have most of the party outside, but the weather forecast wasn't looking very good leading up to the big day. On Friday, we decided to prepare for the worst and cleaned up the garage and made it as party ready as possible. It was a good call since Saturday brought everything from sunshine to strong wind to heavy rain and hail. Not the best conditions for a party! Nonetheless, everyone had a great time and that's really what's important.
Prior to the graduation party, we worked hard to finish up projects around our yard. It's amazing how the thought of fifty people coming to your house can motivate you to get things done. If you're finding yourself dragging your feet on home projects, plan a party and I guarantee you'll have a little more pep in your step! I thought I'd share some of our most recent backyard updates.
Backyard Updates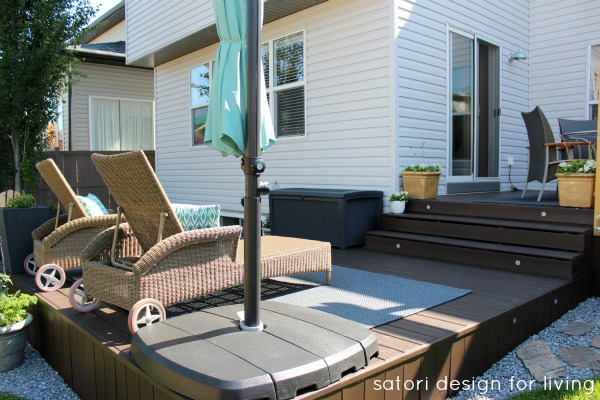 Staining the Deck
One of the first projects we tackled was re-staining the deck. Although I liked the look of a darker stain, the product we used the first deck staining go-around had a bit of a red undertone. I wanted more of an espresso look, but achieving it with a semi-transparent was pretty much impossible.
In addition, there were certain parts of the deck that had worn down to the bare wood from our dog coming in and out, as well as regular wear and tear from the winter. It was looking pretty rough.
After much contemplation, I decided to cover the whole thing in Behr Cordovan Brown solid stain. I've used this product in a different colour for our back fence and knew it had good coverage.
It was quite a bit of work, but I'm really happy with the colour result. Made our deck look new again!
Outdoor Rugs
Another change we made recently was adding new outdoor rugs to the upper and lower portions of the deck. After searching online and not finding anything in the right sizes at a low enough price point (for the few months we can actually use our deck), we decided to go with the Morum rug from IKEA in dark gray.
It feels soft underfoot and adds a bit of needed texture to our outdoor space. It also protects the deck from furniture scratches (and the odd chair flying off the top deck in a strong wind and scratching the entire lower deck surface just after it was stained- let's just say it has happened!).
Outdoor Offset Umbrella
To provide shade and privacy on the lower deck, we found this large offset umbrella in a pretty aqua colour at Target. We like that it can tilt and move from side to side to give more or less sun.
The heavy base filled with water allows it to stay put, but we always put it down when the wind picks up just in case.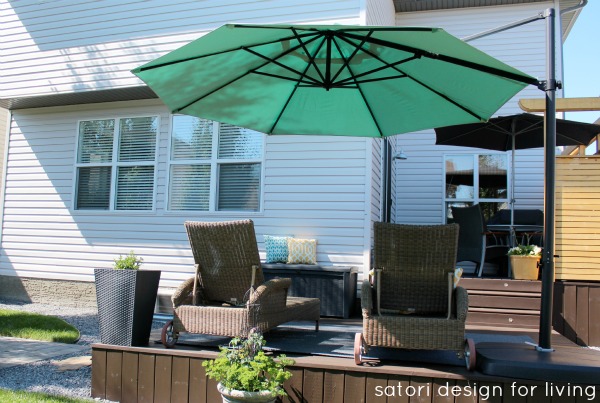 Deck Storage Box
For much needed storage of our outdoor pillows, blankets, citronella candles, and more, we found a grey rattan deck box. It also doubles as a side table or extra seating.
I think I may pick up one more to use alongside the house for extra storage. So handy!
Outdoor Seating
On the stone patio we now have two cedar Adirondack chairs my son built in construction class (so impressed!). I haven't decided what colour to stain them yet, but you'll definitely see the results in an upcoming post. (I'm taking suggestions by the way!)
Update: Click here to see the stained Adirondack chairs!
Outdoor Lighting
The last thing we did was change out the builder's-grade outdoor light that was starting to rust with a galvanized sconce. I love the barn-like quality of this sconce, as well as its budget-friendly price point.
Now that things have settled down a bit, we're finally able to enjoy our outdoor space. If the sun is shining, I take my afternoon break on one of the lounge chairs (that I still need to find cushions for…) and I feel like I'm in my own little oasis. Oh how I love summer!
Want more home improvement projects like these sent directly to your inbox? Be sure to SUBSCRIBE.
Enjoy your day!