Have a hideous orange fence? I couldn't stand ours and transformed it using a new grey-brown stain color. See how it looks now and get tips for selecting the right stain color.
You know those projects that start out with good intentions but turn out to be a major miss? Since we moved into our home several years ago, my fence and I have not had a good relationship. We started out with a tall light grey fence along the back that the developer put in, and a simple cedar fence was added on either side of our house shortly after. It sounded like an alright idea at the time, but I didn't realize it would turn out to cause me so much grief.
From the minute that fence went in, I hated it (such a strong word, but nothing else would suffice!). I didn't want to stain it to match the grey, so I thought I'd try staining over the grey to match the cedar. 'Natural Cedar' stain sounded like the perfect solution.
It looked okay to start with, but when the sun was shining, it gave off a terrible orange glow. T-E-R-R-I-B-L-E! I almost didn't want to look out my back window, and I'd cringe whenever I did! I ended up living with it for a while because at least it blended better with the cedar fence and looked a little more uniform. In addition, I wasn't very excited about having to pull out the paint brush, yet again.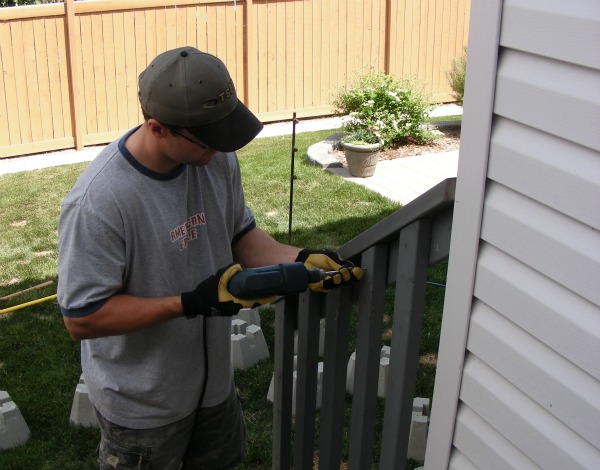 After not being able to go one more year looking at my orange fence, I decided to finally do something about it. I knew it would be a big project, but it was worth it to me since we spend so much time in our backyard.
Is your fence stain too orange?
Transforming Our Orange Fence
Step one was finding the right color. I wasn't going to make the same mistake twice, so I took finding just the right stain color very seriously.
One of the mistakes I made before was selecting the color only in the shade. This time I took a look at the colors throughout the day to see how they changed.
After trying several samples from Benjamin Moore, I wasn't getting the color I wanted, which was a grey-brown. For some reason, all of them had a purple undertone (not the change I was after!). I switched gears and tried two colors from Behr, as well as the leftover stain I used on the deck.
I really liked the first color called Boot Hill Grey by Behr, but it clashed with the grey trim on our house and looked a little purple in the sun. The second color, Wood Chip, was too dark and didn't provide any contrast to the deck. The third option, called Tugboat by Behr, was perfect having the right balance between the color of our house, trim and deck (and if you refer to the photo, it looked a lot different than the orange next to it). I also liked how this color was similar in tone to our stepping stones.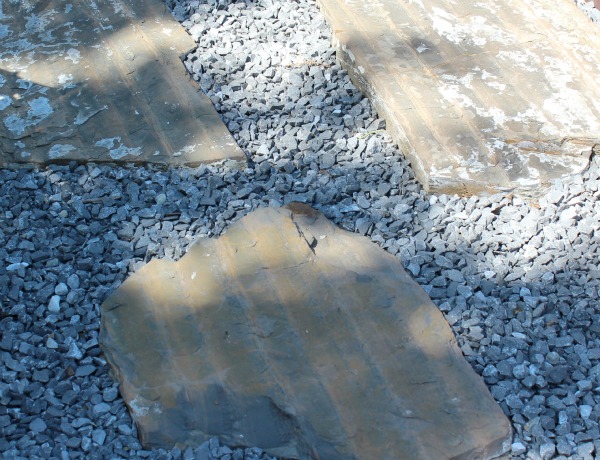 If you're selecting a stain color, make sure you wait for it to dry before you make a decision. Look at how Tugboat by Behr changed from wet to dry.
The next step was removing as much of the chipped paint, dirt and debris as possible. I used the pressure washer (standing back a good distance) and it worked like a charm. I let the whole thing dry for a couple days to ensure the moisture was out, then lightly scraped and sanded the whole thing.
Time for staining the fence! Because I don't want to stain the fence again for a long time, I selected the Behr Premium. It's a bit more money, but well worth it. For the cedar fence, I went with a semi-transparent. On the back fence, I used the Behr solid fence stain (since that is what was originally used and the wood is a lower grade).
After several days of staining, I am happy with the result. Not only does the fence look unified, but the color makes the plants and trees stand out. I like how it disappears and isn't the center attraction like the orange was.
It amazes me that this corner of our yard is the same one as the first picture in this post. We've come a long way, Baby! (It looks like that lawn could use a good mowing, doesn't it?)
I'm glad to finally be able to look out our windows and not cringe! I'm planning on giving the back fence one more light brush to rid the orange for good.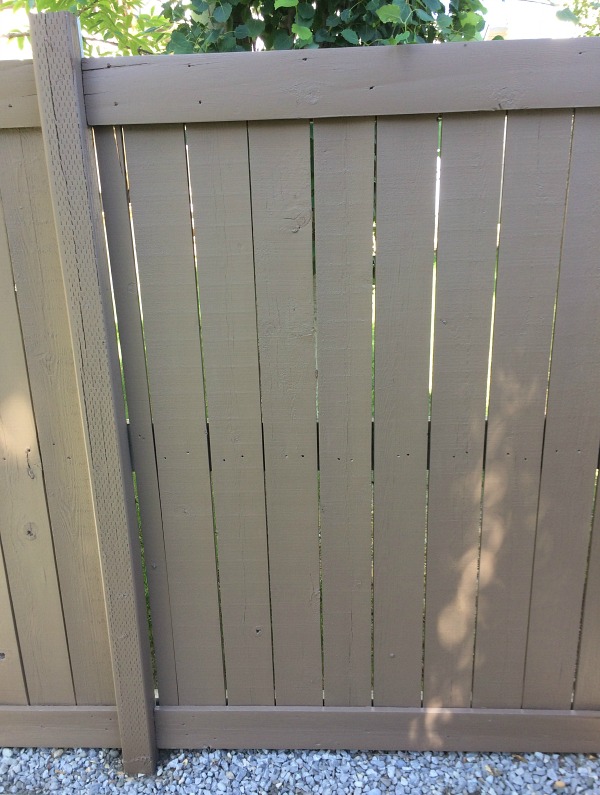 Asking yourself, what color should I paint my fence? PIN this staining project for later.
Do you have any projects that failed and need a redo? Are you finally ready to tackle something you've been putting off?
Trying to decide on a new deck color? We recently transformed ours from espresso to grey.
Click here to see our deck staining process!
Enjoy your day!