Deck Stain Updates + Outdoor Decor Picks
Get your deck ready for summer with updated stain colours, plus budget-friendly outdoor decor and furniture in a modern coastal vibe.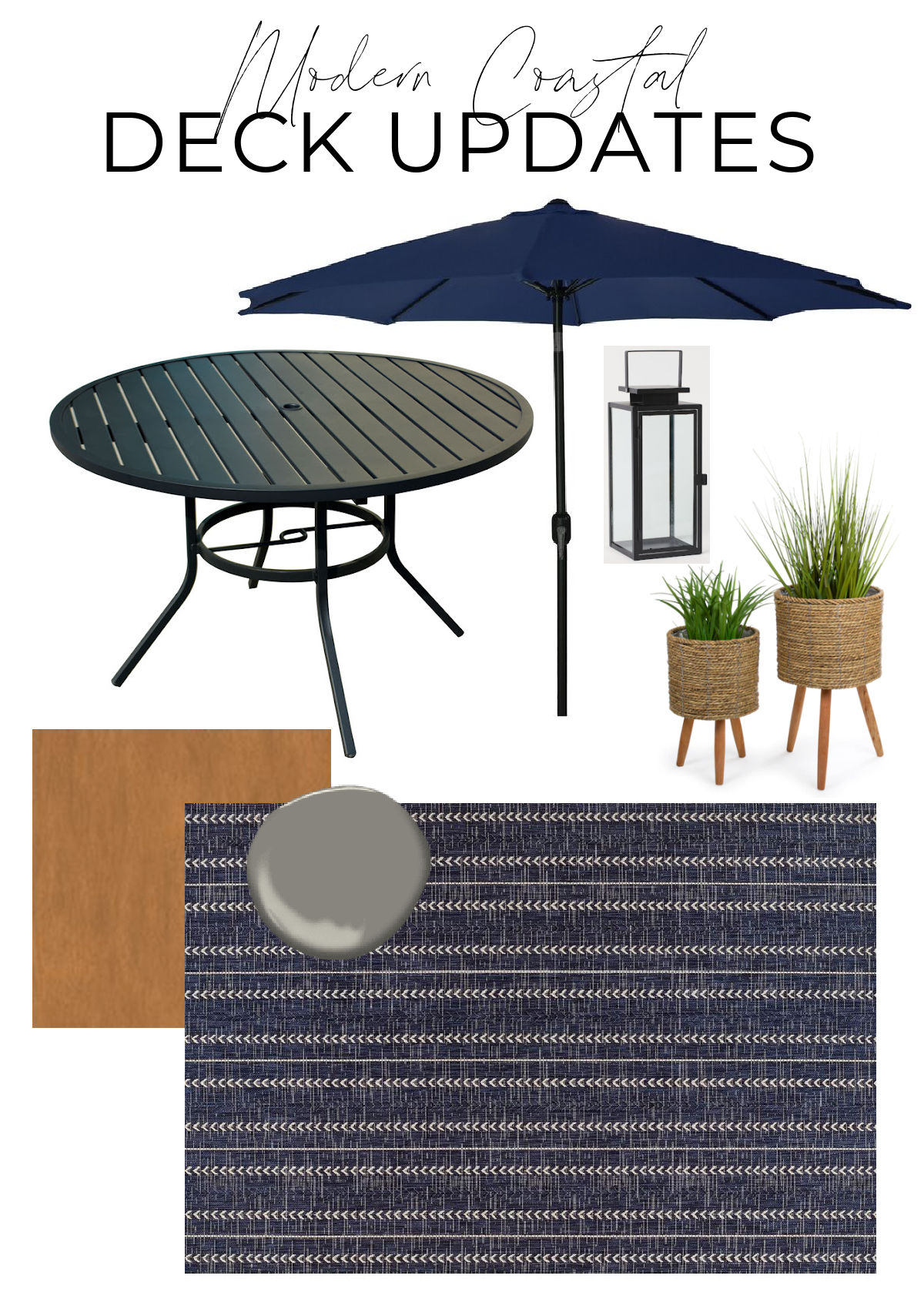 Is it finally starting to feel like summer where you live too? We love backyard living, and typically have our outdoor furniture and decor set up by now. However, as you may already know, we sold our house and had to be out at the end of May.
Before I leave this home behind in my mind and fully switch gears to our new build, I wanted to share our deck updates that we tackled last summer. After yet another hail storm the year before, our deck and cedar privacy screen needed to be refinished. Needless to say we've had a lot of experience in the deck staining realm over the years! Perhaps these tips and stain colour suggestions will help make it a little easier for you.
One note: I had every intention of taking better REVEAL photos last summer, but didn't get around to it. So I'm sharing a few that I snapped with my phone. Keep in mind that colours display differently whether it's overcast or sunny.
Deck Stain Updates
For the deck stain, we went with Benjamin Moore Chelsea Gray in a solid finish once again. After living with dark stain in the past, we definitely prefer the lighter grey colour for overall look and maintenance. Dark deck colours tend to show dust and water spots, plus retain heat much more than light to medium stains.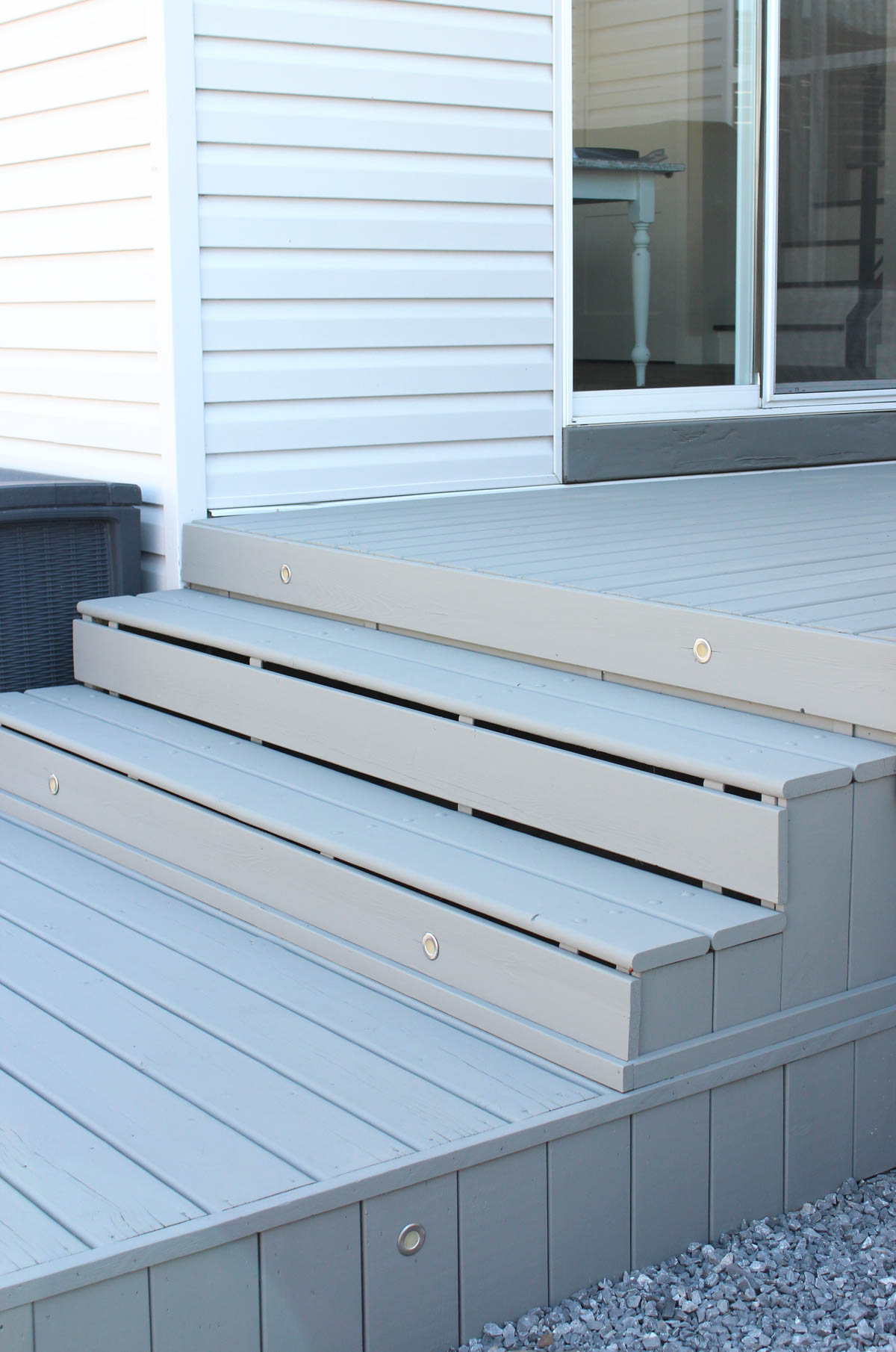 Although Chelsea Gray looks quite blue in these photos, it tends to have a slight green undertone most of the time. Our deck faces North, so colours read a bit cooler. To see how it looks in other lighting, check out "Outdoor Updates" in my Instagram story highlights.
When selecting deck stain colours, be sure to look at them flat against the deck surface instead of holding them up. Colours will always read lighter and quite a bit different on a horizontal surface.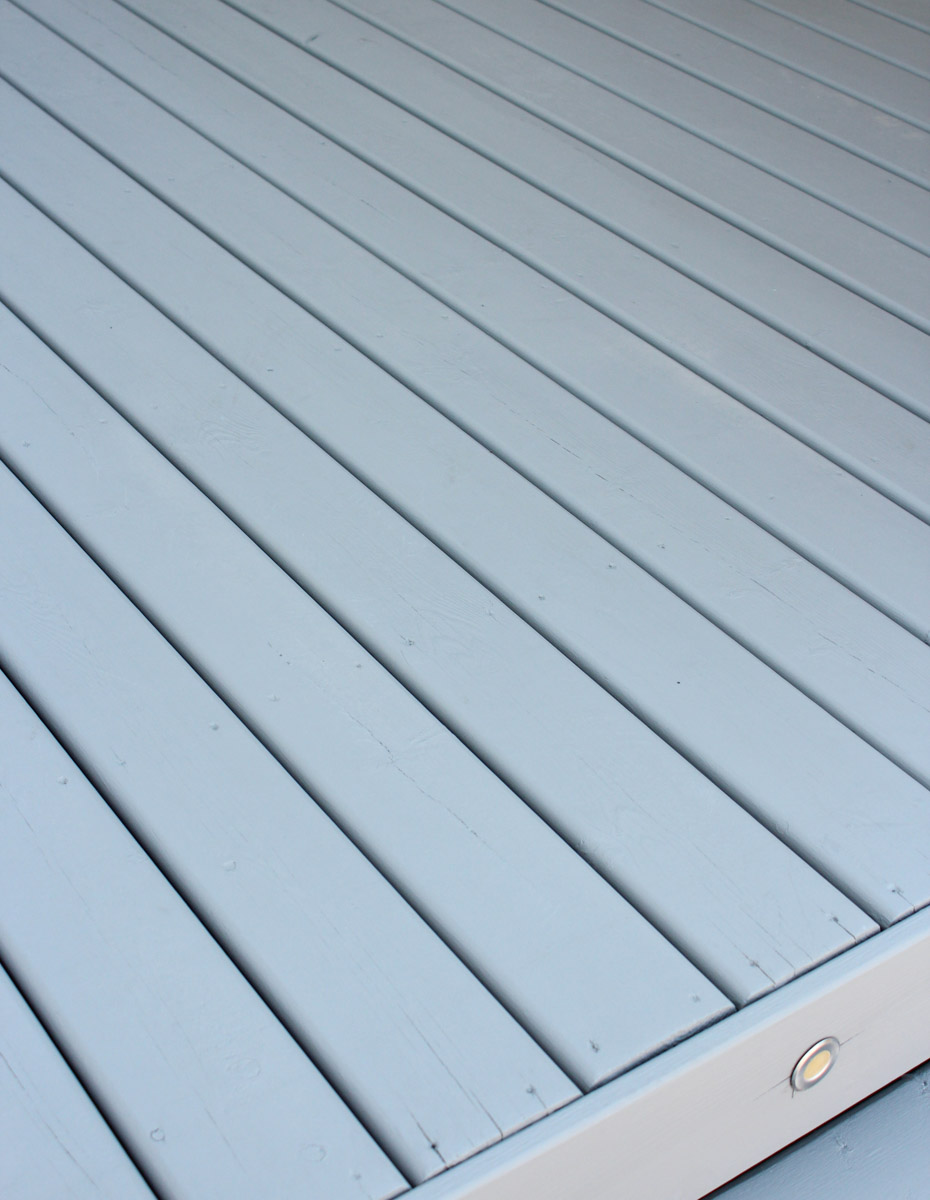 One change we did make this time around was using a deck brush to apply the stain. I highly recommend investing in one for quick application and a flawless finish. The wider width works well for deck boards and the quality bristles pick up just the right amount of stain without pooling in cracks. I wish we had discovered this painting tool earlier!
Cedar Privacy Screen Stain
For the cedar privacy screen, we switched the stain colour up ever-so-slightly. Originally, we were going for a natural cedar look, so finished it with a simple clear coat by Olympic. Over time, the colour read a little to yellow for my liking (especially with the grey deck).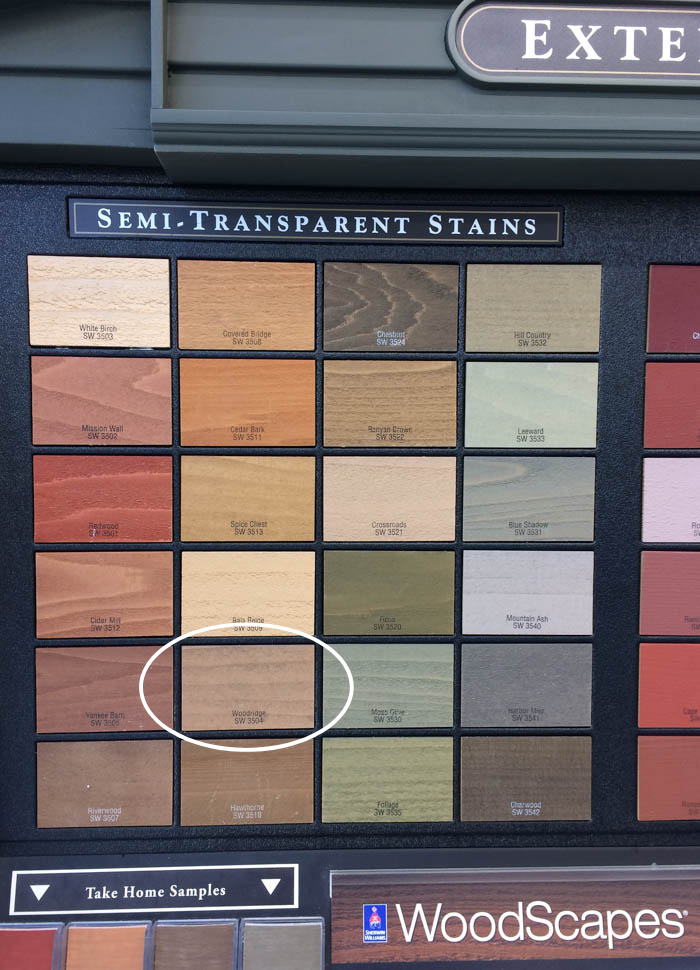 This time, we selected Sherwin Williams Woodridge SW3504 semi-transparent stain. After cleaning up the cedar and sanding it a bit, we applied 2 light coats of stain.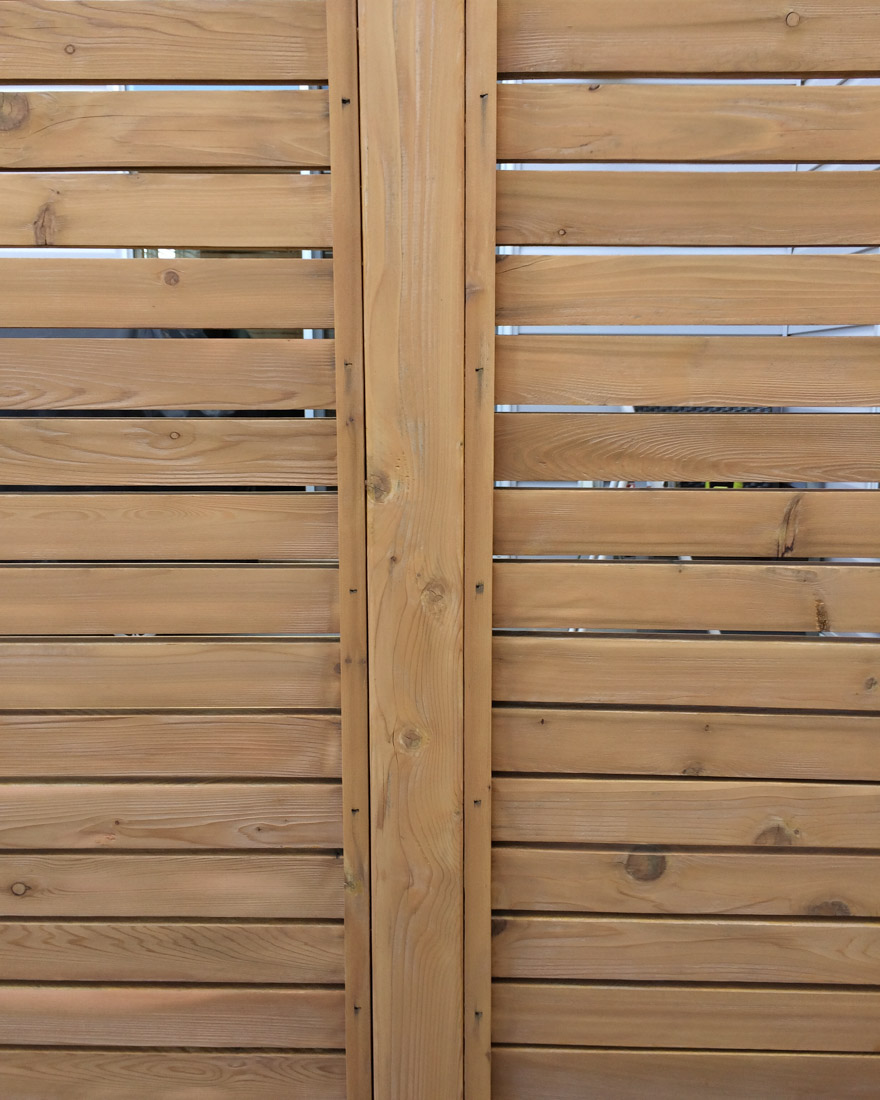 The finish is more matte than the previous one, but still seems to shed water well. I prefer the overall look, which feels a bit more coastal. Not too bad for being a decade old, right?!
I'm happy to report that it hasn't yellowed or gone more orange as time has passed. Cedar stains can be tricky to get right.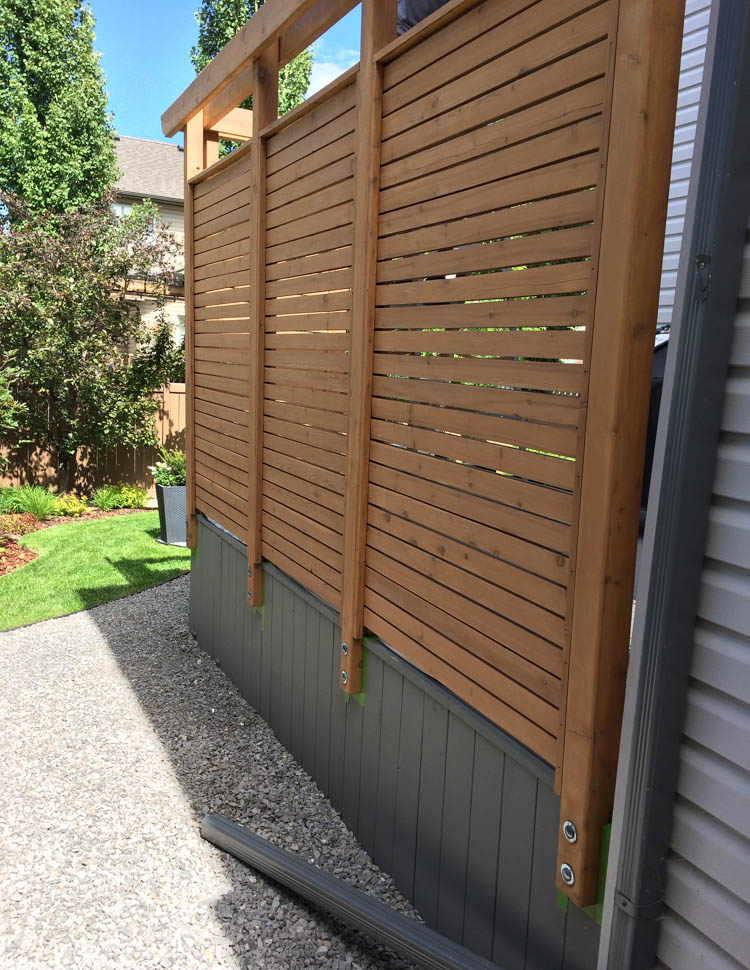 Some links used in this post are affiliates. Please refer to my disclosure policy for more information.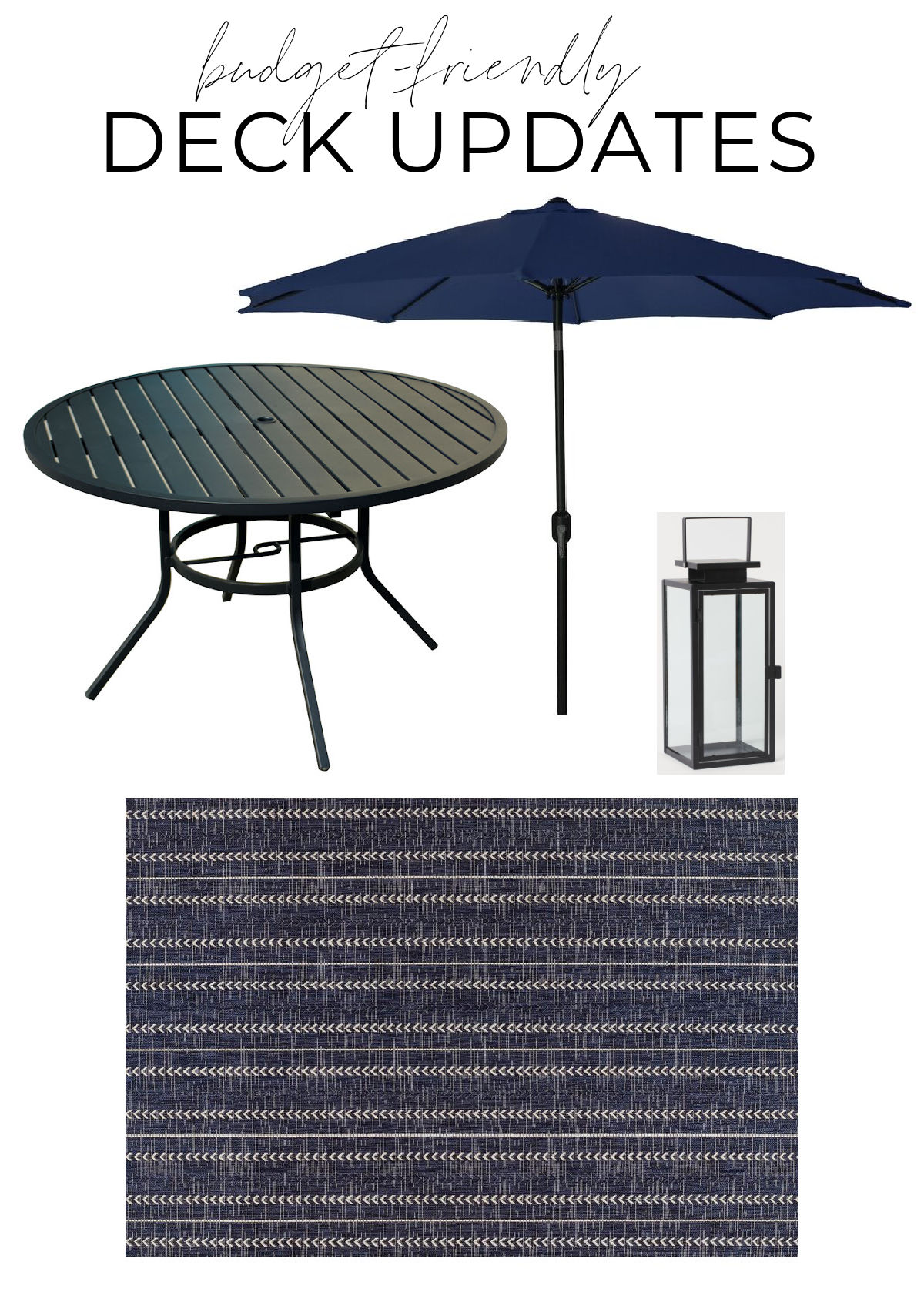 SOURCES (see more below): Black Round Table | Navy Outdoor Umbrella | Black Metal Lantern | Navy Striped Outdoor Rug
Our Deck Decor and Furniture
For the upper deck, we purchased a round black metal table and navy market umbrella. We decided to keep our existing grey wicker chairs because they're still in good shape.
To cozy up the lower deck, we added a navy outdoor rug. This time, I went for a larger size (8×10), which seems to look and function much better. The subtle striped pattern adds a bit of interest without overwhelming the space. We also picked up some inexpensive black metal lanterns for extra lighting and ambiance in the evenings.
We still have the aqua offset umbrella, which is Threshold brand from Target. We bought it years ago, but you can find the latest version here. When it comes oversized umbrellas, it's worth spending a bit more to ensure they're sturdy.
One thing I will miss this summer is laying in the sun or shade on our wicker loungers. It was my favourite spot in the summer to kick back and relax. I guess I'll need to create something similar at the new house. One a side note, have you listened to the Meditative Story podcast? So inspiring!
Modern Coastal Outdoor Picks
If you're looking for similar outdoor decor and furniture with a modern coastal feel, I've rounded up some of my favourites. Don't wait too long as availability is limited and summer is only here for a short time. It's best to nab it when you see it!
Want more home improvement projects like these sent directly to your inbox? Be sure to SUBSCRIBE.
Enjoy your day!