Light Fixtures for Open Concept Dining Rooms
Selecting the right light fixtures for open concept dining rooms is particularly important to create flow and interest. Get my best lighting tips!
One of my current client projects involves a decorating plan for an open concept living room, dining room, and kitchen at the back of the house. As gorgeous as these spaces can be, decorating usually involves careful consideration to achieve a specific mood or feel for each area, while maintaining a cohesive and balanced look throughout the overall space. Selecting the right light fixtures for an open floor plan is important in order to create a sense of flow and interest.
With the dining room smack dab in the middle of the living room and kitchen, there are several factors to ponder. Too heavy or cumbersome, and the sight line will be impeded from one side of the house to the next. However, if the light fixture is too small or insignificant, it won't give the dining area enough presence. As well, the table could appear to be floating in the middle of the space instead of being anchored.
Aside from these considerations, it's also important to think about the style and size of the table in the dining area. We have already discussed a few options for the space, and my client is leaning towards a Salvaged Wood Trestle Table from Restoration Hardware.
So, what size light fixture for this dining room table?
Typically the light fixture in your dining room should be about one-third the length of your table. If the table is 84 inches long by 42 inches wide (as in this case), the light fixture should be about 28 inches in diameter.
Another rule is to take the width of the room and multiply it by two. The number you get is the approximate measurement in inches that would be ideal for your space. For example, this dining room is 11 feet wide, so the light fixture diameter calculation is about 22 inches.
Of course these are only ballpark figures, and size of the light fixture can be adjusted up or down depending on the openness of style or heaviness of colour or material.
Light Fixtures for Open Concept Dining Rooms
For this particular dining room, there are several options I can see working very well. The first that comes to mind is an open cage chandelier, which always seems to be the perfect balance between traditional and modern styling. I love that it has presence, but the openness of the design makes it a great choice for these kinds of spaces.
Horchow
Another option is a skinny-arm metal chandelier. This light fixture choice could be cheated a little on the larger side because it reads less weighty. There are many versions of this style of chandelier, including those with crystals and beads, and those a little more clean-lined. Many versions could work.
Another option that would be stunning in this space is a glass chandelier. These fixtures basically disappear during the day keeping the space looking light and airy. At night they provide additional lighting and a hit of drama.
Pickell Architecture | Photo by Katrina Mojzesz
The final suggestion for this space is a capiz shell chandelier. These light fixtures reflect the light beautifully and tend to work with any colour scheme. They also bring a bit of natural texture to a space.
Have any favourite dining room light fixtures for open concept floor plans? I'd love to know what your choice would be.
Leaning towards a beaded chandelier like we installed over our dining room table? Be sure to read my tips, plus check out some splurge and save options.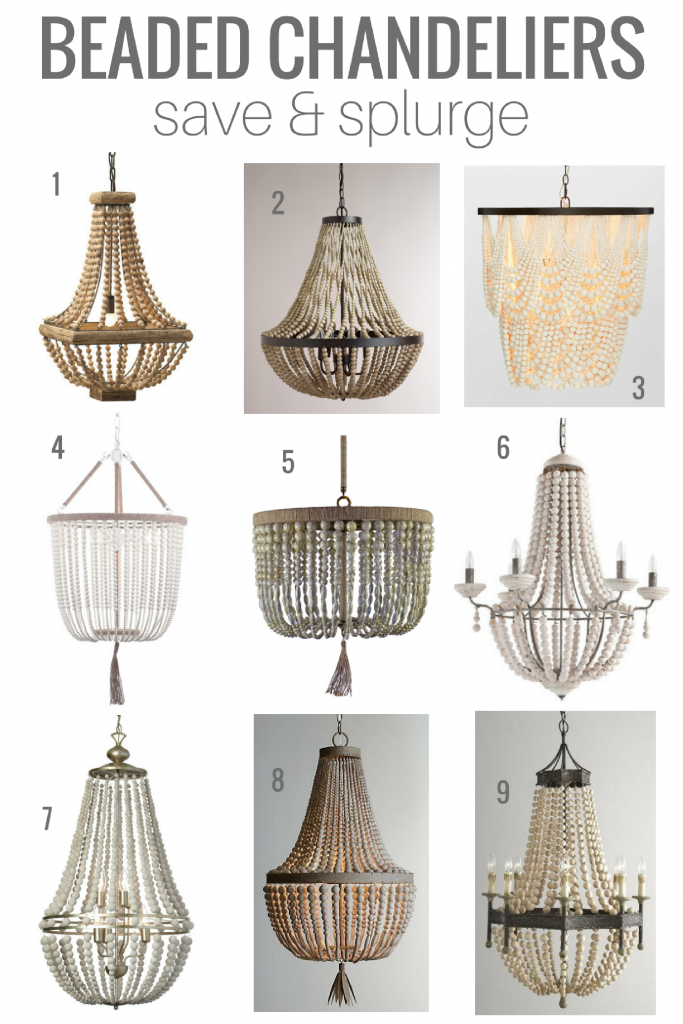 More Dining Room Ideas
Want more home decorating ideas like these sent directly to your inbox? Be sure to SUBSCRIBE.
Enjoy your day,