Add pretty geraniums to your outdoor space for a pop of vibrant red color and texture all season long. You'll love these low maintenance flowers.
Happy Friday! Do you have big plans for the weekend? I'm heading out to a friend's to do some Saskatoon picking this afternoon. That likely means some baking on Sunday. Tarts? Cheesecake? Pavlova? What would be your pick?
Yesterday, I shared a peek of my backyard planters on Instagram. This time, I departed from my usual white and green and added a pop of color with red geraniums. A bit daring for the gal who usually loves all white. Perhaps I'm turning over a new "leaf" ha ha.
After adding a red garden stool to our outdoor lounge area last spring, as well as spray painting an old bench red, I was convinced color was the way to go. On even the most drab of summer days, our yard still looked alive.
This May, I was inspired by my lovely neighbour, Fiona, who made it to the garden centre well before I ever did. She hung gorgeous bright colored baskets all around her deck. And the red ones caught my eye every time I looked out the back window. So, red it was!
To add a bit of texture to each planter, I paired the red geraniums with an euonymous shrub in yellow and green. For the white, I chose iberus, otherwise know as candytuft. It's a perennial that I may plant in a garden bed this fall.
You can also see my English lavender lurking in the background. So pretty!
Geraniums are a bit nostalgic for me. I remember my mom planting them in wooden containers that sat on our porch with white-painted spindles. Oh how I wish I had some of those spindles for a DIY project, but they were given away years ago when they transformed the whole thing into a sunroom- darn!
I love how geraniums offer blooms all summer long. Be sure to plant them in loose, well-draining soil. Geraniums do best with consistent watering and low levels of fertilization. As blooms begin to fade or shrivel, simply cut or pinch off the flower and the stalk it formed on. They're actually quite easy to care for.
Perhaps it's too late in the season to think about planting containers, but I always enjoy gathering inspiring gardening ideas on Pinterest for future endeavours. Here are a few that will likely make their way into my yard someday. I love the white and pink geraniums too!
Pretty Planting Ideas for Geraniums
Red Geraniums in Rustic Planter Box by Funky Junk Interiors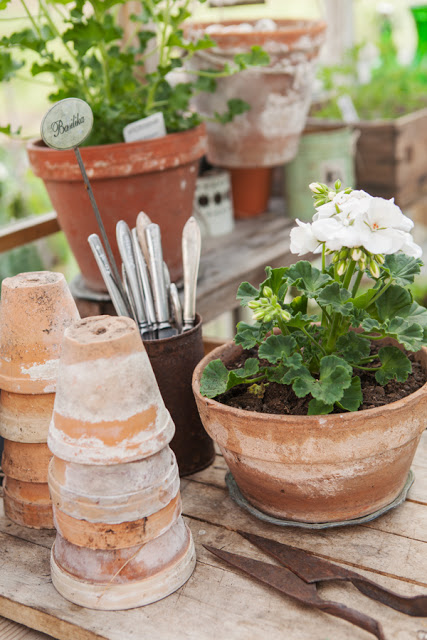 White Geraniums in Aged Terracotta Pots by Sofias Bod
White Geraniums in Vintage Tin Box by Clemmenson & Brok
Pink Geraniums in White Pots by Tuinen
Did you play it safe with your flowers this year or mix it up? Ever planted geraniums in containers?
Enjoy your weekend,