Potting Benches, Succulents & Garden Upcycling
Garden upcycling projects and more planting ideas that will leave you feeling inspired. Tackle your outdoor space!
First off, happy Victoria Day to my Canadian friends! It hasn't been the sunny weekend I was hoping for, but it's always nice to spend time with family and friends. Today, I'm crossing my fingers I can finish up my outdoor decorating post for tomorrow if the weather permits!
A big thank you to everyone who shared their Plants & Flowers Projects at the Outdoor Extravaganza last week! I'm always amazed by the level of talent. So much inspiration!
Today, I thought I'd share some of my favourite gardening projects from the party along with a few that seemed to be top picks amongst readers according to the number of visits.
Potting Bench Ideas
This year, it seemed to be all about potting benches…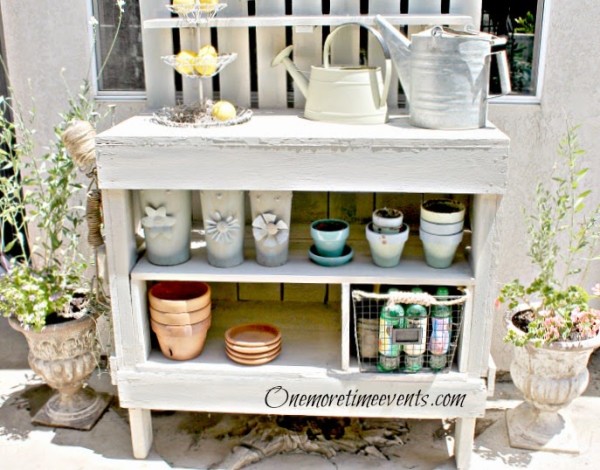 White Painted Potting Bench by One More Time Events
Stained Potting Bench by Little Brags
Potting Bench for All Seasons by Flower Patch Farmhouse
Succulent Ideas
Succulents appear to be holding strong, once again…
Raised Succulent Garden shared by 231 Blog
Live Succulent Wreath by All Things Heart and Home
Garden Upcycling Ideas
And, finally, garden upcycling projects grabbed the most attention…
Vintage Mailbox Planter by Urban Patina
Storm Window Mini Greenhouse by DesignDreams by Anne
Vertical Pallet Herb Garden by PinkWhen
If you were featured, please grab a button to display on your blog along with a link back to this post.
Remember, the Outdoor Decorating Party kicks off on Wednesday. Can't wait to see what you've been up to in your yard!
More Garden Upcycling Ideas
xo,