Put Your Small Plant Pots to Use
Have a collection of small plant pots sitting around collecting dust? Here are some clever and pretty ways to put them to use this spring.
As spring approaches, I've been switching out some of our heavier home decor pieces with lighter, brighter and airier ones. And, since spring is one of my favourite times of year to give everything a good cleaning and organizing, our basement storage room (where most of my extra decor pieces live) has gone through a bit of a transformation too.
One item I seem to have accumulated a considerable assortment of is small plant pots. I have all kinds of shapes, sizes, colours and patterns in different materials, including terra cotta, ceramic, porcelain, concrete and more. My regular visit to thrift shops is one reason for this collection, but I've also tackled quite a few craft and DIY projects using plant pots over the years.
Small Plant Pot Ideas
Since I'm convinced I'm not the only one in this situation, I thought I'd share some lovely ideas for using little flower pots in and around your home. Spring is the perfect time to inject some green into your space, so let's dust off our plant pots and put them to good use. Here goes…
Create an Indoor Herb Garden
It may be too early to start planting outside, so why not start indoors? Whether you use multiples of the same pot like I did or a grouping of different ones, I suggest corralling them in a tray.
Growing herbs in your kitchen is the perfect way to add flavour and freshness to almost any dish, and they look so pretty too.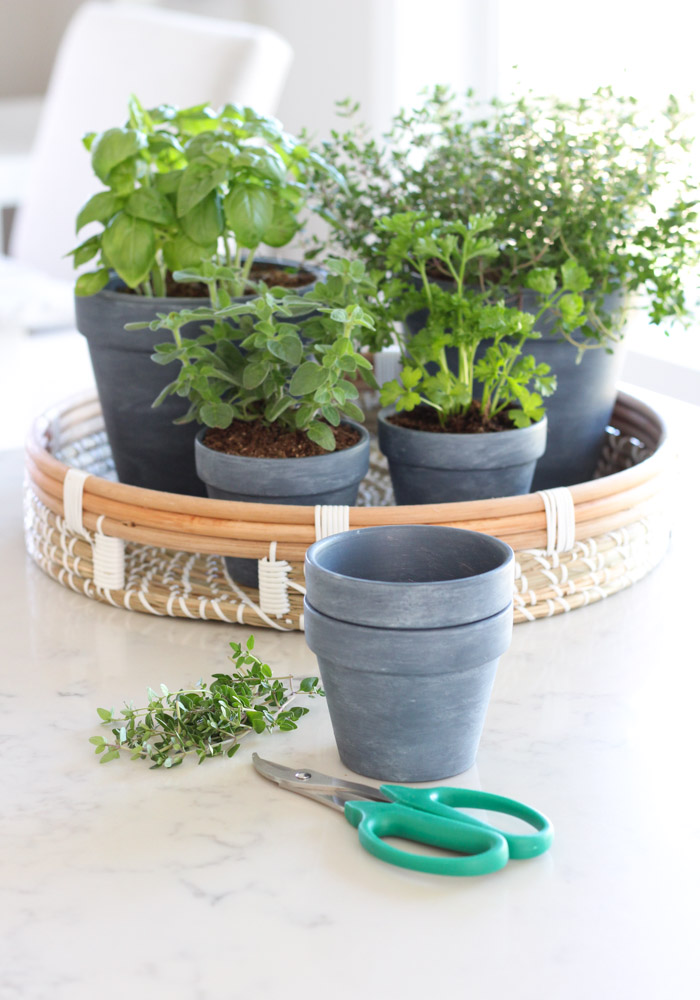 Get the tutorial: Concrete Painted Pots with Herbs
Decorate Your Dining Table
Nothing says spring like pops of fresh green, right? For this table setting, I kept the succulents in the plastic pots they came in and simply popped them into white ceramic pots. It makes it super easy for watering too.
As another option, potted bulbs would be lovely this time of year. I often pick mine up for next to nothing at the grocery store.
See more table setting details: Eclectic Tablescape in Green, Gold and White
Make Easter Table Decorations
Holidays are a good time to get creative with small plant pots. For Easter last year, I put together these mini rosemary wreaths in pots. Fun, right?!
Of course, you can pretty much use any pot that goes with the style of your tablescape.
Get the step-by-step instructions: Mini Rosemary Wreaths in Pots
These peat pots filled with wheatgrass are another easy idea for your spring or Easter table setting. Again, you can use any small pot.
My theme was nature-inspired, so the peat pots were a good fit and inexpensive too. It's a great way to use them up if you already have some on hand!
Make these Easter table decorations: Nature Inspired Easter Tablescape
Bake Flower Pot Cakes
If you have new terracotta pots, did you know you can bake cake right in them? Of course, wash and dry thoroughly, then use a boxed chocolate cake mix to keep things easy.
Simply top with frosting, chocolate crumbs, fresh berries, mint and edible flowers. So cute for spring celebrations, Easter, showers and more!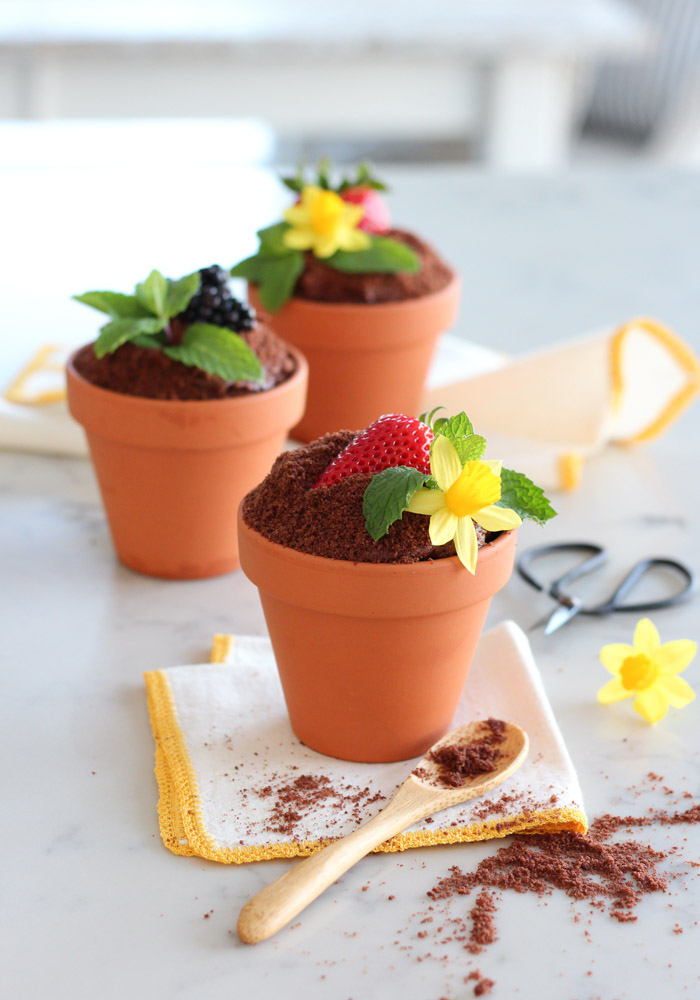 Get the recipe and instructions: Spring Flower Pot Cakes
Create a Planter
Another option for small plant pots is grouping together a collection in a box or crate. To create this planter, I transferred pansies to terracotta pots, placed them in an old wooden tool box and filled the gaps in with moss.
For indoor use, you can select almost any flower or plant. If you're putting your planter together for your covered front porch or deck, make sure your plants are cold tolerant in the early weeks of spring.
See more details: Vintage Tool Box Planters
Decorate an Outdoor Table
As the weather warms up, we'll be spending more and more time dining outdoors. Spring is one of my favourite times to entertain, and I love creating pretty table settings.
For this flea market style outdoor table setting, I planted mini succulents in terracotta pots and placed one on each plate. It's such an easy and inexpensive way to decorate an outdoor table for spring. You could also send one home with each of your guests.
See more outdoor table ideas: Flea Market Style Outdoor Table Setting
Consider Faux Plants
I usually select real plants, but faux options have come a long way. For this spring table centerpiece, I used a mix of fresh tulips along with faux fern and succulent plants.
For the most realistic look, secure the faux plant to the pot (using a dab of hot glue if necessary), then top with soil. Of course, watering is not required ;)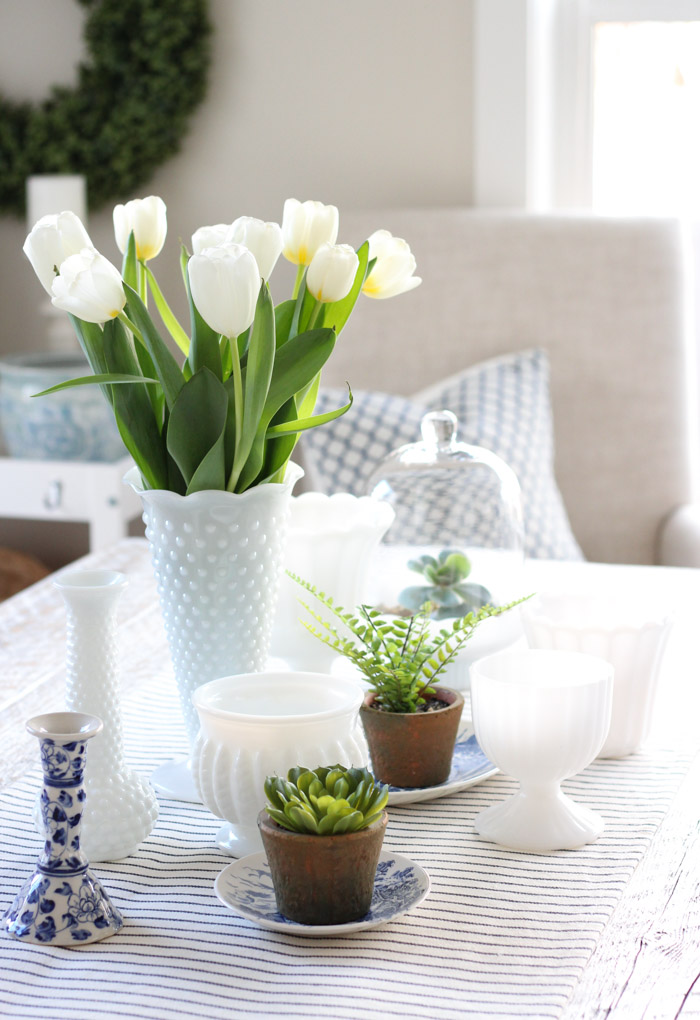 See our kitchen decorated for spring: Joyful Spring Decor in Our Kitchen
Give Your Pots a Fresh New Look
These paint dipped pots my friend Jamie from So Much Better With Age created to decorate her dining room for spring are so fresh and pretty. She used pottery spice jars from the thrift shop, but you could use almost any type of small pot.
Other than paint, you could also update your plant pots with fabric, rope, pebbles and more.
Other Things to do with Small Flower Pots
Want more home decorating ideas like these sent directly to your inbox? Be sure to SUBSCRIBE.
Enjoy your day!

These plant pot ideas were originally posted March 2020 and updated with fresh content and details February 2022.