Concrete Painted Pots & French Vintage Decor Book
Learn how to create these concrete painted pots inspired by my friend Jamie's new book, French Vintage Decor. Perfect planters for an indoor herb garden.
Hello, everyone! I'm excited today since I'm finally able to share my good friend Jamie's beautiful new book, French Vintage Decor. We've been chatting about it for over a year, and I know how much hard work and effort she's put into getting to this point.
Not only is Jamie incredibly talented, she also has the kindest heart and is someone I admire for her determination and resiliency.
Totally beautiful inside and out! She's a fellow Canadian gal too.
Some of you may already know Jamie from her blog, So Much Better with Age, where she shares her love of French vintage decor. Naturally, her book is an extension filled with rustic and elegant projects and ideas using easy-to-find and recycled materials, along with new. It's already a best seller on Amazon!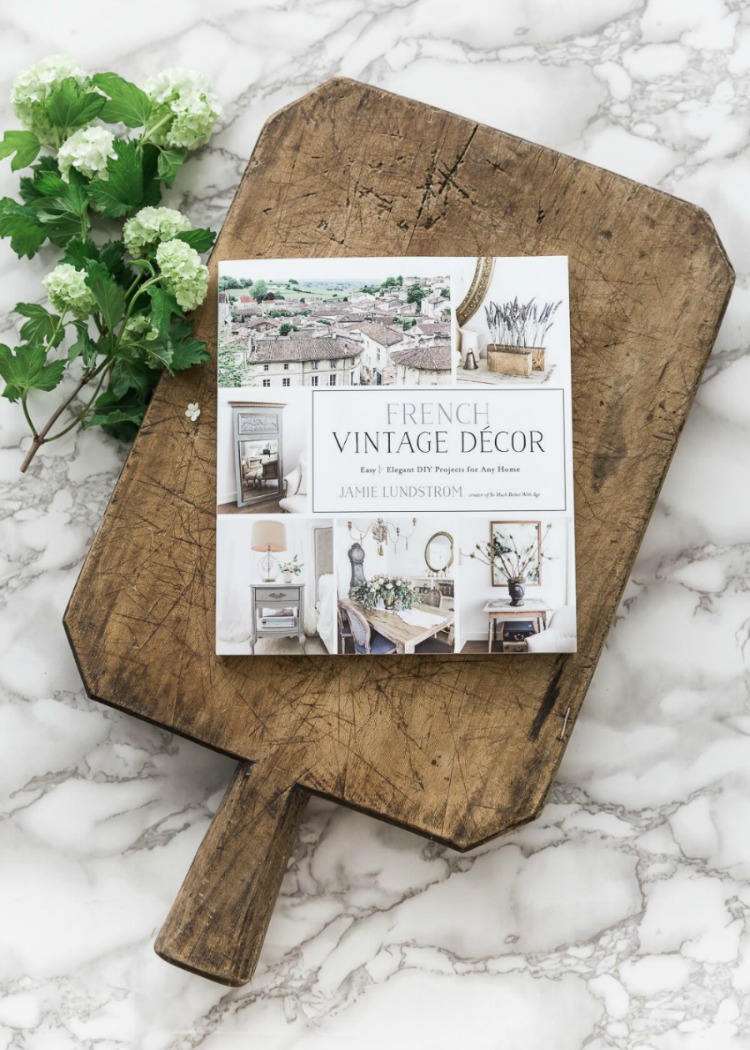 French Vintage Decor was kindly provided for review purposes. As always, opinions in this post are my own. As well, some affiliate links are included for the book and supplies in this post. Check out my blog policies here to find out what that means.
Of course, I couldn't wait to get my hands on a copy of this long-anticipated book. In true Jamie style, she sent it packaged so thoughtfully with a hand-written note and perfectly-selected gifts. So sweet!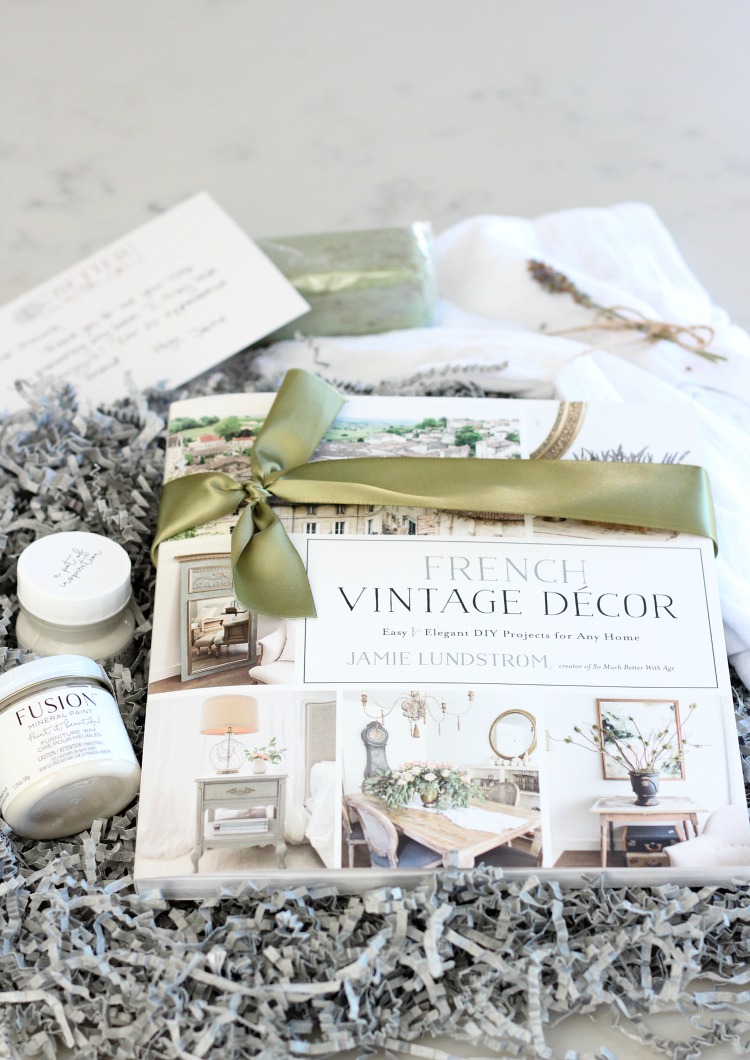 Flipping through the pages of French Vintage Decor is like taking a trip through France. Ahh… Have I mentioned how stunning the photography is? She's a natural behind the camera.
I love how Jamie breaks down each DIY project in the book and gives real-life styling ideas using her own home as the backdrop. Isn't it pretty?!
DIY French Vintage Decor Ideas
Want to learn how to make this gold ornate mirror she has sitting on her mantel? Find out on page 31 of the book. Honestly, you can do it!
Or, what about these brown bottles with antique labels? They make a lovely floral display, don't you think? Get access to the free printables when you purchase the book.
Maybe these repurposed drill bit holders with lavender are more your style? I'm making them for sure. You know how much I love my projects using lavender!
I already have so many ideas flagged with post-it notes. And the best part is, I have most of the supplies on hand.
Since summer is almost here, I thought I'd start with some concrete painted pots that come from the Parisian-Inspired Home Decor section of the book. Take some inexpensive terra cotta pots and paint them to look like concrete. An easy, inexpensive and fun project anyone can do!
How to Make Concrete Painted Pots
Directions
Mix the charcoal grey paint with the chalking powder in a plastic container using a spoon. The mixture will be quite thick.
Using a brush, paint the mixture horizontally around each pot. The stiff brush will ensure brush marks are visible, which is the look you want. Allow to dry for 2 to 4 hours. Paint a second coat if needed for coverage or extra texture.
Once fully dry, dip part of the cloth into the white wax and rub all around the pot. Remove excess with a dry part of the same cloth. The white wax will get into the textures of the paint to give you the dimension of concrete. You can always go back and paint more grey if it gets too white for your liking. Play around.
I finished my concrete painted pots off with a second coat of clear wax for durability.
In the book, Jamie shows you how to take these concrete pots and turn them into a beautiful French display using lavender. So pretty!
Creating an Indoor Herb Garden
I decided to fill my French garden pots with herbs for now, but succulents would be fantastic too. Parsley, basil, oregano and thyme are some of my favourites! I just popped the plastic pots they came in right into the faux concrete ones for now.
With the herbs, it's handy snipping just what I need for summer dishes like herb grilled chicken and spinach basil pesto.
Of course, fresh herb cocktails are a must too!
See how I used these painted pots to create Easter table decorations with mini rosemary wreaths and eggs. As well, see other ideas for using small plant pots.
Be sure to pin this faux concrete pot project for later!
And, finally, before you go, I'd love for you to SUBSCRIBE. Get DIY ideas like these painted terracotta pots sent weekly or monthly to your inbox.
xo,