Garden Bouquets with Printable Gift Tags
Create your own garden bouquets using these handy printable gift tags. A lovely way to share your flowers and herbs with family and friends all summer long.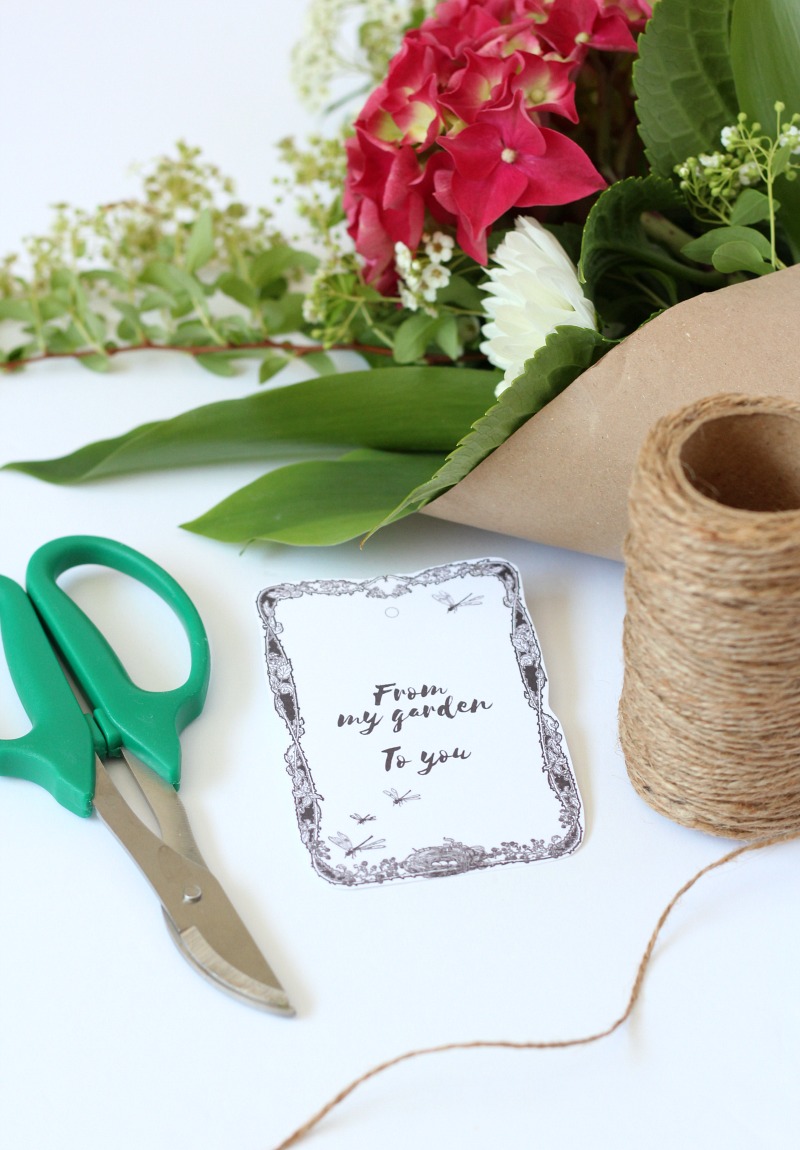 Hello friends! Did you miss me? I'm slowly switching over to my summer schedule, so there may be a few weeks here and there when I don't post on the blog. Of course, you can always keep up with my summer happenings on Instagram.
Today I'm joining Krista from The Happy Housie, along with 17 other blogger friends for the last week of Seasonal Simplicity. I put together a lovely rose petal soak for my summer DIY project, and you can also check out my lavender blackberry sparkling lemonade that was part of the summer recipes week.
This time around, we're sharing our free summer printables, which includes my garden gift tags.
Garden Bouquets with Printable Gift Tags
Although we have a fairly small yard and even smaller garden, I try to make the best of it. Careful planning, as well as some trial and error over the years, means I'm still able to grow a variety of plants. Take the ones above that I cut from our yard this morning and plunked in this milk glass vase until I got around to arranging.
Quite often, I end up with more flowers and herbs than we need. So, I bundle them up, creating pretty garden bouquets to pass along to family and friends.
These gift bouquets are a lovely way to say "thank you" or "just because". Take one along to a summer party as a hostess gift, or pop by and surprise your neighbour. It's always fun to brighten someone else's day, right?!
I also suggest checking out this hostess gift in a jar idea for your garden-loving friend.
DIY Garden Bouquet Tips
It's usually best to cut flowers and herbs first thing in the morning before it's too hot. If you're gifting right away, simply wrap the stems in jute and tie on a printed tag.
Herbs can be placed in a paper-towel lined container in the refrigerator if using fresh. Or, hang them upside down in a warm, dry and dark place with good ventilation for a few weeks to use in dried form.
For on-the-go bouquets, cover each bundle of stems in soaked paper towel and a bit of plastic to keep them hydrated. Then, wrap in craft paper with just the tops poking out.
Finish off with jute string and a printed flower gift tag.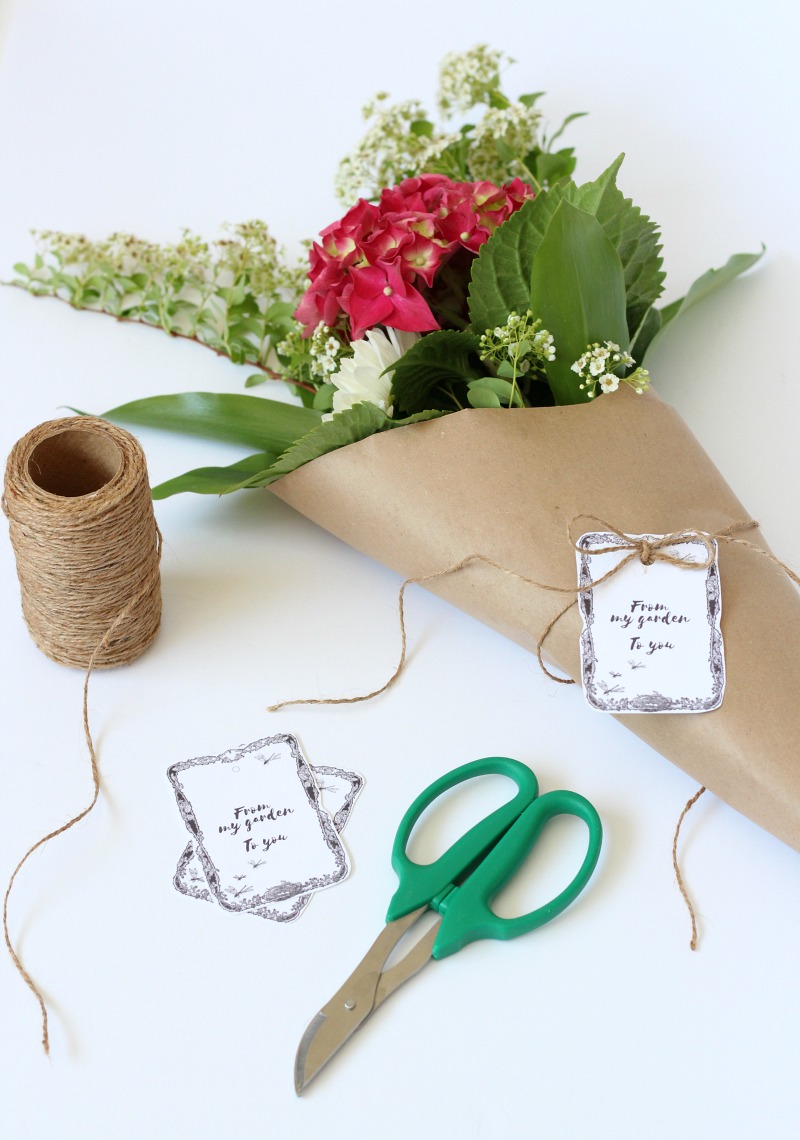 From My Garden Printable Gift Tags
I created these herb and flower bouquet printables in two sizes using vintage garden frames from The Graphics Fairy.
I suggest using the smaller version for bouquets and the larger ones for baskets of produce.
Some links used in this post are affiliates. Please refer to my disclosure policy for more information.
Gift Tag Instructions:
1. Download printable (*see below).
2. Print out tags on white card stock using best quality setting on your printer.
3. Cut along the border with scissors.
4. Punch hole in the black circle at the top of the tag.
5. Thread string through the hole and attach to your gift with jute string or ribbon.
Note: I prefer writing on the back of the tag for a tailored look.
*Get these free printables by joining Satori's email subscriber list (weekly and/or monthly). After joining, you will gain access to the VIP Members Only Library that contains the download file. If you are already a subscriber, this PDF is waiting for you in the library. (A password reminder is included in each email. Wait at least a couple hours and check your junk folder. Contact me if you're having trouble accessing it.)
Click here to-> Subscribe to Weekly Updates
Click here to-> Subscribe to Monthly Updates
Be sure to add this flower gift tag to your craft, gardening and gift boards on Pinterest.
More Summer Printables
You're going to love these free printables my friends created for Seasonal Simplicity: Summer Edition.
Want more holiday and seasonal ideas like these sent directly to your inbox? Be sure to SUBSCRIBE.
Enjoy your day,