Gardener's Rose Petal Bath Soak
Put together a jar of rose petal bath soak to keep or give away. A luxurious way to relax and unwind after a long summer day!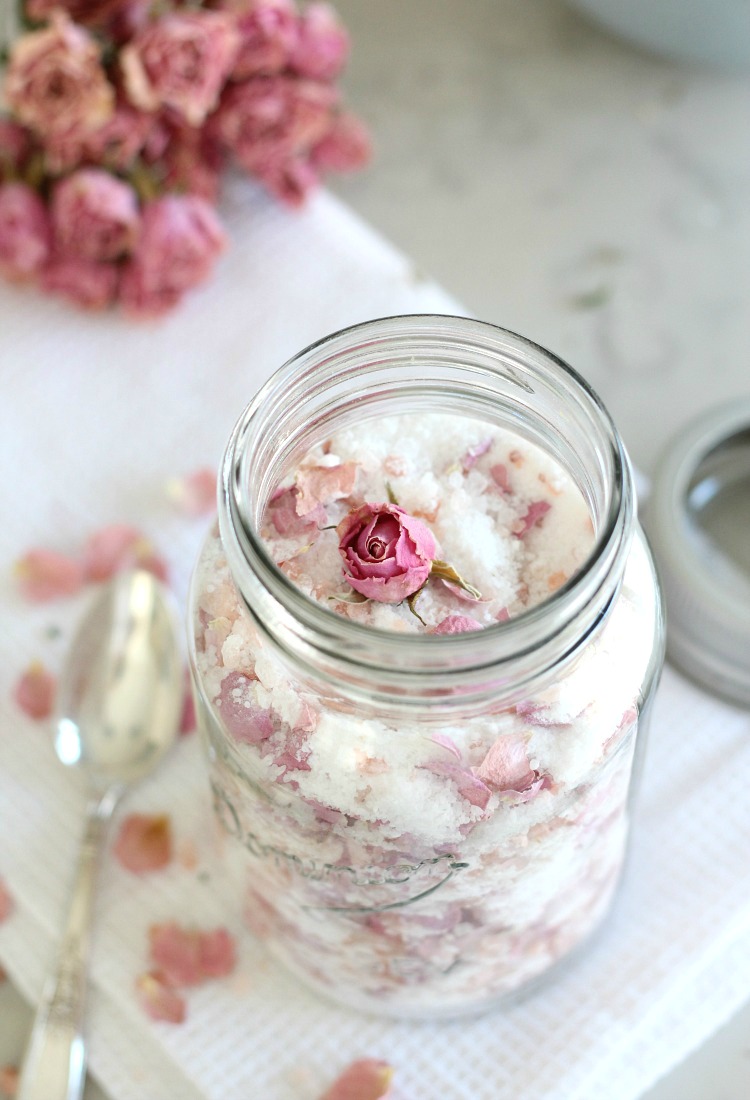 Hello, friends! We were driving home from my niece's graduation on Sunday and couldn't believe how green everything had turned outside in only a couple of days. I guess sunshine and warm temperatures do that. Makes it feel like summer is just around the corner, doesn't it?
And since it will be here before we know it, I'm excited to be joining my friend Krista from The Happy Housie in her Seasonal Simplicity series. We'll be sharing all kinds of summer project ideas throughout the months of May and June along with some of our favourite bloggers. Of course, I'll also be back with another post for the Outdoor Extravaganza tomorrow.
Ready to see some summer DIY and craft ideas?
Rose Petal Bath Salt Soak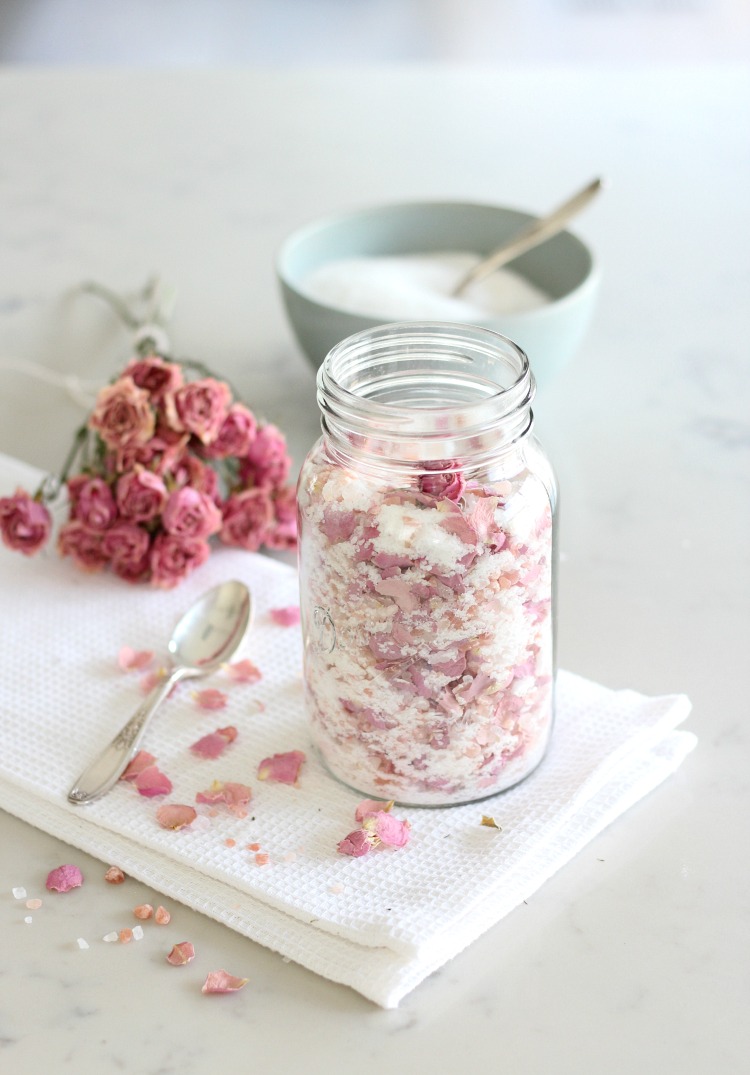 To me, summer is all about spending as much time outdoors as possible. I love rolling up my sleeves and working around our yard, watching nature unfold with each passing day. Gardening is my form of therapy.
On the other hand, I also love kicking back in a lounger, listening to the birds chirping while reading a good book. It's one of the few times in the year that I truly allow myself to relax and rejuvenate (without the guilt). Can you relate?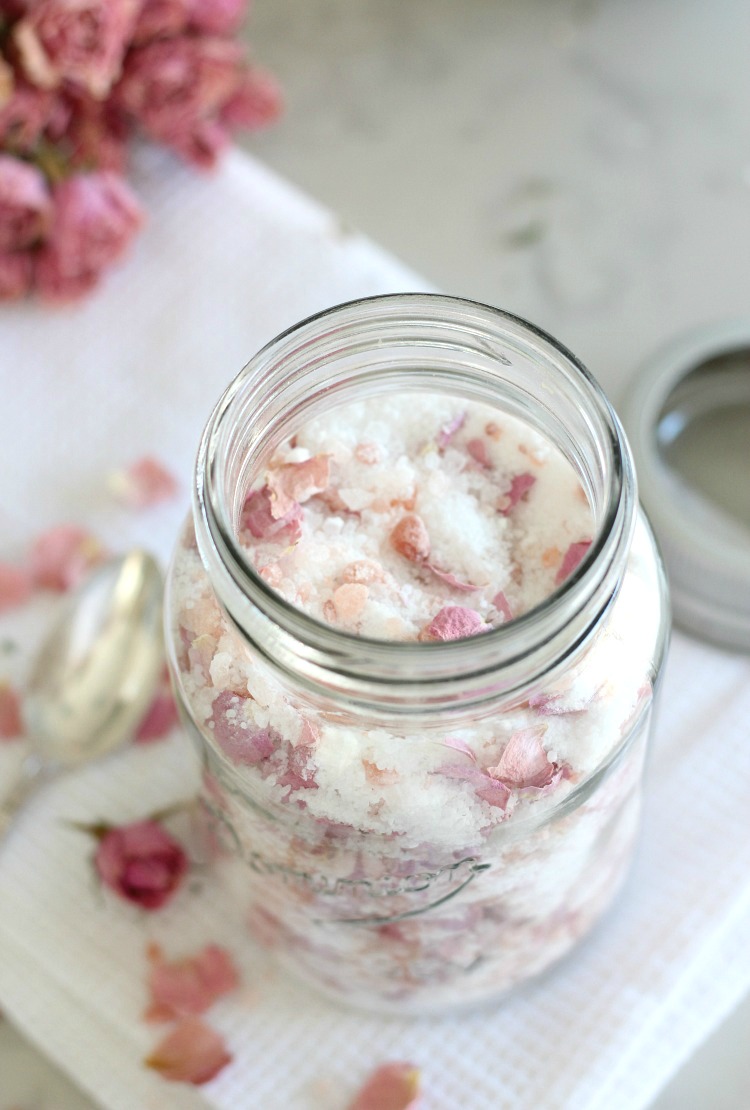 Despite the drought we had last July and August, some of my flowers managed to survive. In fact, some thrived. Others, well not so much… (Hopefully it's a better growing season this time around.)
One plant I can always count on every summer is lavender. I enjoy snipping sprigs from my lavender garden to hang and dry. I've shared several project ideas using this beautiful herb, including a lavender sugar scrub recipe. I'm certain I'll try something new with lavender in the coming months.
For the first time last summer, I cut and dried roses from our backyard. When it comes to roses, I still have much to learn.
These pink mini roses are adorable, don't you think? I've been looking for the same variety to grow again this season, but haven't had any luck yet.
How to Dry Roses
Drying roses is as simple as cutting the stems, wrapping a bit of string around the bottom to form a small bundle, and hanging upside down in a warm, dry and dark place with good ventilation. A few weeks is usually all it takes to get rid of the moisture.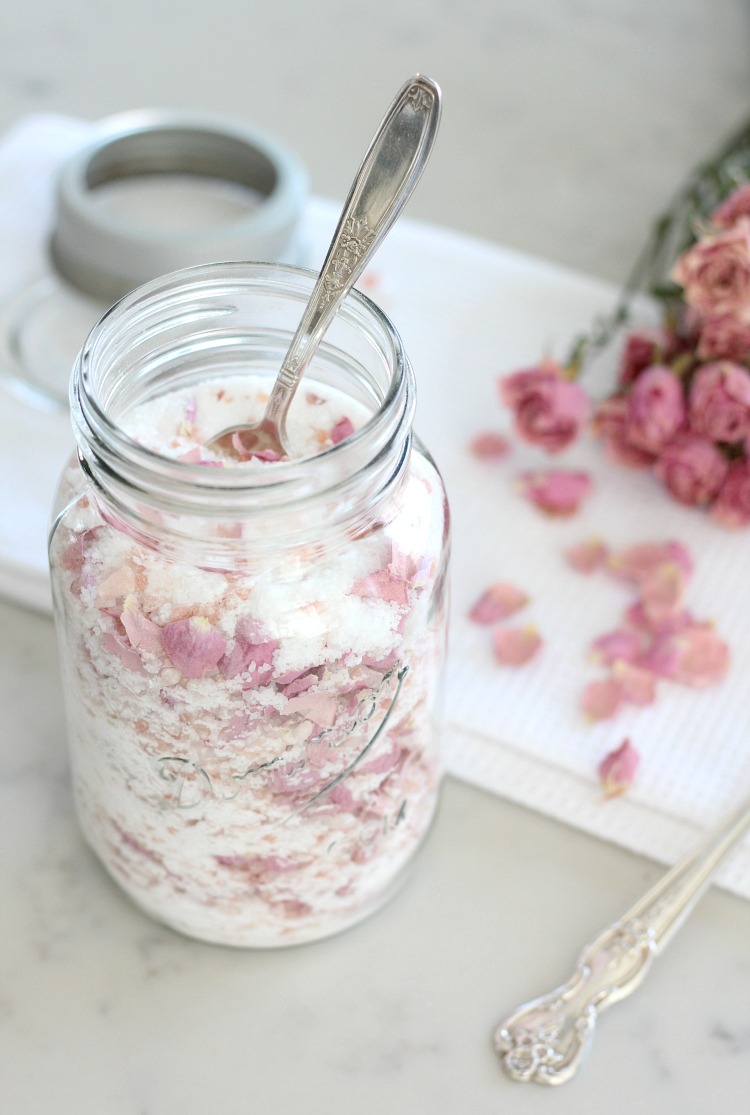 Do you grow flowers with the intention of making floral arrangements or using them for craft projects or recipes? I didn't when I started out, but have learned to do so over the years.
Heirloom flowers are often best. Look for organically grown plants or seeds if you're planning on using them in recipes.
Using Dried Rose Petals
This rose petal bath soak is a good project to start with. It takes only minutes to throw together once your flowers are completely dried. (Don't try to rush that process.)
Ingredients
dead sea salt
himalayan salt
baking soda
dried rose petals
rose essential oil (optional)
dried rose buds (optional)
Whip up a jar for yourself and another to give away to a friend. There's something special about a rose bath. (Continue reading to get the full recipe!)
After a long summer day of gardening, hiking or running around with the kids, it's the perfect remedy. Your tired, achy muscles will thank you, not to mention your soft and glowing skin.
Like making your own bath and body products? You may want to check out this pink grapefruit salt soak and mustard bath recipe.
Growing Heirloom Flowers was kindly provided for review purposes. As always, opinions in this post are my own. As well, some affiliate links are included for the book and supplies in this post. Check out my blog policies here to find out what that means.
Growing Heirloom Flowers Book
If you're looking for tips on growing flowers, as well as creative projects for making the most of them, I highly recommend Growing Heirloom Flowers by Chris McLaughlin.
It's an inspiring book filled with detailed advice on growing, propagating and cutting beautiful flowers. The photography is absolutely gorgeous! It also includes other rose petal recipes, including rose and lavender body scrub.
You can purchase the book on Amazon (CAN) or Amazon (US). Be sure to check out some of my favourite gardening books if you enjoy reading them as much as I do!
Gardener's Rose Petal Bath Soak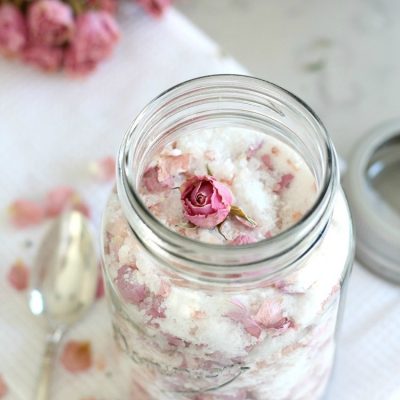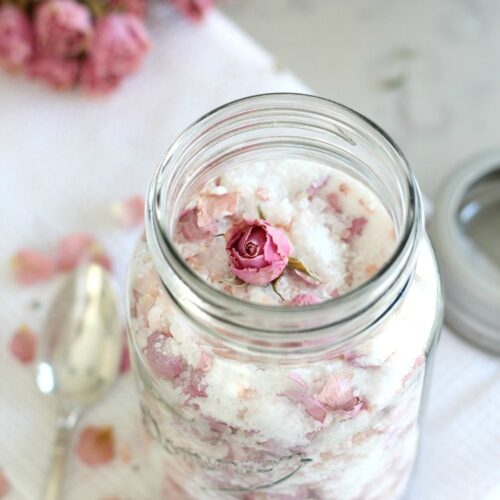 This rose petal bath soak is a luxurious way to relax and unwind after a long summer day!
Ingredients
2

cups

dead sea salt

1½

cups

himalayan salt

⅓

cup

baking soda

½

cup

dried rose petals

3-6

drops

rose essential oil

(optional)

3

dried rose buds

(optional)
Instructions
Use a sharp knife or scissors to break down rose petals into small pieces. Add to salt and soda mixture. Combine well and transfer to airtight jar(s).

Optional- For a scented version, add 1-2 drops of rose essential oil to top of each dried rose bud. Air dry for a few hours or overnight on a paper towel. Place on top of soak mixture in jar and seal with airtight lid.

Store in a dry and dark place. Use within 1 month for best results.
For bath
Add about ½ cup soak (not the scented buds) to the tub as you're filling with very warm water. Allow to dissolve (you may have to stir the water around with your hand). Soak for 20 minutes.

As an option, place a few scoops of the bath soak into a disposable coffee or tea filter and secure with a clip or kitchen string. This will keep your body and tub free from debris. Or, steep for 5-10 minutes in a glass measuring cup and filter before pouring into the tub.

Exercise caution getting out of the tub, especially if you're feeling light-headed or weak. Pat yourself dry to allow the mineral-rich water to soak into your skin or rinse off if you prefer. (Rinse debris down tub.)

Drink plenty of water during and after bath.
Notes
Makes one quart jar. Bath soak can be split into smaller jars. Adjust quantity of rose buds to top each jar.
I prefer lightly scenting the bath soak using rose buds and essential oil at the top to keep it fresh. Adding essential oil directly to the soak can spoil the rose petals shortening the life span of the soak. Be sure the jar is airtight and keep away from moisture.
CAUTION– Because of the natural detox properties of this soak, it is recommended to drink lots of water before, during and after the bath. As with any medical condition, check with your doctor before taking a salt bath. Do not use on broken skin and keep away from eyes.
Be sure to pin this rose petal bath recipe for later!
More Summer Craft and DIY Ideas
Today I've joined up with a talented group of bloggers to kick off this fun series by sharing a beautiful DIY or Craft project. Enjoy!
One other thing before you head off… If you're looking for more useful and pretty ideas in your life, make sure you're on the email list! You can subscribe here.
See you tomorrow,