A Fun & Delicious Ice Cream Float Bar
Put together an ice cream float bar for dessert at your next party. A fun, easy and delicious outdoor entertaining idea!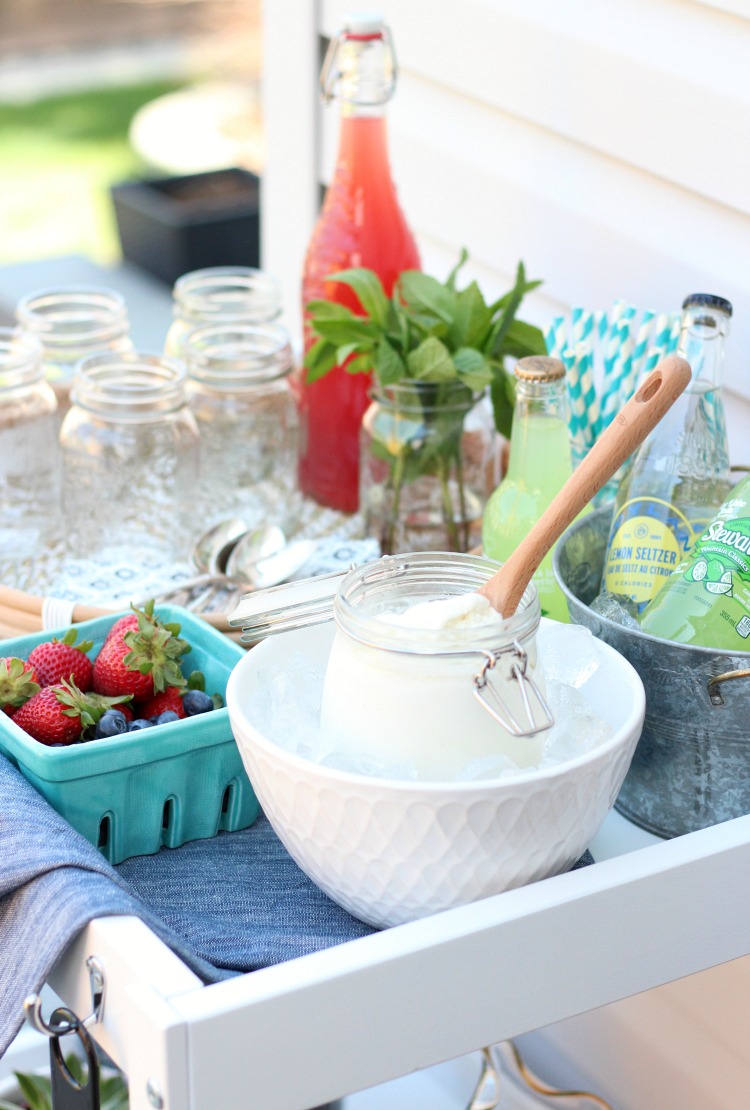 Welcome to week two of the Outdoor Extravaganza! If you missed last week, be sure to check out my log and succulent centerpiece, as well as the other beautiful and clever gardening ideas from this year's participants.
This time around, it's all about OUTDOOR DECORATING & ENTERTAINING…
Ice Cream Float Bar Ideas
Planning on hosting a late spring or summer outdoor party? I'm pretty certain your guests will go nuts over an ice cream float bar. So fun, easy and delicious!
With Victoria Day coming up on Monday in Canada, we decided to celebrate the long weekend by hosting a little outdoor get-together. That means grilling, chilling, and, of course, indulging in a few treats.
When it comes to outdoor entertaining, I like to plan ahead and make it as simple as possible. Having a dessert station where it's self-serve means I'm able to enjoy my guests rather than run around getting this and doing that.
Being frazzled while entertaining is never a good thing. Been there?
Plus, it's far more fun for everyone to come up with their own float combinations, whether they fall on the Plain Jane side of things or are more of a Risk Taker. I'm somewhere in the middle. What about you?
How to Set Up an Ice Cream Float Bar
When it comes to supplies for an ice cream float bar, the basics are ice cream and soda (or sparkling juice). You'll also need glasses, spoons and straws. Oh, and don't forget a bottle opener and scoop.
Vanilla ice cream is always a favourite, but adding other flavours or even gelato or sorbet to mix things up is fun too.
The same goes for the carbonated beverages. I like to include options that aren't the standard root beer or cola. Lemon lime and cream soda are popular choices. You could even use sparkling juice, such as peach.
Float Toppings
Want to take your ice cream float bar one step further? Provide a selection of toppings to boost the taste and make the floats look even more scrumptious. Plus, a little fruit ups the health factor, right ;)
I opted for strawberries, blueberries and fresh mint. Oranges and raspberries would be delicious too.
Of course, whipped cream, chocolate sauce and sprinkles are classic float toppings. Select flavours that pair well with your soda selection.
Float Bar Tips
Keep your ice cream and drinks over ice. Buckets or bowls work well.
I transferred my ice cream to a glass jar since the waxed cardboard tubs tend to get squishy over time and this looks so much better.
I used our outdoor bar cart to set everything up, but any table will work. Chances are it will get messy, so opt for something that isn't too precious or cover it with a waterproof table cloth to be safe.
Keep a kitchen towel handy and some napkins too.
Ice cream floats are perfect on a hot summer day! (It was 28°C when I took these photos. Oh, how I wanted to dive right in!)
Ice Cream Float Combinations
What kind of float would you create? This one is blood orange Italian soda with vanilla ice cream and mint. So tasty and refreshing!
Some other ideas are:
cherry soda, vanilla ice cream, fresh cherries
sparkling lemonade, strawberry ice cream, fresh strawberries
lemon lime soda, pineapple ice cream, fresh mint
grape soda, raspberry sorbet, fresh raspberries
lemon seltzer, blueberry ice cream, fresh blueberries
Be sure to share your favourite ice cream float ideas in the comments.
Ice cream float bars are perfect for birthday parties, bridal or baby showers, Father's Day, Canada Day (or Fourth of July) or any other outdoor celebration. Have some fun :)
Be sure to pin this summer dessert idea for later!
More Outdoor Decorating & Entertaining projects
You're going to love these creative outdoor ideas. Be sure to pop by each blog to see what everyone's been up to outside!

Come back next Thursday, May 24th to see our Outdoor Paint & Build-it projects. Wishing my Canadian friends a happy Victoria Day!
Other Outdoor Entertaining Ideas
Want more delicious recipes and ideas like these sent directly to your inbox? Be sure to SUBSCRIBE.
Have a splendid weekend :)