Gardening Books I'm Loving Lately
Plant anything this year? These gardening books are some of my new favourites. Learn how to grow beautiful flowers, healthy vegetables, flavourful herbs and more!
How's summer treating you so far? We've stuck pretty close to home, but are planning a little trip to the mountains soon. Although I'm looking forward to a change in scenery, I have been enjoying spending time in our yard. What about you?
Did you plant any flowers or veggies this spring? Perhaps some fruit? Are you an avid gardener or new to the process like so many?
I've been at it for most of my life. There's something about it that truly feeds my soul.
One of my favourite parts of gardening is being able to create my own arrangements using fresh cuttings. My peonies were late bloomers, but they definitely didn't disappoint. At one time they were my husband's grandma's, so they bring a sense of nostalgia. Love that pretty pink so much!
I also enjoy putting together simple meals using fresh produce I've grown. We don't have the outdoor space to plant much, but herbs are the best flavour boosters and take up very little room. We use them to make drinks, marinades, salads, pesto and more!
A few weeks ago we visited my parents at their farm, which is a few hours north of us. It was lovely to reconnect with everyone after so long! My niece even planted her own garden for the first time, and sent me home some with some rhubarb to make this crisp.
My mom has the most gorgeous flower beds filled with many different perennials. I couldn't help but snap a few photos while I toured around.
Aren't these daisies pretty?! Such a simple flower with high impact in numbers.
And these pink dianthus are so vibrant and striking! I may have to add some to my flower beds next year.
Thankfully, her lilacs were in full bloom while we were there too. So fragrant and pretty!
I've learned most of what I know about gardening from my mom. Growing up, I went along to pick out plants and seeds at the garden centre. While planting, I was meticulous about seed spacing and straight rows, and a little less about the weeding process ;)
I loved when she would send me out to pick peas so I could eat a few along the way. And, for some reason, shelling them was something I enjoyed too (probably so I could eat more). So delicious, right?! All summer long, we'd eat healthy and fresh homegrown food.
Over the years, I've also broadened my gardening knowledge through trial and error. Moving put us in a new garden zone and, quite often, what worked there, didn't always work here. Gardening is definitely an evolution that takes patience.
From season to season, there always seem to be a few surprises. I definitely found that out this spring!
I lost a couple lavender plants for the first time ever, as well as our hydrangea tree. I've since learned our late rain in the fall meant many plants weren't prepared for sudden cold heading into winter. It definitely happens and is all part of the gardening journey.
To learn even more, I've gathered several gardening books over time. Not only are they chock-full of information, they tend to be beautiful too. The designer side of me loves that.
Here are some noteworthy books I've added to my collection most recently…
Gardening Books Worth the Read
These gardening books were kindly provided for review purposes. As always, opinions in this post are my own. As well, some affiliate links are included for the books in this post. Check out my blog policies here to find out what that means.
The Complete Book of Ferns
Shop this Book on Amazon US and CAD
If you love ferns as much as I do and want to learn more, I highly suggest The Complete Book of Ferns by Mobee Weinstein. Not only is it an amazing reference on fern botany, it also provides every aspect of fern care you need to grow healthy plants both indoors and out. One of my favourite sections of the book is where Mobee shows creative planting projects and fern decor. So many lovely ideas you'll want to try!
See my fern art inspired by this book: DIY Printed Fern Art
Growing Heirloom Flowers
Shop this Book on Amazon US and CAD
If you're looking for tips on growing bold and fragrant flowers, as well as creative projects for making the most of them, I highly recommend Growing Heirloom Flowers by Chris McLaughlin. It's an inspiring book filled with detailed advice on growing, propagating and cutting more than 40 different vintage flowers. The full-colour photography is absolutely gorgeous too!
See my rose petal soak recipe inspired by this book: Gardener's Rose Petal Bath Soak
Mastering the Art of Flower Gardening
Shop this Book on Amazon US and CAD
Another fantastic resource for growing over 100 different flowers is Mastering the Art of Flower Gardening by Matt Mattus. First, you'll earn everything you need to know about starting seeds, soil properties, sowing, hardening off and transplanting. Then, he provides detailed information for growing lovely blooms year-round based on his hands-on experience, going beyond the information typically available on the plant tag or seed packet. Once again, you'll love the gorgeous photos!
Kitchen Garden Revival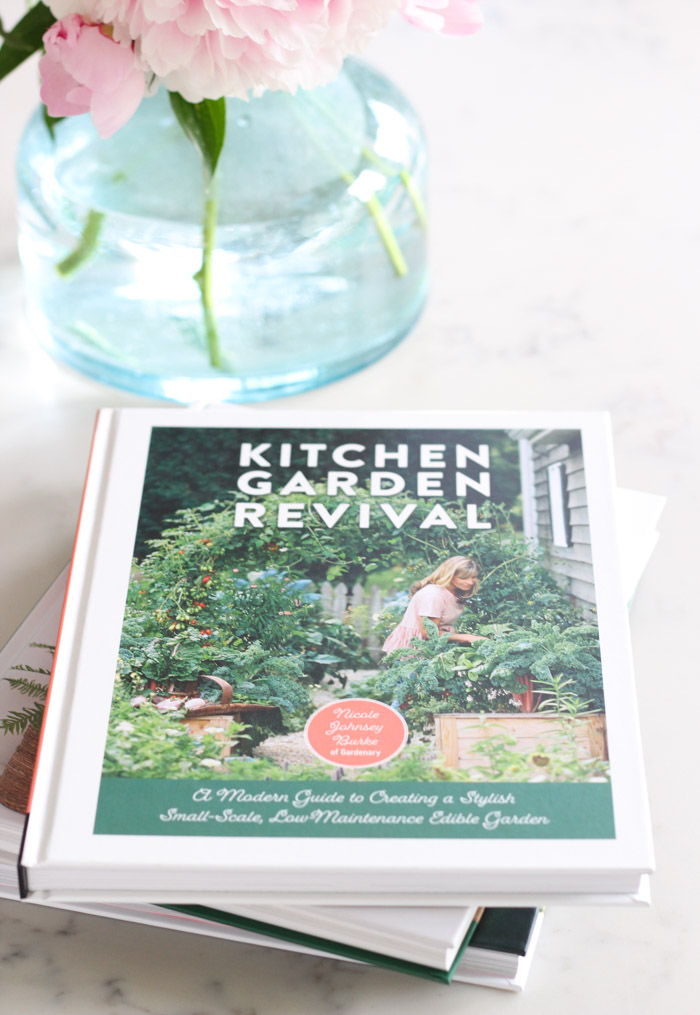 Shop this Book on Amazon US and CAD
If you're like me and prefer a low-maintenance, small-scale garden that looks pretty too, then Kitchen Garden Revival is a must-have resource. Draw inspiration from Nicole's dozens of designed and productive kitchen gardens with step-by-step guide to layout, planting, tending and harvesting. Raised beds are definitely where it's at! I'm certain you'll want to become a gardener after reading this book :)
Garden Alchemy
Shop this Book on Amazon US and CAD
If you're familiar with Stephanie Rose's blog Garden Therapy, you'll love her latest book, Garden Alchemy! Like many of you, I'm always looking for natural ways to grow healthier plants. In this book you'll find 80 recipes and concoctions for organic fertilizers, potting mixes, pest deterrents and more using what Mother Nature provides. She also includes fun projects for all levels of gardeners, such as creating bird seed, self-watering planters, citronella candles and more.


Of course, all of these books make great gifts for gardeners. Or, why not treat yourself this summer? I'm taking a couple along with me on our vacation.
Happy Gardening!