Collections I'll be Adding to this Year
Here's what I'll be on the lookout for at flea markets, garage sales, thrift shops and more this year to add to my collections.
Have you been going through your closets, drawers, storage rooms and more like most people this time of year? Around here, we tend to purge several times a year, so we never seem to have a huge load to take to the thrift shop in January. Many do, though, making it a good time to shop for vintage items and other collectibles.
After setting secondhand shopping guidelines for myself a while back, I've been able to keep my "collections" in check and my storage rooms reasonably organized. I feel so much better knowing I don't have a bunch of money tied up in "someday project" items.
Last year, it was so rewarding to finish up many of those "thrift shop" makeover projects on my to-do list. We're enjoying our linen upholstered ottoman, and I can't wait to put our weathered bench to use again this spring. I'm almost finished making over that silverware chest and will be sharing it soon.
Moving forward, I've given myself permission to add to a few of my collections carte blanche. Some are strictly decorative pieces I've admired for many years and cannot foresee a time when I will grow tired of them. Others have proven to be of good use around our home time and time again, so they've earned their spot on the "good purchase" list. This shortlist is what I'm constantly on the lookout for at flea markets, garage sales, thrift shops and more. In some instances, I may even buy new if the quality and price are right.
Adding to My Collections
Blue and White Porcelain
Grouped together, these decorative pieces add a touch of classic colour to an otherwise neutral space. I love their versatility, as well as the variety of shapes, sizes and patterns that are available. Lucy's collection is gorgeous, isn't it?
To date, good quality blue and white porcelain has been challenging to find at a good price. Crossing my fingers I will have more luck this year!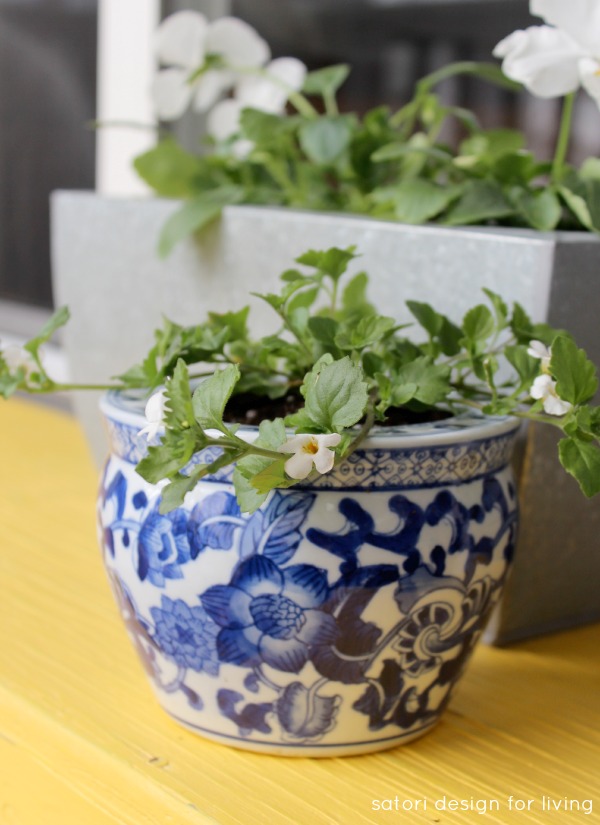 Milk Glass
I started collecting milk glass and reproduction pieces several years ago, so I have quite a few tucked away in a cabinet. I pull them out for seasonal decorating and when we're entertaining. Eventually, my plan is to display them on open shelves in our dining room/kitchen similar to KariAnne's.
Most of my collection is made up of vases, so I'll be on the lookout for cups, saucers, bowls and more this year.
Vintage Tea Towels
After admiring the kitschy tea towels at Anthropologie, I was inspired to find some alternatives that were less pricey. We're a little too hard on ours around here to spend that much.
I was surprised by the availability of unused vintage ones at thrift shops, and have been using them ever since.
The Irish linen tea towels are my favourites. Although they come out of the washer and dryer quite wrinkled, I swear they dry dishes so much better than cotton. I've been able to pick up most of these kitchen towels for less than $2, so it's worth putting them to use rather than storing them in a drawer.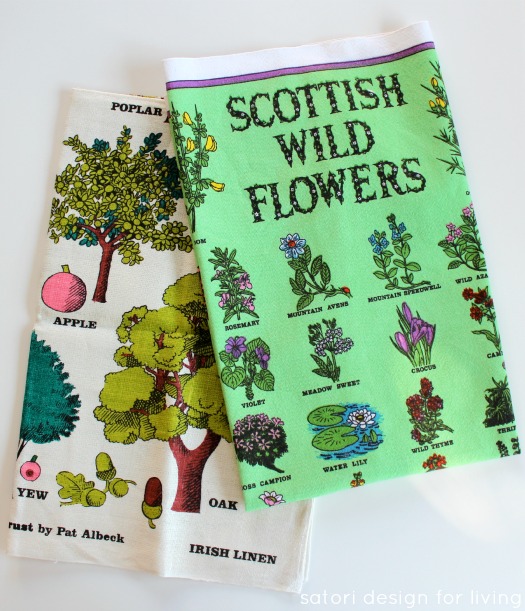 Will you be adding to any of your collections this year? Perhaps I can be on the lookout for you!
xo,