Thrifting: My Latest Finds and What I've Learned
Enjoy thrifting as much as I do? Check out my latest finds and what I plan on doing with each of them!
As many of you know, I like to go hunting for vintage pieces quite frequently. After cleaning out our basement storage rooms at the completion of our renovation, I vowed I wouldn't bring home any more fix-me-up pieces until I had dealt with the ones already stockpiled. I'm like the addict who starts to make excuses or hide things so her dirty little secret isn't found out!
Instead of quitting cold turkey, I decided as an alternative that nothing would come home with me on one of my thrifting adventures if I didn't have a plan for it within the next few months. That criteria has paid off and my "collection" has been able to stay within the manageable and "safe" range. (Okay that still sounds a little crazy coming from someone who helps people de-clutter and organize their homes for a living!)
Since the basement purge, I have found a few treasures in my shopping adventures I just couldn't leave behind. I started collecting milk glass (authentic and reproduction) a while ago and love how it all looks together. Pieces I picked up have ranged anywhere from $.25 to $4. Eventually I'd like to arrange them on an open shelf in our kitchen like this display.
I spotted this $1 lamp shade frame at our local thrift shop and thought it was the perfect jumping off point to recreate Nester's book page chandelier (as spotted below) for my office.
As an option, I've also considered making a beaded cage pendant light like this one spotted on 1st Dibs. It's a very ambitious project, but I think it would be so worth it!
These Italian glass bottles totalling $2 for the bunch were exactly what I was looking for to hold these Martha Stewart drink mixers for my son's graduation party in July. They will also work well for some of the refreshing drinks I make throughout the rest of the summer.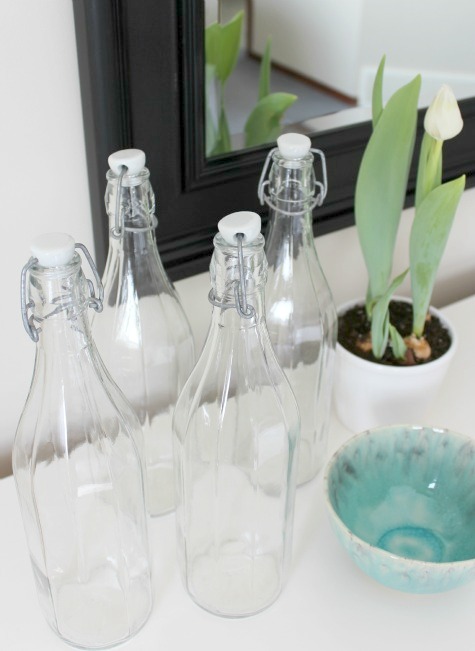 And finally, this antique silverware chest I paid $2 for is going to be painted and recovered inside to store all my stationery.
I love the look of this turquoise flatware chest I spotted on Etsy. I'm not 100% sure if it's the colour I'll choose for mine.
Do you like to go thrifting? Are you able to exercise restraint or do you need to outline a set of rules for yourself before making any purchases?
Enjoy your day!