Our Kitchen Renovation (The Plan)
Ready for a breakdown of the finishes we've selected for our kitchen renovation? I'm loving the classic style with a touch of vintage bistro, including the IKEA Bodbyn off-white cabinets.
Hello everyone! The dust from our wall demo has settled long enough to finally share the finishes we're planning on using in our new kitchen. Over the past few months, I've been scouring the web and running around like crazy checking out options for flooring, cabinets, countertops, hardware and more to come up with a style we're all happy with. Not an easy feat when you're wanting to stay on budget and create a kitchen that will stand the test of time, but so worth it!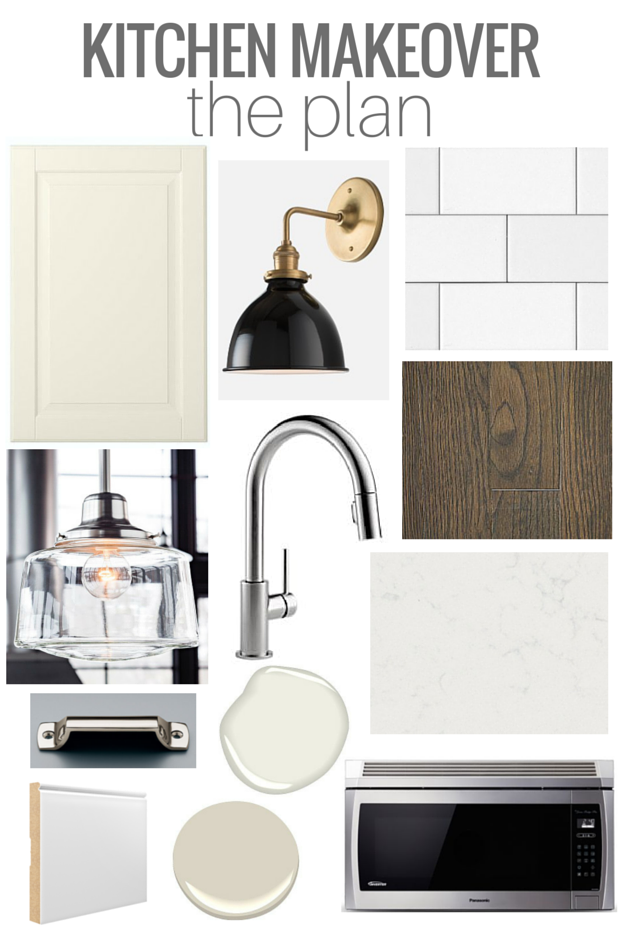 As you can see, we're going for a classic white kitchen with a touch of vintage bistro. Most of these selections are locked in place, but we're still finalizing a few things like hardware and lighting. It seems like everything I'm drawn to comes from the US, which poses some challenges to the budget after factoring in the exchange rate plus shipping. A bit more searching may be in store or maybe a road trip?
Our Kitchen Renovation Details
The off-white Bodbyn cabinets are part of the new Sektion line at IKEA. Originally I was going for a painted shaker style door, but you can't beat the value and flexibility of this line. The layout of our kitchen will basically be the same with some added functionality.
For the backsplash, we've selected matte white subway tiles that will be installed to the ceiling. The grout will be a contrasting grey colour that's pulled from the Frosty Carrina countertop.
To warm things up, we're installing a brushed white oak hardwood floor in a darker stain. This was a tough choice as I thought I'd go lighter for maintenance issues, but the super matte finish doesn't seem to show footprints or scratches, and it suited our house so much better. I guess we'll see!
For the lighting, we plan on adding an industrial wall sconce over the sink and two schoolhouse pendants over the island. The existing track fixtures were already converted to recessed lights a while back.
I was fortunate to win the Trinsic faucet at Blogpodium last fall thanks to the good people at Delta! It's sleek design goes nicely with our new over-the-range Panasonic microwave that will free up space for more upper cabinets. Storage was always an issue in the old kitchen.
Our undermount sink (not pictured) will be a square style in stainless.
All of our trim will be replaced with MDF in a simple shaker style and painted out in Benjamin Moore's White Dove (OC-17). The IKEA cabinets are just a bit too cream to do a Bodbyn off-white colour match. The walls will be painted Baby Fawn (OC-15), a greige colour we used in our living room last fall.
Finally, for the hardware I'm leaning towards a squared-off cup pull mixed with a longer simple pull. Once the cabinets go in I'll pick up a few options and check them out in the space.
So, what do you think? I have some progress pictures I can't wait to share with you, including our popcornless ceiling! Today we're taking out the final part of the kitchen (where I lose my sink and dishwasher- ugh!) and we'll also be picking up plywood for the new subfloor, as well as supplies to install the new doors. Then, I may have a little more time to keep you up to speed.
You can catch up on all the kitchen renovation posts here and check out more of our kitchen plans on Pinterest.
Update: Go here to see our fully renovated Bodbyn off-white kitchen!
See you soon!