Our Home Over the Past Decade
It's time to look back at a whole decade's worth of our home improvement projects. Sharing some personal reflections and favourite room makeovers!
As 2020 approached, the quote "Most people overestimate what they can do in one year and underestimate what they can do in ten years" played over and over in my mind. I remember how profound that message was to me the first time I heard it from Bill Gates years ago. Tony Robbins also mentions a similar idea in his documentary, I Am Not Your Guru on Netflix. So powerful.
I've been a goal-driven person most of my life, and I guess you could say it has served me well in many ways. I'm sure most of my successes can be attributed to it. However, I have found, at times, it has also led to a "Check! What's next?" mindset.
What used to be perceived as enough, has somehow been replaced with feelings of having to constantly raise the bar. You know, do better, do more, no excuses… Get my drift? If you're a blogger, you most certainly do. I hear this over and over again from so many.
Over the past year I have learned that these kind of expectations are ridiculous. All they're really doing is setting me up to fail (in my mind anyway). I truly believe this way of thinking blocks what's supposed to flow through us naturally.
Instead, moving forward, I've chosen to celebrate my accomplishments in bigger chunks. If we judge ourselves harshly at the end of each day or week, nothing good can come from it, right? That kind of self-criticism means we will never be "enough" and will constantly fight upstream.
Over the long term we can achieve so much. Rather than gaining by leaps and bounds, it's about putting one foot in front of the other, day by day, bit by bit. It isn't about setting an unrealistic pace.
Another way of thinking about it is stretching your elastic everyday to keep it from going rigid, but not so hard that it snaps. It's about balance. I learned this concept a few months ago and I've incorporated it into my daily life. Helpful indeed!
I believe there's much more to be said about showing up for yourself and really listening to what you need rather than checking off a list of goals. Some days will be about "killing it" and others will be about "regeneration". I think it's important to be flexible and kind to ourselves. It's more about the intention or the "why" behind the goals that truly makes a difference. Do you agree?
When I look back at what I've (we've) accomplished over the past 10 years, it astonishes me. Our home, for instance, is proof that strength is in the longterm. Quite honestly, it has shifted my mindset.
It's easy to list the tangible stuff like our kitchen makeover, basement development, new hardwood floors and more. I feel both proud and blessed to call this home ours. Go easy on yourself if you feel like your home improvement list over the past decade is lacking. Did you travel? Were you in school? Did you get your finances in order?
It's a little harder to note the personal growth. Maybe that part of your life is where your focus has been and is much more impressive. For me, it's definitely more important. What we can't see physically should never be compared to what we can. Keep that in mind the next time you're scrolling through Instagram and begin to feel less-than. You're not!
Our Home Improvement Projects
Although this post ended up being about much more than our home over the past decade, I thought I would go ahead and share some of my favourite room makeovers anyway. Just maybe you're planning on tackling a space soon and this will serve as a source of inspiration. At the very least, I hope it encourages you to look at your life accomplishments in chunks. Be a little kinder to yourself, okay? I'm confident you'll do great things over the next 10 years!
White Kitchen Makeover
Our kitchen renovation definitely tops my list of home projects. We used IKEA cabinets, quartz countertops and marble subway tile to take it from dark and dated to light, bright and organized. I truly love being in this space!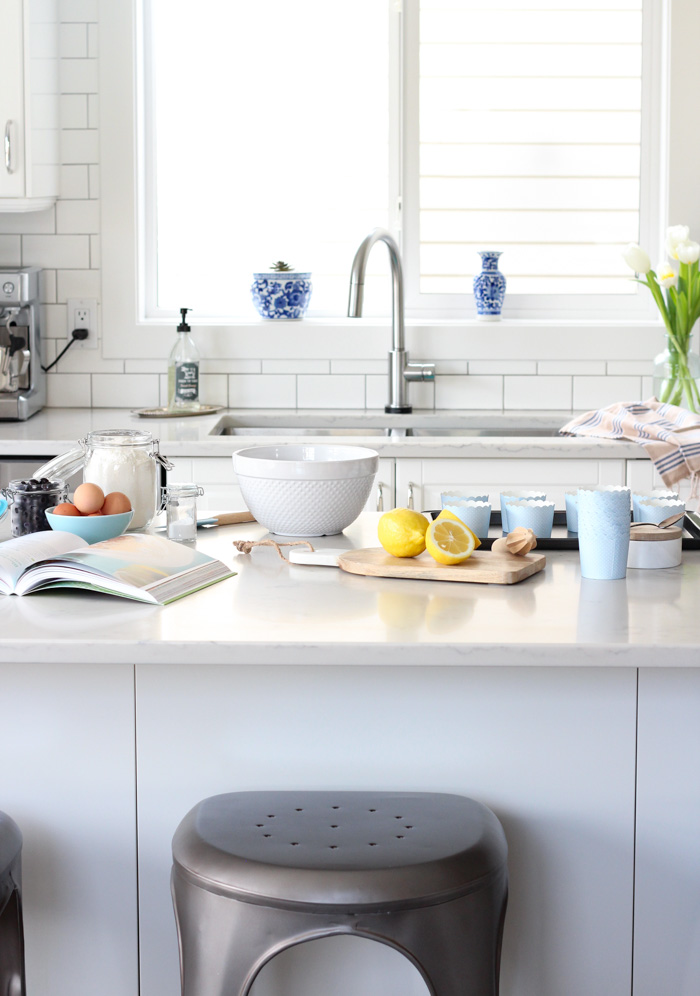 Dining Area Refresh
Right next to the kitchen is our dining area, so it only made sense to update it with paint, trim and new lighting at the same time. I've created many seasonal tablescapes here over the years!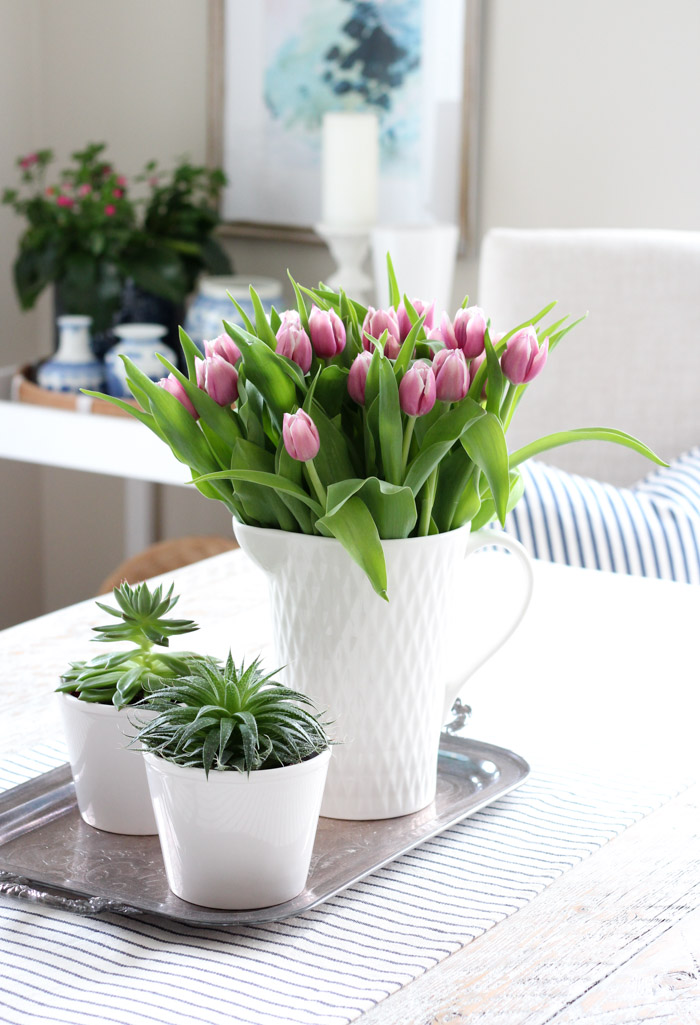 Basement Family Room Renovation
One of the biggest projects we tackled shortly after I started the blog was our basement family room. It's a cozy hang-out space for the whole family, whether we're watching movies, sports or playing games. And we take full advantage of the snack bar! (Taking photos is difficult down here, so head over to the paint details post for a better idea of true colours.)
White Fireplace Makeover
When we moved into our home, our fireplace was one of the features I wanted to change immediately. Let's just say it took a few years of waiting before we finally transformed it using trim, paint and marble subway tile. It's one of our most popular projects to date!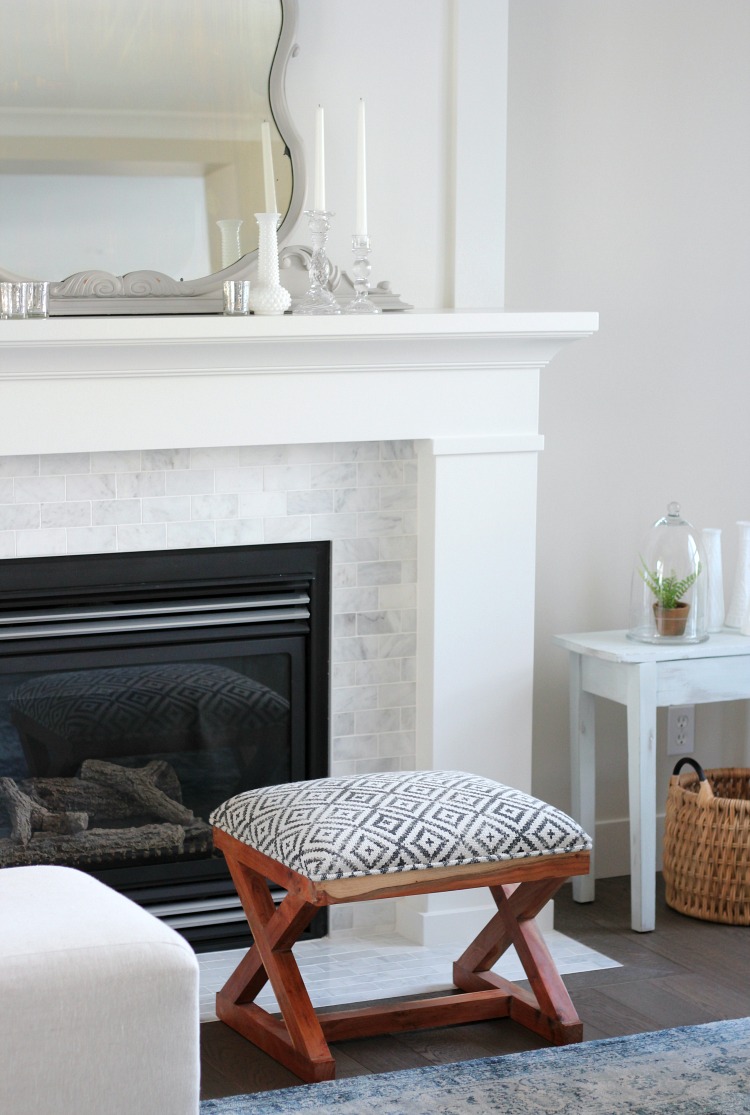 Hardwood Staircase Remodel
After taking a spill down these stairs a couple years ago, I wasn't sure if this project would make the list. But, I have to blame my carelessness, right?! Going from dingy carpet to beautiful hardwood stairs with white risers really transformed this space.
Trim and Door Installation
After finishing our basement in shaker style trim and doors, we decided to do the same on our main floor. (Wish I could snap my fingers and have our upper level finished as well!) The slate floors we installed throughout the laundry room, powder room and entryway were a big improvement from the ugly linoleum!
Of course, there's a big list of smaller projects we tackled too! Be sure to head to the project gallery to see more. Or, you can simply check out some of the FAQ about our home.
Have a favourite? I'd love to hear about any upcoming home improvement plans your have, big or small!
Want more home improvement projects like these sent directly to your inbox? Be sure to SUBSCRIBE.
Cheers to the next decade,