Ever since I purchased my office desk, I've been pondering ways to break up the span of wood. I find the unit as a whole dark and heavy, but when Pottery Barn was clearing out their basement stockroom combined with their friends and family event a couple years ago, I couldn't pass up the bargain pricing. I knew I could make it work, especially since it had the functionality I was looking for.
To lighten everything up, I've considered applying wallpaper to the back of the hutch. After seeing an example of this in Style at Home magazine this month, it really has me thinking about it again.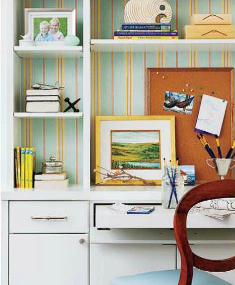 I'm also drawn to geometric patterns, but I'm not sure if something like this would be too busy to look at all day long.
Or what about a hit of bold color? This wallpaper-backed hutch (actually done with fabric) definitely brings the piece to life.
As an option, I've contemplated putting a piece of wallpaper or fabric on the desk's surface covered with a piece of glass. I love the hit of pattern Jen from IHeart Organizing added to her basement studio desk.
Which wallpaper option would you choose? Do you have any other non-permanent ideas for freshening up my desk?
*contains affiliate link
xo,