You'll love these stylish ideas for displaying vacation keepsakes throughout your home.
Last week I showed you some of my favourite projects for displaying vacation mementos and mentioned that I'd be sharing snapshots of some of the travel keepsakes we currently have throughout our home. I'm so glad the weather finally turned around as I was starting to worry whether I'd finally get enough light to take photos. Thankfully the sun came out yesterday!
When displaying vacation keepsakes, I always think about how they can become integrated within our everyday decor. I like it best when they don't scream souvenir like "look at those sombreros and maracas!" Instead, I like a subtle mix.
We've been on several beach vacations and have collected many shells and pieces of coral along the way. We have some of these in a glass cylinder in the family room. I also mixed in some faux shells from Pottery Barn to add a little color. Some of the larger pieces were placed on the bookshelf.
Rocks are another natural element I love the look of. My husband selected a few to bring home from Alaska and we have these in our bathroom. They're basically a representation of the color palette we have chosen for the space.
On a recent trip to Turkey, my husband brought back this beautiful handmade bowl I decided to use as a soap dish in our powder room. I love the bright, cheery colors and I'm reminded of what a sweet gesture it was. (I also got a beautiful handmade pashmina and spice grinder, but that's a side note.)
We like to take a lot of photos on our travels and have many of these framed around the house. We created this Pottery Barn knock-off ledge a few years ago for our family room and it's the perfect place to arrange many of these pictures.
There's also a framed photo from our first real family vacation to the mountains on my husband's nightstand. It's a nice reminder before turning the lights out of what's really important in life.
Although we've never been to Paris, I framed some photos given to me by a friend and hung them in our kitchen. It's somewhere we want to travel in the near future and I'm hoping to add to them with some of our own.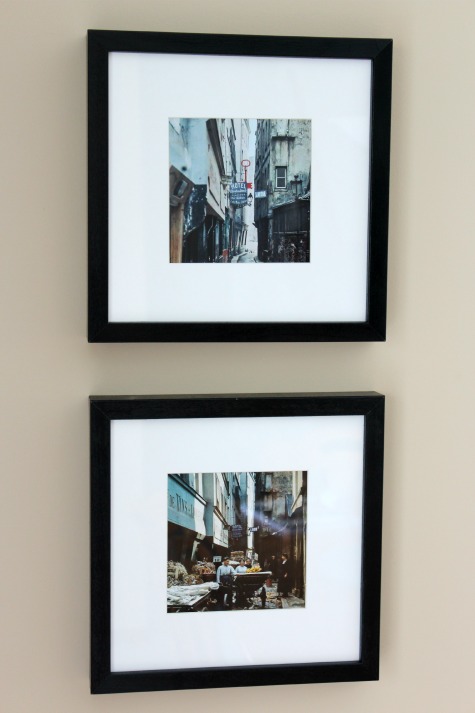 One thing I've wanted to do for a while now is take the photos from each vacation we've taken and get them printed in book form. I finally have this process underway, starting with a family trip we took to Huatulco a few years ago.
My goal is to eventually have all of these photo books displayed on a shelf in our family room.
Do you have vacation keepsakes on display in your home? What stylish ideas have you thought of to keep the memories alive?
Enjoy your weekend!