Jo-Anna from A Pretty Life in the Suburbs is stopping by to share her kitchen must-haves for whipping up delicious recipes.
Hi everyone! Today I'm kicking off a new series where bloggers share their must-have tools or supplies for doing what they know and do best. First up, I'm happy to have Jo-Anna from A Pretty Life in the Suburbs stopping by to share her favourite kitchen tools. Jo-Anna is always whipping up the most amazing looking food on her blog, so I was curious to know what someone with her experience and talent reached for time and time again in the kitchen. Let's take a look at her kitchen must-haves…
Kitchen Must-Haves
Well it wouldn't be my favourite kitchen items list without my favourite cookbooks! These four books are my most-loved cookbooks of all time: The Joy of Cooking, any Best of Bridge book, Looneyspoons and Chef at Home. I refer to them all the time and love them all!
These are some of my most used kitchen items, and I would be lost without them. I use my Pampered Chef knife every day, it's really the best! And the bag clips, these are the greatest invention ever! I also can't live without my pan scraper, silicone spatula and my pretty measuring cups!
These dishes are a recent addition to my kitchen and I love them SO much. I bought the entire set of this ceramic bake ware from Superstore. They bake everything beautifully, and they look fabulous in my blog food photos! I use these dishes everyday…they make an everyday meal look gorgeous! My favourite way to use these dishes is to roast vegetables, like this butternut squash.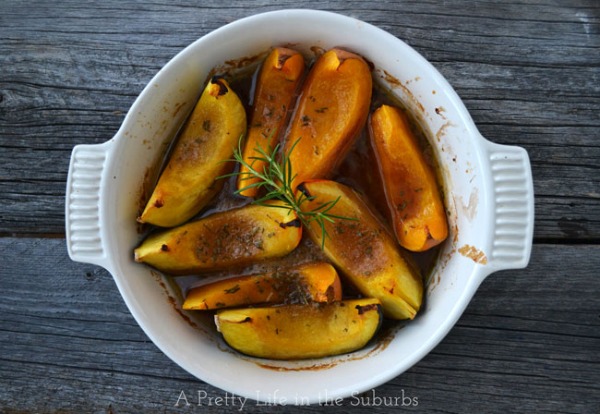 I absolutely love my heavy skillets. I grill, saute, broil and bake with them…but what I love the most about them is that I can start a dish off on the stove and transfer it directly to the oven…it saves time and dirty dishes! I used these dishes recently for my Apple Baked Dutch Baby.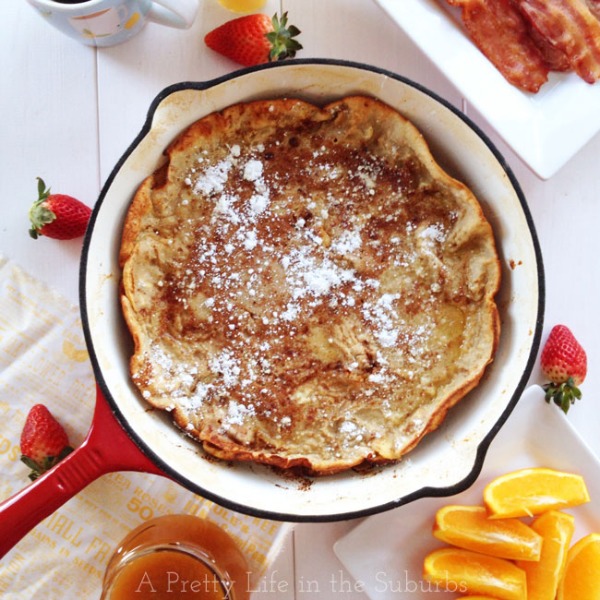 You can see more of my favourite things in this post!
Thanks, Jo-Anna! It's so fun to take a look at behind the scenes! I know I can't live without my stovetop-to-oven skillet and dutch oven! (It probably has a lot to do with not wanting to do more dishes too!)
What can't you live without in the kitchen? Do you and Jo-Anna share any of the same favourites?
xo,