Jar Recipes to Take Along on Your Next Picnic
These handy jar recipes are delicious, mess-free and perfect for on-the-go picnics. Drinks, salads, desserts and more! Which one will you try first?
Styling & Design by Bash, Please via Design Sponge | Photos by Tinywater
Summer is here and that means picnic season! One of our favourite things to do on Sunday afternoons is to go on a hike and have a nice little lunch. Living so close to the mountains means the views are always spectacular. We love our food around here, but it's being in nature that appeals to us the most.
However, there is something to be said about a packed picnic lunch. Enjoying it in the wilderness is something truly special and hard top in my books.
Picnic Recipes in a Jar
To mix things up a bit this summer, I thought we could try some recipes in a jar. Everything in a mason jar seems way more fun, and I love how handy and mess-free these little guys are. I think you'll enjoy these delicious picnic take-along recipes!
Blackberry Thyme Lemonade by Oven Love
Strawberry, Lemon & Mint Lemonade by Princess Misia
Skinny Layered Guacamole Dip by Bell' Ailmento
Wheat Berry Apple Salad in a Jar by Savoring the Time
Fresh Lemon Vinaigrette Salad in a Jar by Clean Eating Healthy Life
Quinoa and Tomato Salad by The Chic Table
Niçoise Salad To-go by Camille Styles
Skinny Strawberry Shortcake Parfait by The Scrumptious Pumpkin
S'mores in Jars by Create Celebrate Explore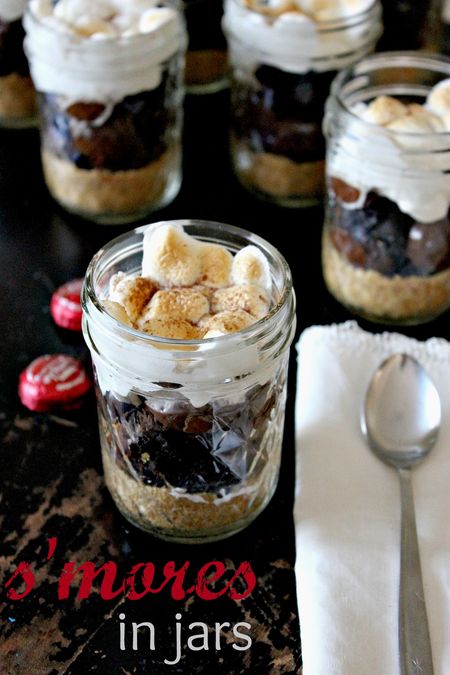 Picnic Jar Recipe Tips
Prepare food and drinks in jars the day before for quick and easy picnic packing. Store-bought salads, dips and veggies can be transferred to individual jars too.
Stack jars in cooler or basket with ice packs.
After eating, place jar lids back on before repacking to keep everything mess-free.
For easy cleanup, place jars in dishwasher as soon as you arrive back home.
Have any mason jar picnic ideas of your own? Where's your favourite destination?
Want more delicious recipes and ideas like these sent directly to your inbox? Be sure to SUBSCRIBE.
Enjoy your weekend!