We gave the Sapira mattress by Leesa a try and can't believe the difference it's made. Read on for our full review of this hybrid mattress!
This post is sponsored by Leesa. I received product to facilitate this Sapira hybrid mattress review. The images and words are my own, as always.
If you follow my IG stories, you may recall the fun task of having to saw our old king mattress in half. Why, you ask? I'll get to those details in a moment…
In early September, The Sapira Mattress (Leesa hybrid) showed up on our doorstep after I agreed to give it a test drive. I've been asked to review other mattresses in the past, but the idea of lugging a king up our newly renovated hardwood stairs without giving it a try first freaked me out a little. I vividly recall how difficult it was for the delivery guys to navigate the narrow wrap-around the last time around (as do our ceiling and light fixture), and there was no way I was experiencing that disaster again!
As reluctant as I was, we simply couldn't put the process off any longer. Both my husband and I were waking up with aches and pains, and were convinced our 13 year old mattress was to blame. Getting a good sleep is essential. So, on one Saturday afternoon back in August, we tried out many different options at a showroom.
As usual, we had a very nice salesman go over the pros and cons of each bed, and ended up finding "the best one" at a price point we could live with. Maybe? That's how you buy a mattress, right? Try before you buy…
Strangely enough, the very next day an email from Leesa (the maker of The Sapira Mattress) landed in my inbox. At first I gave it little thought. Honestly, I almost deleted it.
You've probably seen these types of mattresses that come rolled up in a box. They seem to be all the rage these days. I didn't even consider one as an option when we first started looking. I mean, what kind of quality could they really be?
Don't you need to spend a bunch of money and wait for delivery guys to show up in order to get a good mattress? That's what most of us have been taught to believe.
Our recent experience with Leesa totally turned those thoughts upside down. If you're looking to replace your mattress, I suggest throwing those conventional ideas out the window too.
Sapira Mattress Review
The buying process was simple. I went through the steps of ordering online, having it delivered to our front door and setting it up. Everything was so quick and easy!
Leesa makes two different options. We opted for The Sapira Mattress, which is a hybrid featuring a combination of premium foam layers with pocket-spring coils for superior support. After some research, it seemed like the best fit for us. I suggest checking out their website for mattress specifications and reviews to see which one may be a good fit for you.
So what about those narrow wrap-around stairs leading to our bedroom?
The solution was putting together two twin XL mattresses to form one king (aka split king). That way we avoided the issue all together and don't have to worry if we move down the road. Thankfully, we were able to recycle a big part of our old mattress.
If you have tight doorways, corners, stairs, etc., it's definitely worth considering. After we added a mattress pad and fitted sheet, we could barely notice the divide. Our last king mattress ended up with that dreaded bump in the middle over time, so this will be a welcomed change.
Our experience with the Leesa Hybrid mattress so far:
We both commented on the quality of materials straight out of the box. The seams and stitching are nicely finished and the cover feels soft and luxurious. I like that it's removable for cleaning too.
From night one, my husband has felt very comfortable and supported with much less tossing and turning than usual. He's waking with minimal shoulder and back pain (if any), whereas before it was the norm.
For me, the transition took a bit longer. Right away, I was sleeping on my back much more, whereas I used to switch from side to side several times through the night to get comfortable. However, after a week or so, I was still waking with a bit of shoulder and neck tension. Once I switched my pillow to a back sleeper (which is a bit softer), it was a game-changer.
We can't believe how quiet and stable this mattress is. We're often going to bed and getting up at different times, so this is a big improvement. It also means we don't feel each other moving around throughout the night, resulting in undisturbed sleep.
I tend to sleep cold, whereas my husband sleeps on the warmer side. This mattress seems to be a good heat regulator because we're both sleeping at a comfortable temperature.
We're back to reading in bed now. We had completely stopped since our lower backs couldn't handle it for long with our previous mattress.
Some things to note about the Sapira bed:
There was a slight hint of off-gassing after setting up the mattress which disappeared within a day. The Sapira mattress is CertiPUR-US® certified (a health checkup for foam).
The Sapira mattress is a bit on the firmer side (about a 7/10), which may not work for some. We're both medium build and find it's a good balance between support and softness.
Even though we opted for two twin XL mattresses instead of one king, they're quite heavy (around 80 lbs each) making them a bit more challenging to move. The plus side is they stay put once they're in place.
Leesa's One-Ten program donates one mattress for every 10 sold (30000 and counting). Their One Earth program sees them plant a tree for every mattress sold to help offset their carbon footprint. Something to get behind, right?
After sleeping on our Sapira mattress for over 50 days now, we're convinced it's for us. We love crawling into bed at night knowing we're going to sleep more soundly and wake up feeling refreshed. It's our little cocoon!
Buying a Mattress Online with Confidence
Thinking about giving the Leesa mattress a try? Rest assured you'll have 100 nights to test it out. If you're not sleeping better, your mattress will be donated to a charitable organization with a full refund back to you. Kind of a no brainer, right?
Use code SATORIDESIGNFORLIVING to receive $150 off an original Leesa mattress and $250 off a hybrid mattress.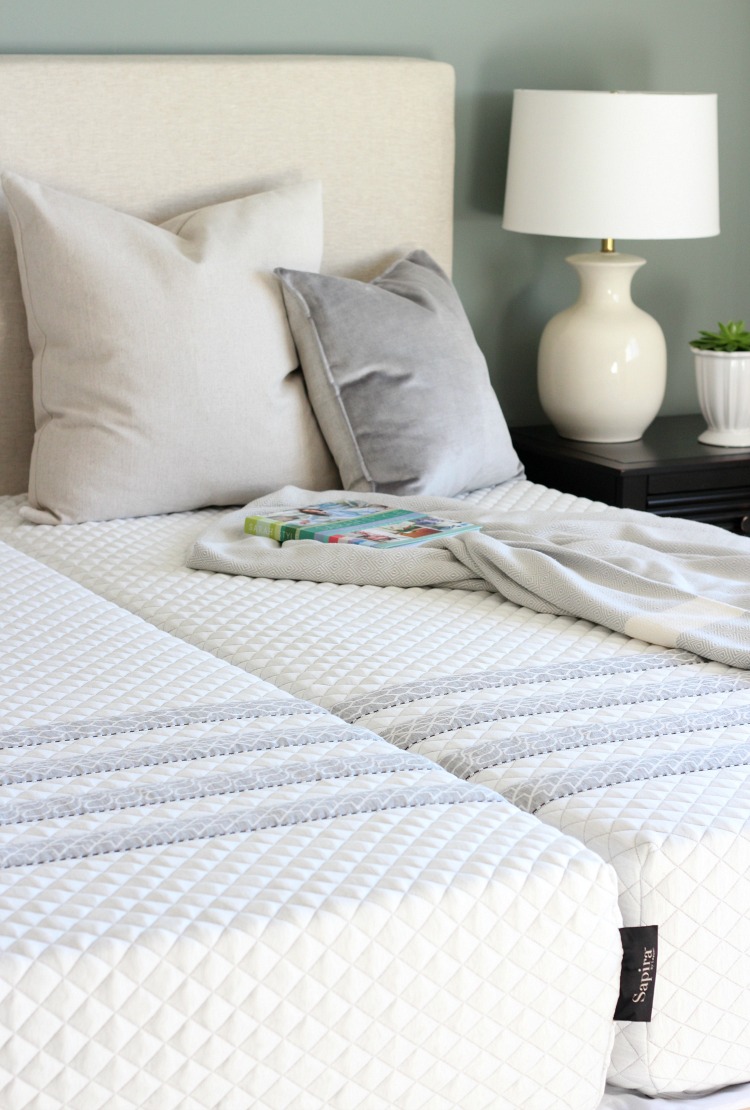 Now that we're enjoying our new mattresses, I'm inspired to freshen up the walls with a new colour. I'm sure some new decor pieces will find their way home with me too. Stay tuned for more bedroom updates to come.
Sweet dreams,