Reflecting on 8 Years: Our Home
We're approaching the 8 year mark since we moved into our home- 2 if you're counting leap years because we moved in on February 29 (I've heard that it's good luck when big things happen on that day!). When we purchased our home it was at the beginning of the housing boom. We were fortunate to buy low-ish, but the downside was that the number of houses to select from was very limited. We ended up buying what we thought was the best house in a price range we were comfortable with, even though it was far from our dream home. Looking back, it was a good thing we didn't wait for the perfect house to come around because prices jumped dramatically in the year to follow.
Over those 8 years we've made some changes to our house, but far from what we originally planned. When we moved in, I didn't just dislike the flooring, I actually loathed it. Added to that list was the faux granite laminate countertops, the textured fireplace that looked like an iced wedding cake, the cool grey painted walls, the ugly builder grade light fixtures, and the reddish stained skimpy baseboards.
It seemed like a lofty list, but the house was located in a family-friendly neighborhood and was the right size for the 3 of us. I loved the large windows in the kitchen and master bedroom, the ensuite had a wonderful soaker tub and a lot of storage, the kitchen had a large island and walk-in pantry and there was a large family bonus room on the second floor. The positives far outweighed any of the negatives and I knew I could work with it.
I told my husband that I could live with the UGLY for a short while, but eventually it all had to go! I started with paint because that's one of the easiest changes at a low price point. I finished a few rooms, but once spring hit, my focus quickly turned outside. The yard needed a lot of work since we were basically starting with dirt and a lot of rocks. I persuaded my son to help pick wheel barrels full of rocks (I felt it was only right that he find out what I did growing up in the country!). We then installed a stone patio (requiring a lot of patience).
And some sod…
Fall hit and we were back to rigid school, hockey and work schedules. Home improvements were basically put on the back burner.
Over the next few years, we added window treatments and I painted and decorated a few more rooms as time allowed. I installed new closet organizers in most of the rooms, bought storage containers and labelled everything I could. My husband also added storage to the garage. The washing machine and dishwasher broke down, so we purchased new ones in stainless steel. We were tired of looking at the granny-inspired furniture we had in our family room, as well as the enormous tube TV, so we saved up to replace it all. We continued improving the yard with plants, lighting, stain, stone and more. Little by little our house was being transformed- that is except for the items on my initial list!
Now, 8 years later, I'm still living with those same ugly floors, baseboards, fireplace, countertops and a few of those same light fixtures. Most of the walls have been painted except the stairwell, which is impossible for me to reach. Last fall we finally replaced the hideous light fixture. Even before Tommy Smythe of Sarah's House referred to them as "boobs," I couldn't wait to get rid of all of them in my house! Not only was the scale wrong for the stairwell, but it added no sense of style or warmth. (Pardon the poor quality photos- the new camera I want is on backorder!)
And now…
Now with some paint (I think I'll hire that out), and perhaps a little artwork or framed photos, I will have the stairwell I've been dreaming of for the past 8 years! I'd love something inspired by this…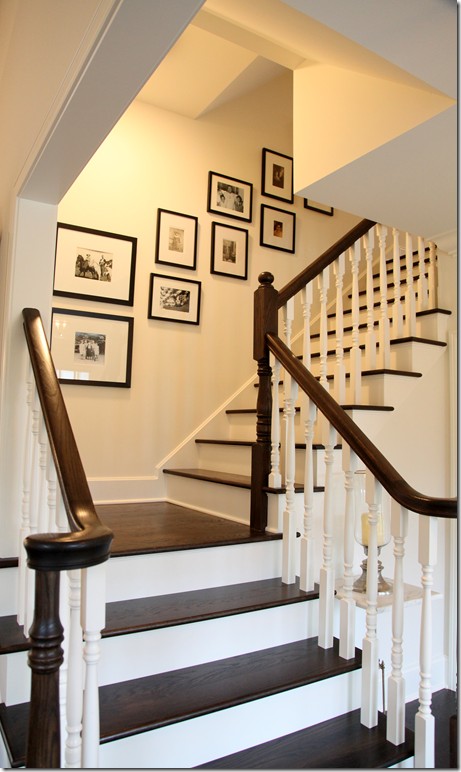 via Cote de Texas
With the changes we've made to our work load and no longer having hockey every weekend, we're planning on finally tackling some of the larger projects we've had planned for a while. We're currently in the process of renovating our basement and we're going to make our way to other areas of the house after that. It's exciting to be able to take on that list I created 8 years ago!
What changes have you wanted to make to your home for a long time? What obstacles stood in your way? What projects have you been able to complete in the meantime- I'd love to know!
Enjoy your day!