Happy Friday! Some of you may recall I started a Holiday Countdown series on this day last year. Basically, I started it to keep myself organized and on track preparing for Christmas week-by-week, but the comments and emails I received told me that many of you were following along as well. Yay!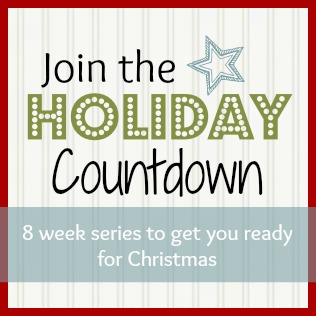 Recently, I was asked if I'm going to do something like it again this year, but rather than create new posts from scratch, I've decided to run it as a series recap instead. I'll be modifying and tweaking last year's posts to make them better, and rather than give you a play-by-play of my week like I did last year, I will be sharing a few thoughts and/or photos of what's been going on at my house instead. I'm also throwing a challenge out to you (read to the bottom to get the details)!
This Week's Holiday Countdown Homework
Plant amaryllis and paper white bulbs.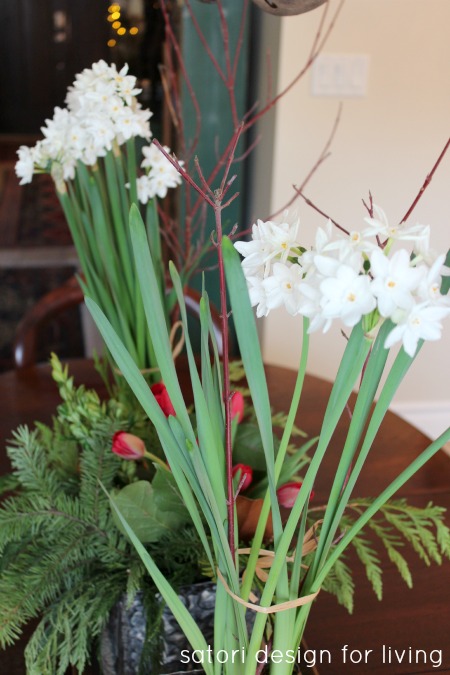 Most bulbs take at least 8 weeks to bloom. If you plant them now, they'll be ready for Christmas. I like to watch my Christmas bulbs transform as the weeks go by to remind me that something special is coming. I have a fairly neutral space and the pop of red from the amaryllis adds colour and interest and paper whites have always been a favourite.
Put up your outdoor lights.
I'm not suggesting that you turn them on yet, but who wants to wait until there's a foot of snow on the ground and it's minus twenty to put them up? I also find that if you need new strings of lights, the selection is always the best right now. Look for something unique to add to the mix like these outdoor Christmas light ideas.
Take photos for your holiday cards.
I'm not saying that slapping a random family photo from your summer camping trip on the front of your card is a big No-No. However, wouldn't you rather send out something that truly represents your family and you're proud of?
If you're that kind of kickback family and it's meant to be relaxed or somewhat humorous in nature, that's completely different. In that case, I say go for it! If that isn't the look you're going for, get professional photos done or ask a friend to take some for you.
Gather outdoor decorating materials.
It probably isn't necessary to mention the imminent weather, but the likelihood of you traipsing through the woods picking up pinecones and branches is almost nil once the snow flies and it turns really cold (like it has here already!). Go this week and take the kids with you for a bit of fun.
Natural materials are some of the best decorations and they're free!
Winterize the yard and house.
It's something that's pushed to the bottom of the list, but winterizing needs to be done if you haven't already. I know, the joys of being a homeowner!
If you haven't changed your furnace filter or had it serviced in the past 2 years, it's the perfect time to get it done. Clean off your outdoor furniture and bring it inside or make sure it's at least covered. As well, turn off your outdoor water tap and put the hoses away. If you're in a very cold climate (like me), empty the dirt out of your clay pots and wrap delicate shrubs with burlap.
A Challenge for You!
Join the Holiday Countdown and share what you've been up to in a weekly blog post (or as many weeks as you can muster). Let me know you're participating and I'll share your link in each week's update post. All you have to do in return is share the Holiday Countdown with your readers on social media or otherwise.
Not a blogger? Simply leave a comment each week updating us on what you've been up to!
Can't wait to see how you make out this week!