Planting Bulbs for Christmas
Planting bulbs for Christmas? It takes several weeks for narcissus and amaryllis to bloom. Start early with these bulb forcing tips.
Although Christmas is many weeks away, there are a few things to start early, including amaryllis, narcissus and other bulbs. Last year, I planted my bulbs at the beginning of November. I ended up having gorgeous blooms starting mid-December lasting past Christmas Day. This timing worked perfectly since we spent Christmas away and were able to enjoy the blooms earlier.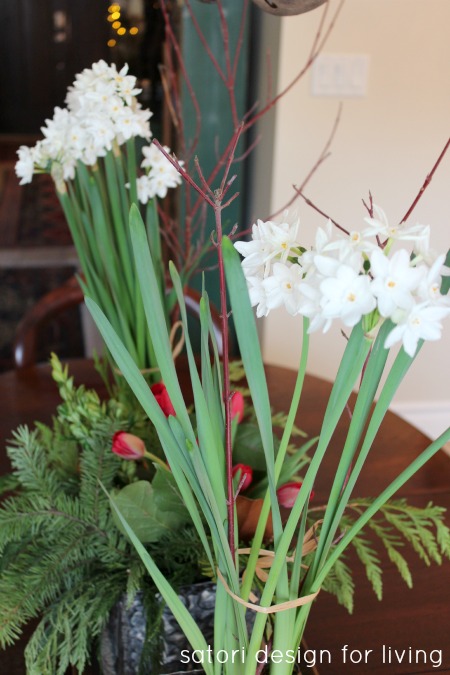 If you've been following this year's Holiday Countdown, planting bulbs was already part of the homework. Last week, I mentioned I was going to try something new this year and plant a few bulbs with water and no soil. I was definitely convinced after seeing these beautiful paperwhites on Real Simple.
Planting Bulbs for Christmas in Water
After doing some research, I discovered that as long as the bulb roots are immersed in water (not the bulb), paperwhites (narcissus) will thrive.
To create my own, I placed about 2″ of river rock at the bottom of glass vases and added water until it was just below the rock surface (bulbs will rot if submerged in water). Next, I placed ready-to-go paperwhite bulbs on top of the rocks with the roots facing down.
As suggested, bulbs do best in a cool spot out of direct sunlight for 4-10 days. I placed mine in the corner of our kitchen. Apparently the roots will search out the water and begin to grow through the rock. Crossing fingers!
To prevent paperwhites from getting too leggy, it's suggested to add a mixture of 1 part alcohol to 10-12 parts water once the green shoots arrive. Top it up only as needed. At this time they can be moved to a sunny warm location to speed up blooming.
Forcing Bulbs in Soil
Just in case this all goes horribly wrong, I decided to also plant a few pots using the soil method. I simply planted the bulbs with the roots down in soil and covered them so the top portion of the bulb popped out. Then, I lightly watered each pot and placed them on my kitchen counter out of direct sunlight as well. I will move these to a brighter spot when I decorate for Christmas.
Because I'm no expert when it comes to planting bulbs, be sure to watch Garden Answer's bulb forcing tutorial before tackling your own. Love those aged pots she selected!
In the past, I've seen blooms in as early as 4 weeks, but typically it takes longer. Once they bloom, it's sometimes necessary to stake or tie stalks to keep upright. Pretty ribbon usually does the trick.
For paperwhites, you can expect the blooms to last about 1-2 weeks. Keep the soil moist and out of direct sunlight for best results.
Decorating with Bulbs for Christmas
Of course, bulbs can be used to decorate any part of your home. I especially love paperwhites in the kitchen or on a dining room table.
And these paperwhites in clay pots are gorgeous too! Agree? They'd make a lovely gift.
Have I convinced you to try your own hand at forcing bulbs for Christmas? Let me know how it goes!
Want more holiday and seasonal ideas like these sent directly to your inbox? Be sure to SUBSCRIBE.
Happy planting!