Yummy Handmade Gifts You May Want to Keep
Looking for easy and budget-friendly handmade gifts for the Christmas Season? These sweet and savoury treats will satisfy everyone on your list. Holiday food gift baskets, cookie tins, jars and more!
Every year, I try to include at least a few handmade gifts for the people on my list who I'm certain will appreciate them. It's a personal touch that's hard to replicate from a store.
Edible gifts always seem to be a favourite during the Holidays. Nothing says LOVE like freshly baked cookies or homemade jam, sauces and more, right? The options for food gift baskets, boxes, tins and jars are endless.
On the flip side, gifts from the kitchen can be a bust too. That's why, before I give anything away, I always do a trial run of these recipes with my family. They love being my taste-testers, and certainly don't hold back when it comes to giving honest reviews. Let's just say I've done my fair share of tweaking and adjusting so you don't have to.
Whether you're looking for gifts for hostesses, friends, neighbours, coworkers, or someone else on your list, this collection of delicious homemade treats will certainly rise to the challenge. Enjoy these sweet and savoury treats from my kitchen to yours!
Edible Gift Ideas
Chili Garlic Olive Oil
This chili garlic olive oil can be prepared in 10 minutes using 5 simple ingredients, making it such an easy gift idea or holiday appetizer when paired with bread. For a larger gift, grab a basket, line with a tea towel and load it up with good quality bread, flatbread, small dipping bowl, mini spoons or spreaders and a wooden board.
Get this infused oil recipe: Chili & Garlic Olive Oil Handmade Gift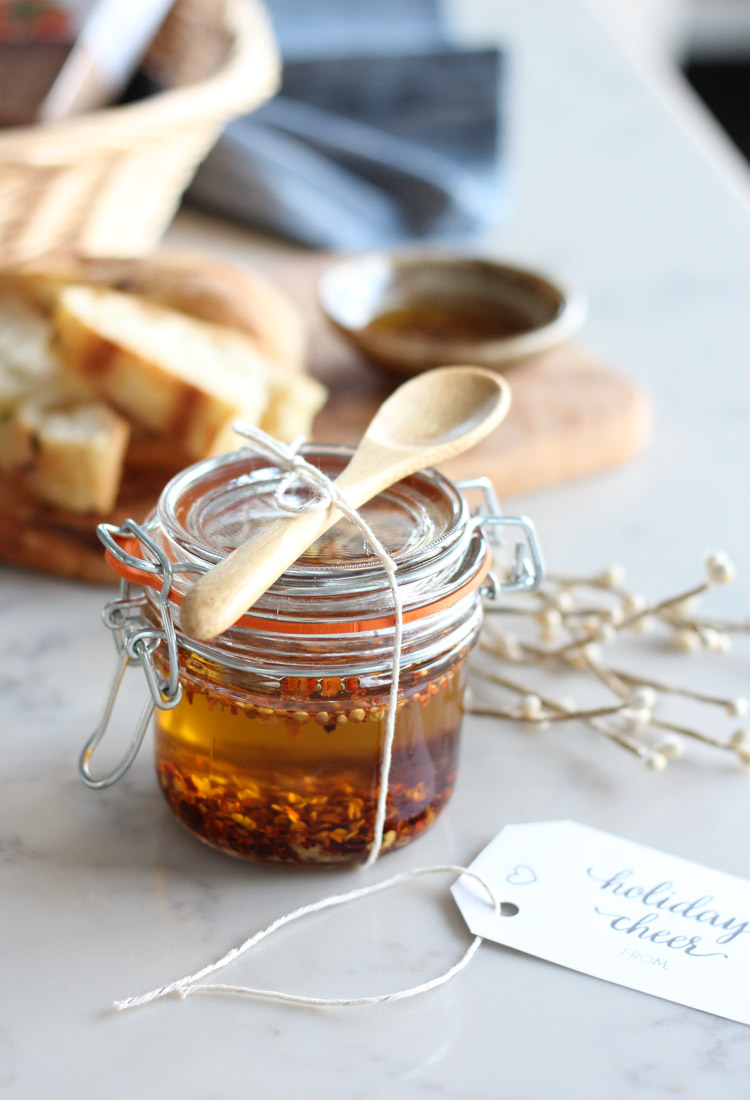 Cranberry Brie Topper
Love cranberries with brie cheese? Make a jar of this delicious compote. As an option, wrap up a wheel of brie cheese along with crostini on a wood serving board (or in a basket). Include a cheese knife and spoon so it's all ready to go. Perfect for hostess gifts or the foodies in your life!
Make this festive appetizer: Cranberry Compote
Salted Caramel Sauce
This salted caramel sauce with only 4 simple ingredients is super quick and easy to make. Perfect for drizzling over ice cream, apple pie, bread pudding, lattes and more. Rich, creamy and so delicious!
Get the sweet and salty recipe: Salted Caramel Sauce
Rosemary Blackberry Jam
This honey-sweetened blackberry jam infused with a hint of fresh rosemary is a lovely edible gift. A bit of a twist on a classic preserve, it's very tasty and super versatile. Aside from the typical toast and jam, it makes a delicious appetizer or meat topper too.
Make this tasty preserve: Honey & Rosemary Blackberry Jam
Toasted Marshmallow Mocha Creamer
This toasted marshmallow mocha creamer is the perfect way to add a frothy, marshmallowy twist to mocha or hot chocolate. Whip up a jar using only 4 ingredients. For a larger gift, put together a basket with mugs, coffee, hot cocoa mix and a bottle of homemade creamer.
Get the homemade instructions: Toasted Marshmallow Creamer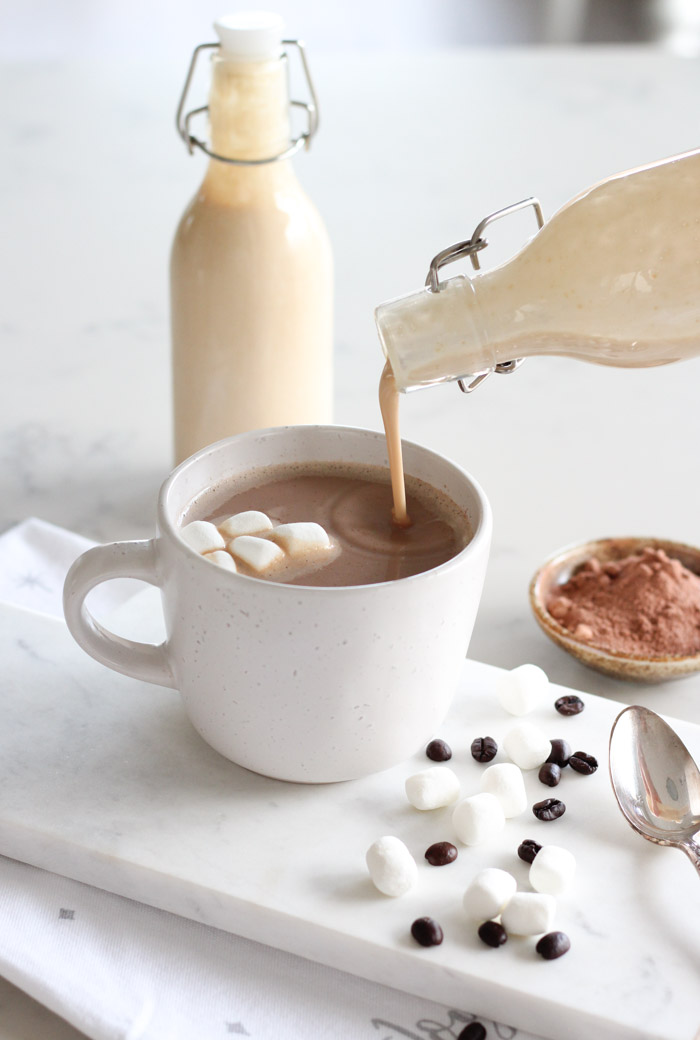 Dried Mint Tea
Have a tea lover on your list? This dried mint tea is easy to put together. Plan ahead by growing extra in your garden, or simply purchase mint bundles from the grocery store. Mint is easy to dry and makes a delicious cup of tea.
Get the easy instructions: Dried Mint Tea
Carrot Cake Jars
Enjoy carrot cake as much as I do? The combination of pineapple and carrots makes this cake super moist, while the coconut and pecans add the perfect texture. Of course, the light and fluffy cream cheese frosting is the perfect pairing. Whip up some jars to pass out this Holiday season.
Make these dessert jars: Carrot Cake Jars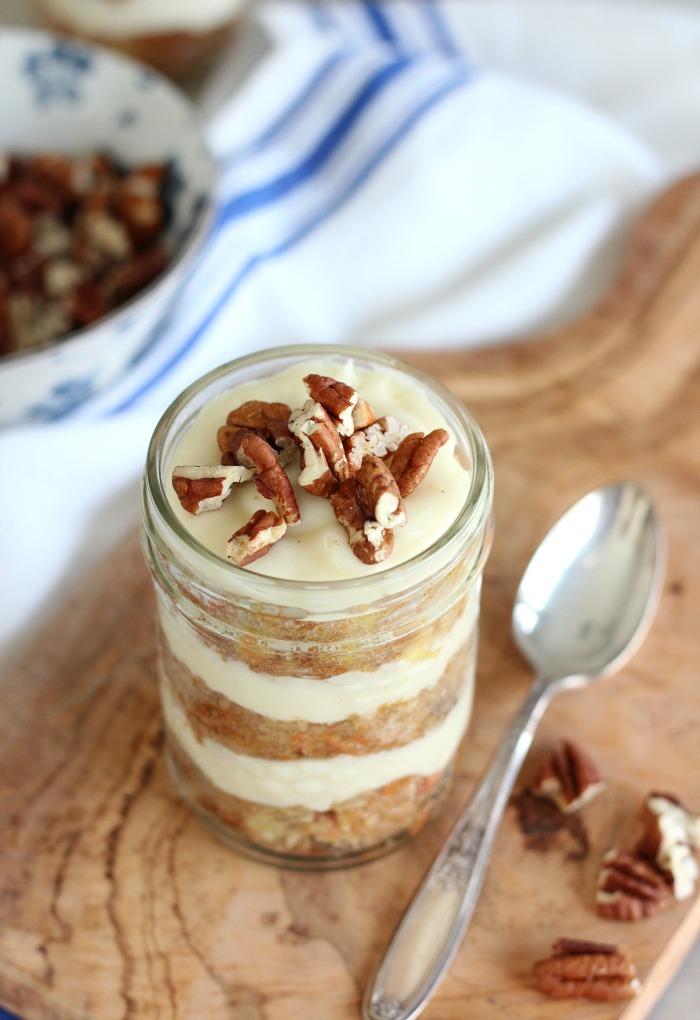 Cookie Baking Gift Basket
Put together a Holiday baking gift basket with chocolate toffee coconut cookie mix jars, printable recipe instructions, vanilla extract, a cookie scoop and more. Perfect for those days when freshly baked cookies are a must!
Get the basket details: Chocolate Toffee Coconut Cookie Mix Jars
Linzer Cookies
Bake an extra batch of Christmas Linzer Cookies to pass out over the Holidays. Filled with jam and sprinkled with powdered sugar, these gluten-free cookies are both pretty and delicious. Perfect for your holiday cookie exchange too!
Bake these cookies: Christmas Linzer Cookies
Wrapping Edible Gifts
Have your own favourite baking recipes? Be sure to read more ideas on how to wrap baked goods for Christmas.
Love is in the details, so be sure to wrap your handmade kitchen gifts with care. For ideas, check out my simple Christmas gift wrapping guide.
Other Handmade Gifts From the Kitchen
Want more delicious recipes and ideas like these sent directly to your inbox? Be sure to SUBSCRIBE.
Have a wonderful day,

This handmade gifts post was originally published November 2011 and updated with new photos and ideas.