Messy kitchen pantry? Reclaim, reorganize and maintain your pantry in a few simple steps. Everyone loves an organized pantry!
A pantry can truly be the storage saviour of your kitchen. However, without a sound organizing method, it can quickly become an out-of-control mess that is difficult to navigate. Can you relate?
In just a few simple steps, I'll show you how to reclaim, reorganize, and maintain your pantry like this one from House of Smiths. Isn't it pretty?!
Some links used in this post are affiliates. Please refer to my disclosure policy for more information.
1) Take Stock of Your Pantry
To kick off your pantry organization project, pull everything out and place it on your kitchen table, island or countertop. Leave an area open to sort items later.
As you pull items out, set aside anything you no longer use or items that are broken. Toss any food items that have passed their expiry date or have been in the pantry for quite a while and are questionable. Donate any other food items you no longer want to the food bank.
2) Group Items
Divide the items you have pulled out of your pantry into themes such as small appliances, body & health, beverages, vinegars & oils, baking, sweet snacks, salty snacks, canned meals, canned vegetables, canned fruits, breakfast, seasonings, etc.
Give each theme a name that makes sense to you and your family.
3) Create a Plan
Create a plan or map for how your themes are going to be placed back in the pantry. Keep regularly used items at eye level and items you don't want the kids to get into out of reach. For instance, I have all my small appliances on the top shelf because I don't use them regularly. As an option, you could use a vertical area on the left side of your pantry instead if you need better access. I have the breakfast and snack items at eye level because they are needed everyday.
4) Contain Your Themes
Purchase storage containers, baskets or bins to keep your themes as a unit. I like to use the inexpensive clear storage containers from Ikea called SAMLA in varying sizes, with and without lids. It keeps everything visible, yet contained. You can also find many inexpensive pantry organizing items on Amazon.
I like to use my labeler to keep everything straightforward. It also helps my family know where everything goes when they're unpacking groceries.
And, when you're making your grocery list, it's easy to see what's missing.
For baking supplies, such as sugar and flour, transfer from the bag into an airtight container. Stackable containers allow you to use space effectively. Make sure you label all storage containers.
And then there's this pantry storage system by OXO that I'm coveting!
5) Maintain Your New Pantry System
Use your themes to create your weekly/bi-weekly grocery list. Sections that appear empty will signify those items that need to be replenished. In addition, if a section is spilling over, then you know you have over bought and these items should be cut back or stored in another area of the home, such as a designated shelf in the basement. Create meal plans based on items you have too much of until they are downsized.
Note: I don't recommend stocking up on too many items at one time. If they are staples, that's okay. Otherwise, don't fall in to the sale or special offer trap.
As your needs change, (for example as children grow) you can change, add or delete themes. Be sure to make new labels.
At least twice per year, go through the pantry and remove items you no longer need or food items that have expired. Wipe down all plastic storage containers.
Organizing your pantry may take a few hours, but the results are well worth it! I'd love to hear your tips for an organized pantry.
More Tips For Organizing Your Kitchen
Kitchen Storage Containers with Labels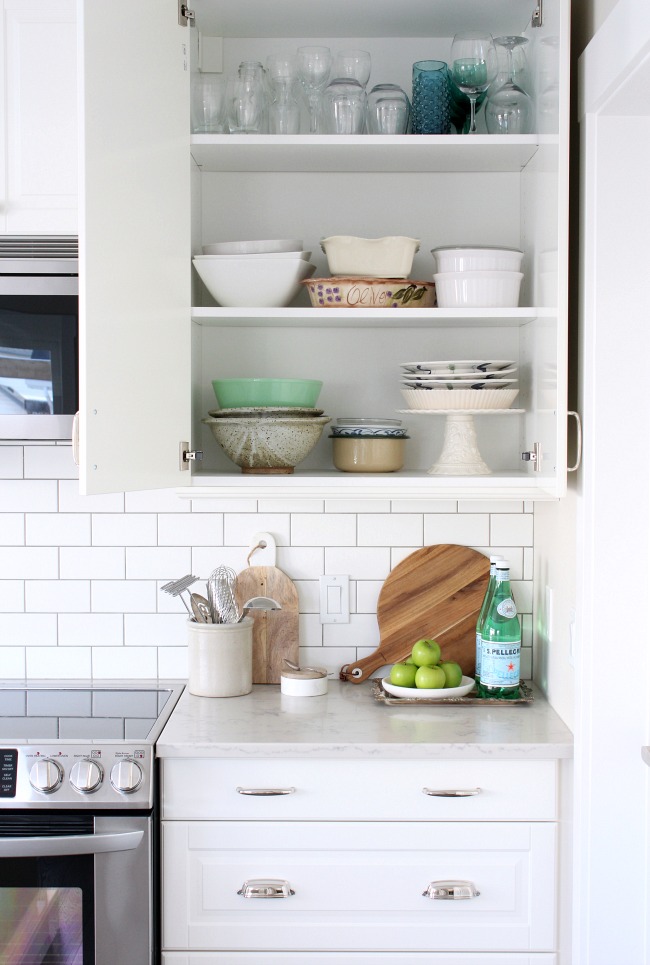 Weekly Meal Planning Tips (Planner by The Project Girl)
Enjoy your day!