Looking for cookie exchange ideas? You'll love these easy recipes for dark chocolate bark and Mexican wedding cakes!
One of the best parts of the Christmas season (or worst, depending on how you look at it) is the abundance of goodies. Over the years, I've really pared back my baking to keep us from over-indulging. I find that if it isn't in the house, we don't eat it. However, to satisfy the sweet tooth in all of us, I do make a few family favourites. Last year, it was chocolate almond biscotti and chocolate caramel pretzels. You may also remember it was my first year partaking in a baking exchange, and I was so excited to get some of my friend Sandi's decadent shortbread and chewy molasses cookies.
This year, trying to be a little more health conscious, I asked my nutritionist friend Karen to share one of her holiday recipes. Karen recently launched her business, Nourish With Karen, where you'll find inspiration for healthier living through better nutrition.
On Monday, Karen stopped by for tea and brought the most delicious dark chocolate bark I have tasted. To add, it's full of antioxidants, contains magnesium contributing to serotonin levels, and has less sugar than milk chocolate (as she informed me). A decadent treat providing nutrition- bring it on!
Dark Chocolate Bark
10 oz. chopped 70% dark Chocolate
¼ cup dried cranberries
¼ cup finely chopped raw, shelled pistachios
1 oz. white chocolate
Directions:
Line a baking sheet with parchment paper and set aside.
Melt dark chocolate in a double boiler or in a glass/metal bowl set over simmering water. Stir often until completely melted.
Spread the chocolate into a rectangle on the parchment lined pan. Sprinkle with cranberries and pistachios, and allow to set (refrigerating will speed up the setting time).
Once set, melt white chocolate, spoon into sandwich bag, cutting a tiny tip out of the corner so the bag can be used like a pasty bag. Pipe white chocolate over the chocolate bark. Allow to set.
Break or cut into 16 pieces. Enjoy!
Now on to my cookie exchange recipe…
Not quite so healthy, but very delicious, is a cookie I remember my mom making every Christmas. I love the crunchiness of the nuts, combined with the subtle almond flavour and slight sweetness of these little gems.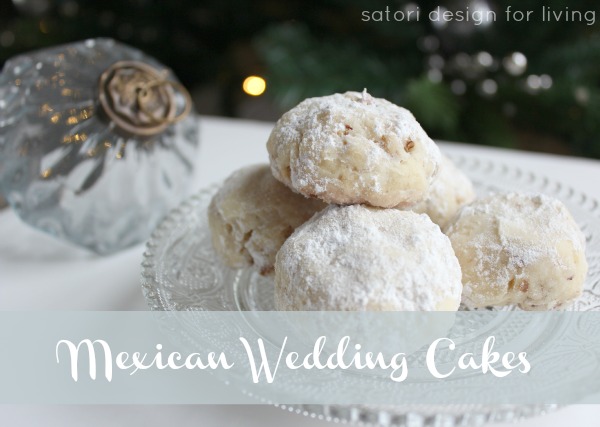 Mexican Wedding Cakes
1 cup butter
4 TB. icing sugar (confectioner's)
2 cups all purpose flour
½ tsp. pure vanilla extract
½ tsp. almond extract
1 cup finely chopped walnuts
extra icing sugar for rolling
Directions:
Cut butter into sugar and flour. Add vanilla and almond extract and combine. Stir in walnuts and mix gently with hands until it comes together (don't overwork). Wrap and place in refrigerator for 30 minutes.
Preheat oven to 400oF. Roll dough into 1¼" balls and press down slightly with your fingers. Bake for 12-13 minutes (the bottoms will be golden brown).
Remove from pan and cool for about 5 minutes. Roll cookies in icing sugar and allow to completely cool.
Makes 2 dozen.
More Holiday Baking Ideas
Have a sweet day,