Simple and delicious cast iron skillet recipes that will make you reach for this underused kitchen essential over and over again!
The same summer I was getting ready to head off for my first year of college, my grandparents sold their camper. In a way I was sad because I had so many fond memories spent with them at the lake. Remember that cinnamon spread (I'm sure they still make it) that you could buy to put on toast? My grandma always made sure there was a container of it in the fridge. Definitely not the healthiest, but it's something I indulged in while camping as a kid.
So what does this all have to do with cast iron skillet recipes? Well, selling that camper meant my grandparents had to get rid of everything in it. I was setting up house for the first time and happened to be the perfect candidate to receive most of it all, including a cast iron skillet. Fast forward more than 20 years, and that pan is still going strong. That's what makes them so great and a kitchen essential in my opinion.
Another thing I love about skillets is their versatility. We use ours on the stove, in the oven and on the grill. They're handy for appetizers, breakfast dishes, mains and even desserts in our cast iron skillet. We use it all year long. And probably what I enjoy the most is having one pan to clean up for most of the recipes.
If you have a cast iron skillet in your cupboard and haven't pulled it out for a while, I promise you will after seeing the recipes I'm sharing today. (If you don't have one, run, don't walk, to pick one up.) Some of these recipes are my creations and others are from some of my very talented food blogger friends. Enjoy!
Cast Iron Skillet Recipes
Skillet White Chicken Chili Dip by Heartbeet Kitchen (So delicious. We tried it!)
Cajun Shrimp Quinoa Casserole by This Gal Cooks
Lemony Kale & Ricotta Pie by From the Land we Live On
Skillet Shepard's Pie by The Cooking Jar
Beer Butter Mushrooms by Killing Thyme
Roasted Cauliflower Mac and Cheese
Chocolate Chip Skillet Cookie with Caramel by Friday is Cake Night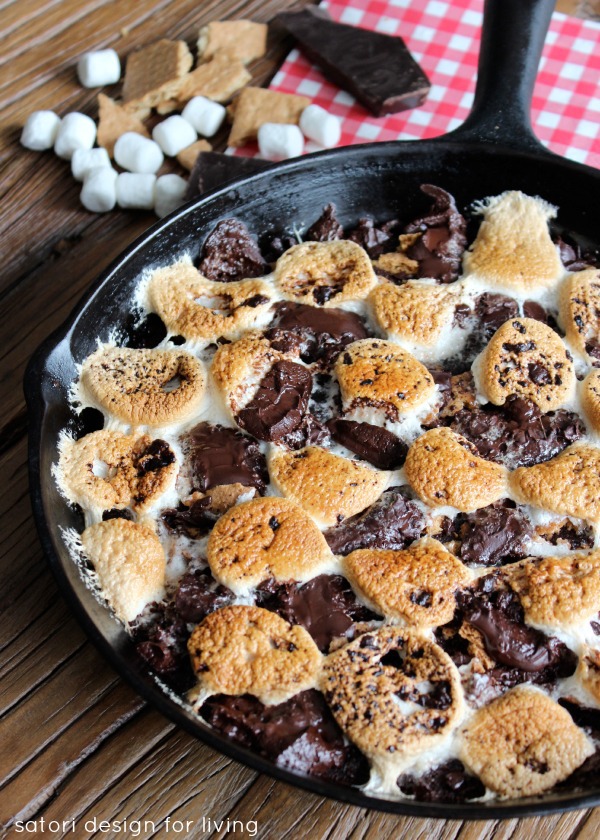 Country Style Plum & Saskatoon Berry Pie
Chocolate Chunk Skillet Cookies
Do you have a favourite recipe you make in your cast iron skillet? I'd love to add some to my board on Pinterest, so let me know in the comments!
Enjoy your day!