Bring on the Colour: Decorating with Yellow
Yellow isn't a colour for the timid. Used right, it can liven up a space without being overwhelming. Take a look at these ideas for decorating with yellow.
With the huge variety available, I find that most people are overwhelmed when trying to select the right colour of paint for their walls. For instance, take my latest clients who I've known personally for several years. She isn't afraid of colour (he is a little more) as evident by the lime green and orange kid's bedrooms, the lavender master bedroom, as well as the rusty orange they have painted in the main living space of their home. After living with the rusty-orange for several years, they're ready for a change and the walls are going to be painted over very soon. The big question is WHICH COLOUR?
Bright Yellow Dresser by East Coast Creative
When I first met with my clients, they had a variety of paint chips up on the wall (as so many people do) ranging anywhere from bright blue, to sea green to raincoat yellow. There were a few grays thrown in the mix, but I could tell these weren't front runners.
They had just installed granite countertops and were planning on replacing the linoleum flooring with imperial black slate tile, as well as the living room carpet with a medium toned shag. Everything was sounding a bit heavy, so a bit of colour on the walls could balance it out.
The jumping off point for the colour selection was a piece of art hanging in the living room that was filled with various shades of yellow, blue, green and red. I immediately ruled out the blue because the cabinets in the kitchen had a bit of an orange undertone and I didn't want to bring it out more.
Red was the next colour to eliminate because we wanted to keep the colour unified in the living room and kitchen, and it would just be too strong. In addition, red was the colour my clients thought of painting the powder room, and I couldn't agree more.
Yellow was looking fantastic with their caramel sofa and seemed to be the front runner. After speaking with them, yellow was the colour they were leaning towards before I got there, but didn't want to say anything to sway my suggestion.
Although I love yellow, it can be a tricky colour to decorate with. In our last house, the living room was painted Benjamin Moore's Velum (CC-200), a muddied down, soft yellow. It gave the room a touch of warmth and liveliness without saying GOOD MORNING at all times of the day. Most of the other items in the room were neutral with a few pops of raspberry to keep it fresh.
I wanted to pull together a few pictures of rooms decorated with yellow to show my clients before any final decisions were made. Although they are used to living with colour, I wanted to make sure they realized how strong yellow can actually be. It definitely isn't a colour for the timid! Also, I wanted to show that colour doesn't always have to come in the way of paint. Neutral walls with stronger colours in fabrics, furniture and accessories can be stunning as well.
And, finally, the yellow bench on our front porch is just what it needed to waken up the space.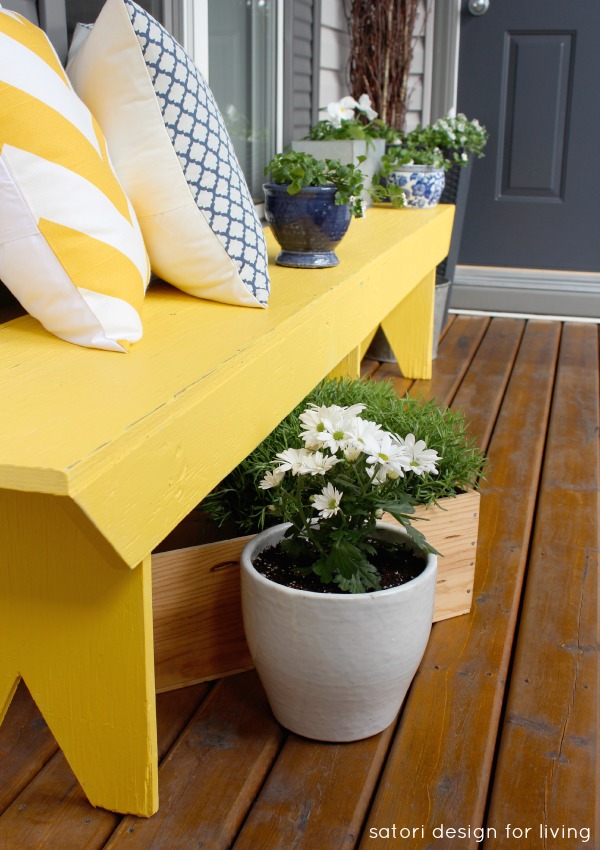 We're waiting for the flooring to be installed before we decide on the final wall colour. After seeing these photos, my clients love the yellow, but they're still up in the air about putting the colour on the walls or using it for accessories.
For more colour inspiration, check out some of my favourite front door colours.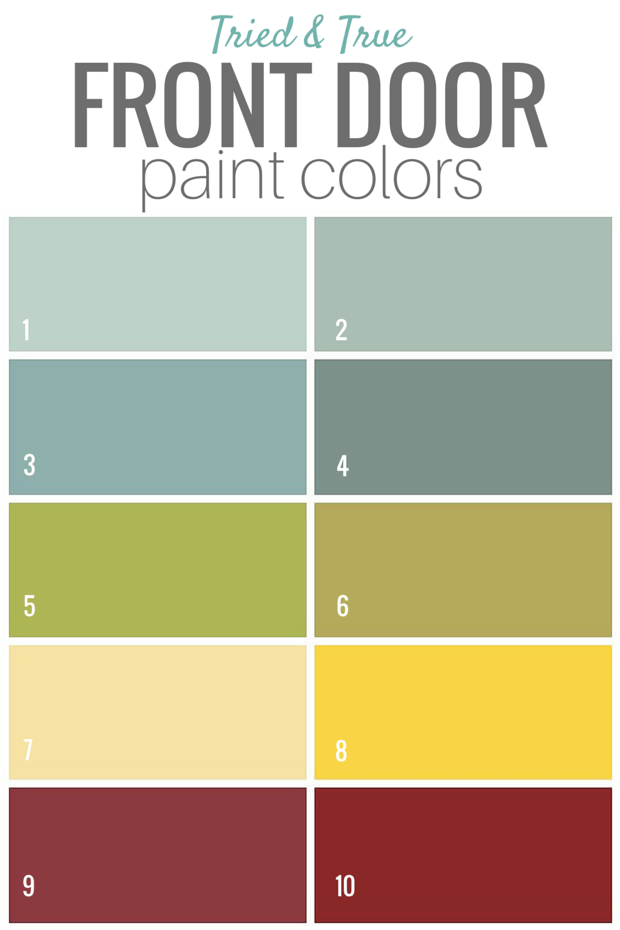 What do you think? Could you live with yellow on your walls or do you prefer a few pops here and there? Do you have any favourite yellow paint colors? I'd love to know!
Have a fantastic weekend!