Canadian White Christmas Home Tour
Get inspired by this Canadian Bloggers' Christmas Home Tour, including our home decked out in winter white, natural materials, plus a touch of vintage.
Hello all, and welcome to Day 3 of the Canadian Bloggers' Christmas Home Tour. Take a moment to grab a hot cocoa and get comfy. If you're like me (and a bit of a snoop), you'll want to take in every last detail of these beautiful homes decked out for the Christmas season. Links to each one are located at the bottom of this post, so please take a look as they unfold over the week. There's definitely holiday decorating ideas for everyone!
Whether you're a first time visitor or one of my longtime readers, I'm so happy to have you here! We bought our builder grade house over a decade ago and have been doing our best to add character and personality, both inside and out, ever since. Be sure to take a look at some of our home improvement projects.
I'm a believer that creating a home that feels right to you and your family is a process and takes time. We're getting there project by project, and my hope is that you'll find ideas and inspiration along the way, no matter how big or small. Please feel free to pin and share your favourite ideas.
White Christmas Home Tour
As mentioned last week when I shared our holiday mantel, I chose a vintage winter wonderland decorating theme for this year. Up until a few days ago, we had almost no snow outside, so I wanted to create the feeling of a white Christmas inside at the very least. It's quintessentially Canadian after all. And, of course, it wouldn't be my style unless there was at least a touch of vintage.
Let's get this Christmas home tour started, shall we? Come on in…
When it comes to decorating for Christmas, I like to keep it simple. Besides our tree ornaments, I have only two storage bins dedicated to decorations.
Most of our everyday accessories like mirrors, artwork and candles are kept in place (or shifted around), and winter decor is mixed in. That way, we don't have to invest a bunch in something that's only out for a short time or rush taking it down come the new year.
Christmas Red in Our Entryway
Because our entryway is fairly small, I opted to keep in free from Christmas decor aside from some greenery and red striped ribbon I hung from our coat rack we recently built from salvaged shutters. Don't let that red fool you. Most of the other decorations throughout our home are neutral, although it did take a bit of restraint. It's hard to go wrong with classic red.
That tiny bit of colour was used to tie in the weathered wood bench I brought in from outside to place along the wall leading into our living room and kitchen. I thought about painting the legs black or white, but the brightness it added to an otherwise dark space means they will stay red for now. Besides, our next main floor paint project will definitely be the inside of our entryway doors to freshen them up. They take a beating, don't they? I haven't decided on white or grey yet. Thoughts?
The oversized artwork is a recent addition. Isn't it pretty? And the pillow covers I sewed seem to do a good job at cozying up the space. Pillows are a quick and easy way to update a space seasonally.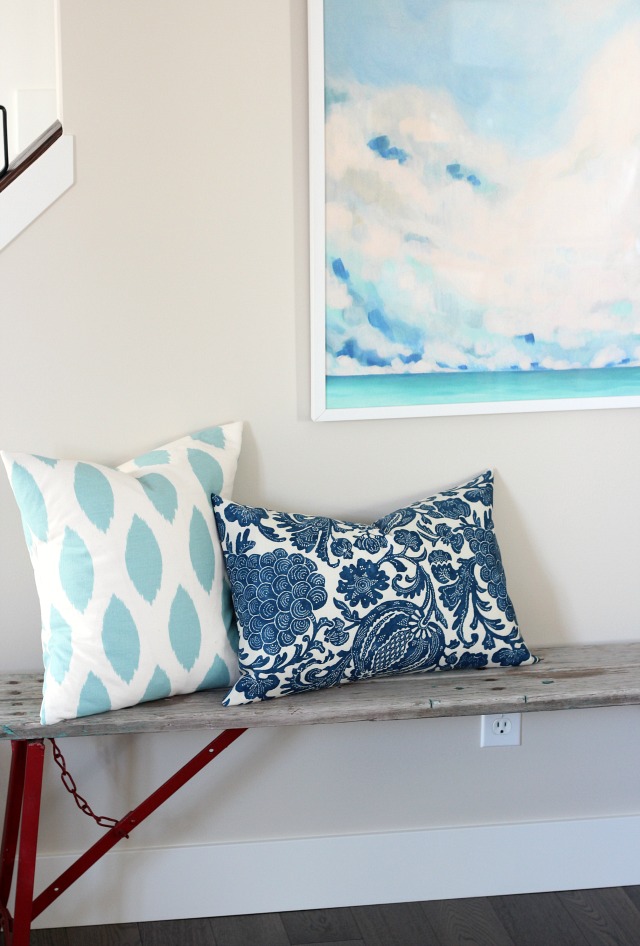 White Christmas Tablescape
Christmas dinner is hosted at the farm, but we do eat breakfast before we head out. Christmas morning always begins with coffee in front of the fireplace while opening gifts, then we make our way to the kitchen table.
This year's entire Christmas tablescape was put together using home decor pieces we already had on hand, except for some inexpensive rattan placemats and linen napkins I found while shopping for gifts.
Having a good selection of neutral basics, such as serveware, faux greenery, pinecones, candles, and more means I only have to make small changes every year to come up with a different look.
You may recognize some of the silver and glass pieces from my thrift shop outings. I love how they bring a bit of sparkle to our rustic dining table.
One of my favourites is this antique silver tiered cake stand. It's the perfect serving piece for gingerbread scones!
I added some mercury glass mini ornaments with a bit of ribbon and fresh greenery I clipped from outside. If you're planning on hosting a holiday dinner, you could use these as table favours or place card holders. Add a simple name tag et voila!
When the candles are lit, there's something magical about it. Of course, Christmas music playing in the background helps too!
A bit of epsom salt and we have snow! It's dense, so it does a good job of keeping tapered candles in place.
Did you notice my book page wreath? It took forever to make, but I still love the way it looks!
Simple Christmas Kitchen Decor
In the kitchen, I hung a new boxwood wreath over the window. It's so much prettier to look at than the side of our neighbour's house!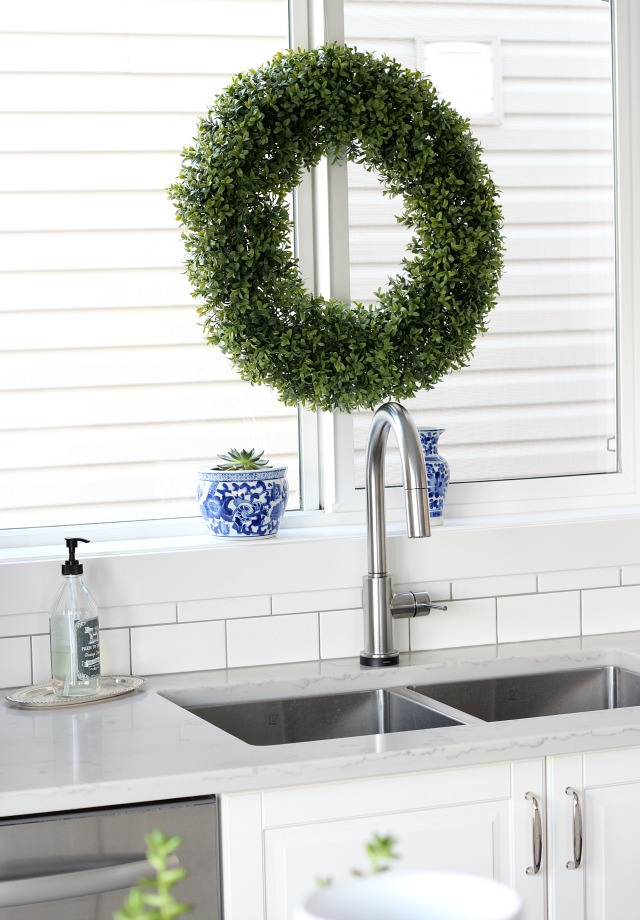 I kept the rest of the kitchen very simple by adding only a touch of green. I'll likely add some fresh flowers to our island starting next week.
Snowy Christmas Tree Decor
Our living room got the most Christmas decorating attention this year. After having a tree that was far too big for the space, I sold it and got a new one. I was hoping to find a flocked tree, but the options I came across were either skimpy looking or too large. So I settled on this one and used Lucy's duster idea to give it a snowy look.
I kept the tree decorations neutral to work with our new blue and grey area rug. It's so soft, and the colours (darker than shown in the photo) are perfect alongside our marble fireplace surround.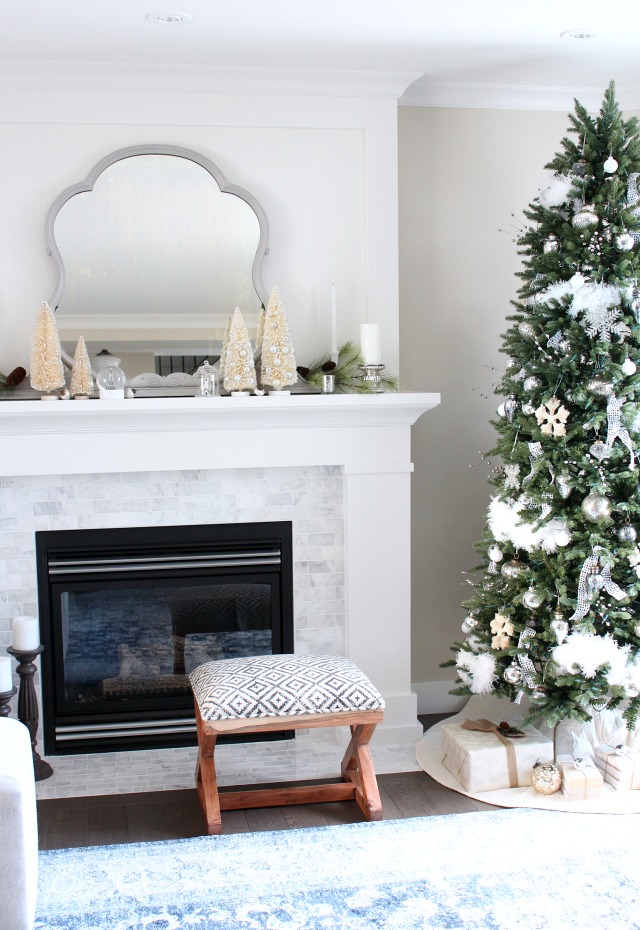 For our mantel, I kept it very simple with neutral holiday decor. Aren't those bottle brush trees adorable?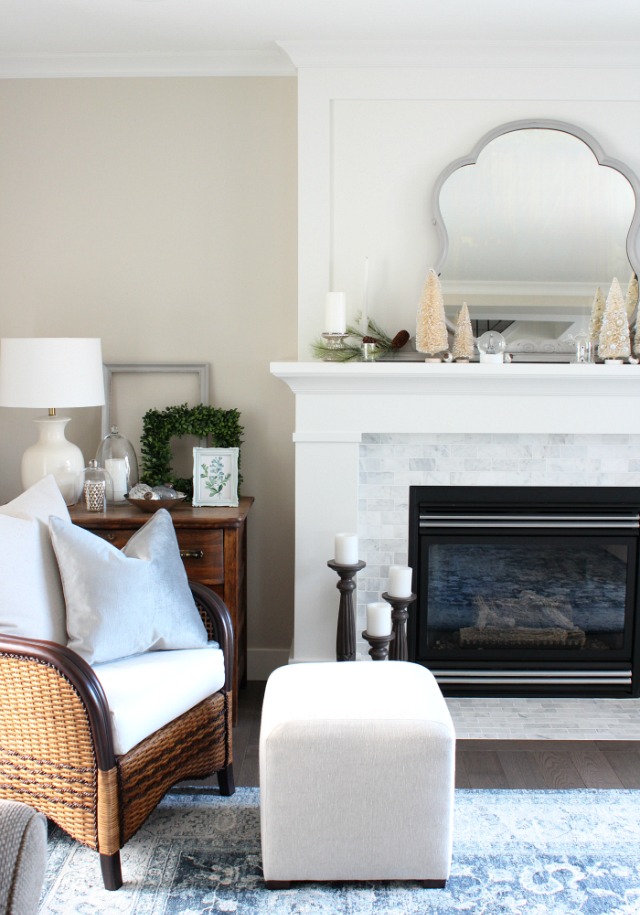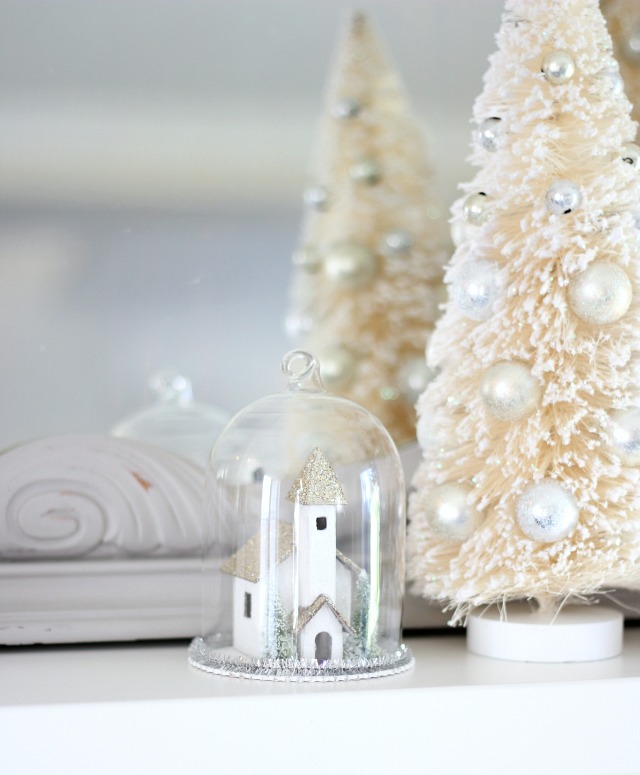 Be sure to check out the fireplace mantel decorating tips and details.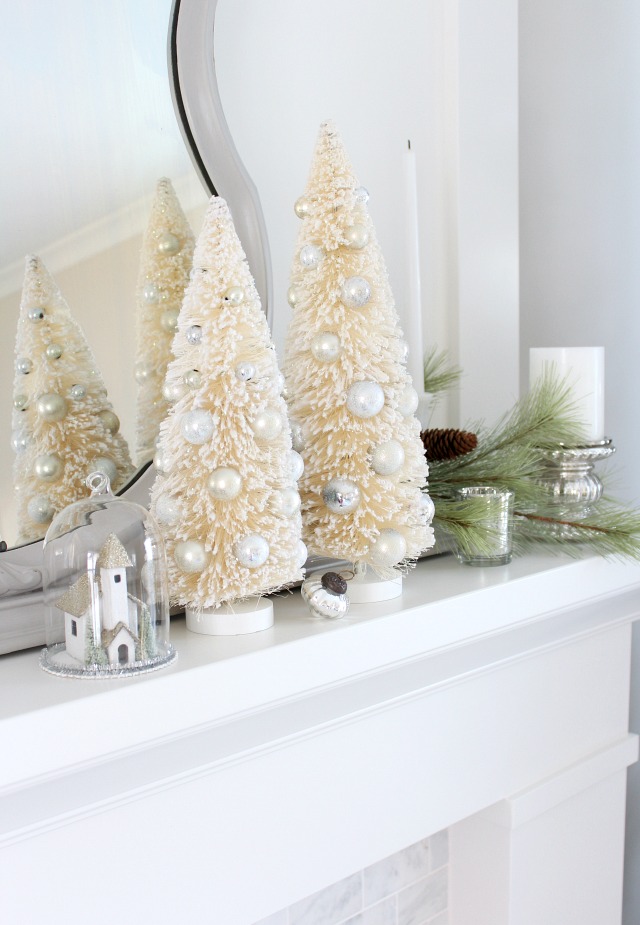 I love how pretty this room looks in the evening.
This weekend, I plan on finishing up my shopping. Then, I'll be able to tackle some more gift wrapping. As you can see, I've only just begun.
Of course, I'll be using the standard kraft paper I usually do mixed in with some printed wrap.
I like to finish everything off with pretty ribbon, greenery and tags.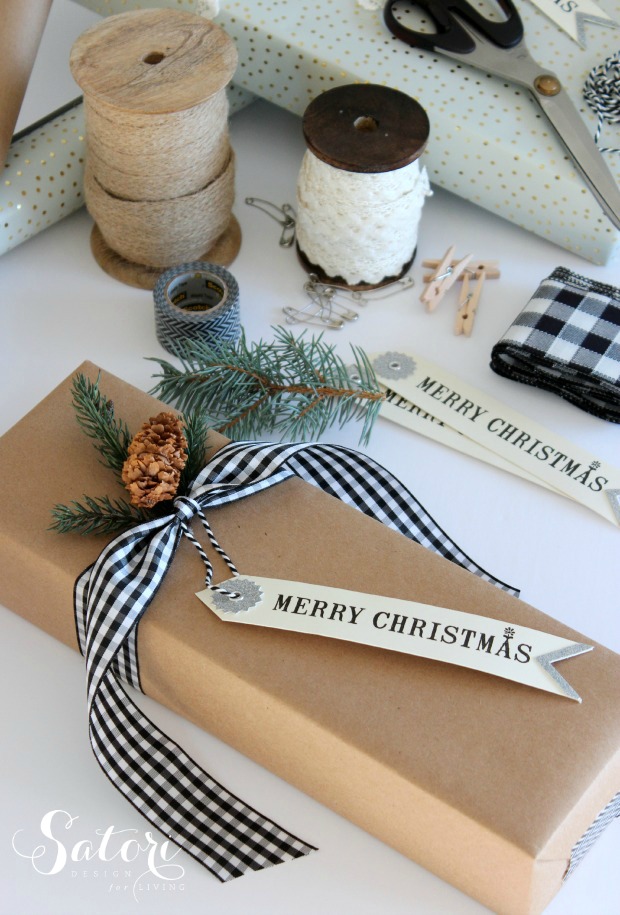 Some links used in this post are affiliates. Please refer to my disclosure policy for more information.
ENTRYWAY & HALLWAY: Oversized Art | Rustic Bench | Pillows | Sap Bucket
DINING: Farmhouse Table | Linen Chairs, Chandelier- Restoration Hardware | Butter Dish | Wood Serving Board, White Plates- HomeSense | Green Glassware, Silver Serving Pieces, Milk Glass- Thrift Shop | Rattan Placemats, Linen Napkins- IKEA | Woodland Mugs | Coffee Pot | White Bar Cart
KITCHEN: Cabinets- IKEA | Nickel Pulls, Light Fixtures, Stools- Restoration Hardware | Boxwood Wreath- HomeSense | Marble & Wood Serving Board, Marble Salt Holder- Indigo | Soap, Tea Towel, Serving Board- HomeSense | Blue & White Ceramics, Silver Trays, Jadeite Bowl- Thrift Shop
LIVING ROOM: Area Rug | Christmas Tree | Tree Skirt | Linen Stool | Patterned Stool, Snow Globe, Blue Velvet Pillow, Mercury Glass Candle Holders- HomeSense| Bottle Brush Trees | Church Cloche- The Bay | Milk Glass, Lamp- Thrift Shop | Antique Mirror- Family Heirloom
Want more holiday and seasonal ideas like these sent directly to your inbox? Be sure to SUBSCRIBE.
More Canadian Homes Decorated for Christmas
Now that you've taken a peek inside our holiday home, it's time to send you along to see what my blogger friends have been doing to get their spaces ready for Christmas. I hope you'll be back to see future home projects!
Each day, a new group of Canadian home bloggers will be sharing their decorating ideas. Be sure to visit each Christmas home tour by following the links on the days below. I know you'll leave feeling inspired and ready to embrace the holiday season. Enjoy!
Wishing you a joyous Christmas,