Living Room Paint Refresh (BM Baby Fawn)
We couldn't be happier with the Benjamin Moore Baby Fawn walls and White Dove trim in our living room. Learn how to select the right paint colour for your space.
Do you have a room in your home that's starting to look tired? Unfortunately, we have more than one after living here for over 10 years. In fact, our whole main floor is in need of a paint refresh and flooring upgrade. That's what happens when you focus your attention on other projects like landscaping and finishing a basement.
So, when I was recently asked to try out Benjamin Moore's ben & ME bag to transform a room with a fresh new coat of paint, I jumped at the opportunity. Paint is definitely one of the easiest and quickest ways to give a room a new look.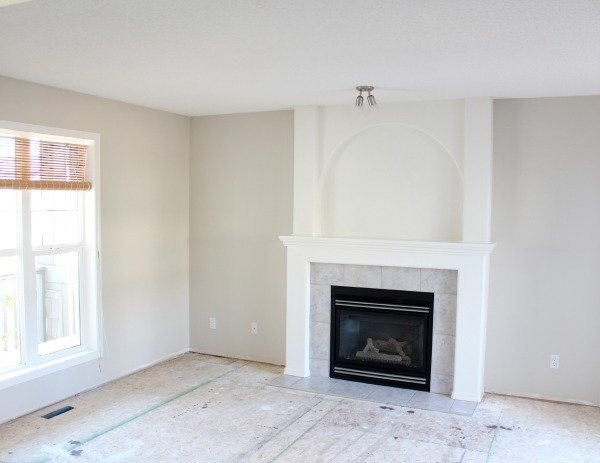 The overall plan for our main floor is to achieve a light and airy feel. I decided to tackle the living room first since it's much less work than transforming the kitchen.
We started by ripping out the carpet and oak stained baseboards, which will eventually be replaced with hardwood flooring and deeper baseboards in a white-painted finish.
Selecting the Right Paint Colour
After trying several different paint swatches around the room at different times of the day, I narrowed the living room paint down to 3 possible "greige" colours. I highly recommend sampling paint on the wall before purchasing enough for the entire room. It's an additional expense, but can save you time, money and a big headache in the end.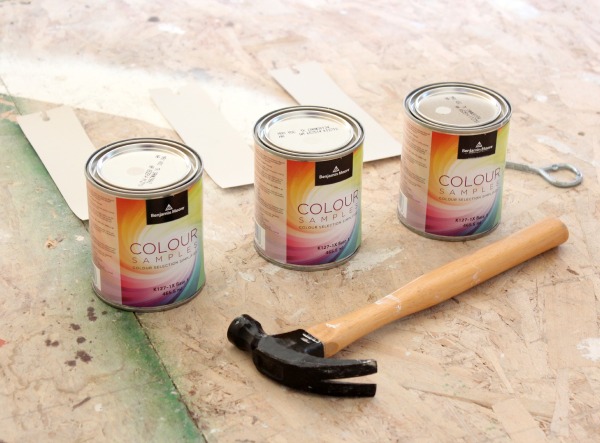 The colour variations were subtle between Benjamin Moore Baby Fawn (top in photo below), Benjamin Moore Balboa Mist (middle) and Benjamin Moore Collingwood (bottom).
I eliminated Balboa Mist OC-27 right away because it had a bit of a purple undertone. I really liked Collingwood OC-28, but against our taupe sofa (which we plan on keeping for at least a couple more years), it looked too blue-green.
The winner was Baby Fawn OC-15, a soft, light greige with a bit of a warm undertone.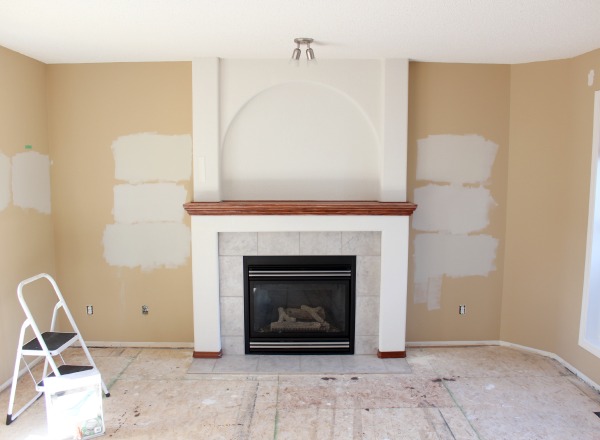 Considering Benjamin Moore Edgecomb Gray HC-173 as well? It's the same colour as Baby Fawn. For a lighter greige paint colour, try Pale Oak OC-20.
Here's how these Benjamin Moore greige paint colours look side by side…
Using the Right Paint Tools
Choosing the right paint colour is always important, but taking the time to properly prep a room is key for a flawless finish. I like to fill all holes with spackling, sand down any rough patches or lumps, and use a slightly dampened sponge to wipe all the dust away.
Everything else to paint our living room was included in the ben & ME bag- 2 gallons of premium paint, 1 quart for trim, a paint tray with liner, sleeve roller, angled paint brush, paint can opener, plastic drop cloth and green painter's tape. Having it all-in-one made the process easy-peasy!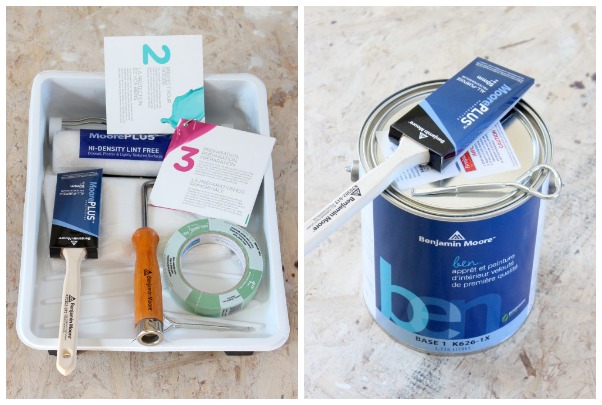 It even included a How-To Guide with smart tips like using a lint brush on the roller to get rid of the excess fuzz so it doesn't end up painted onto your wall for an eternity. To prevent paint seepage, the guide suggests heat-sealing the painter's tape edge by running your finger or paint stick along the edge. It worked like a charm!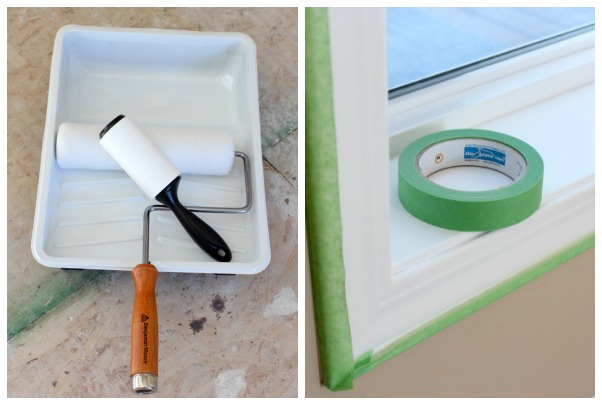 Why Benjamin Moore Baby Fawn?
After only giving half of the room one coat of paint, I knew it was the perfect colour. A bit of a warm undertone in Baby Fawn by Benjamin Moore means the room won't feel cold in the fall and winter months. However, the lightness will keep it looking fresh in the spring and summer.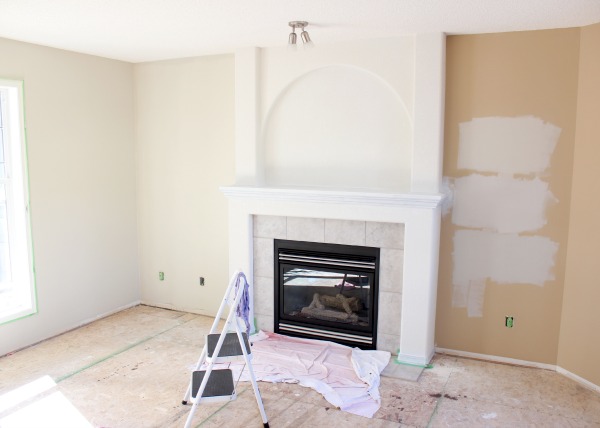 You can see how the colour shifts depending on time of day or which direction the light through the windows is coming from. It's a bit more yellow on the south side (left of fireplace) and blue on the north. Overall, it works.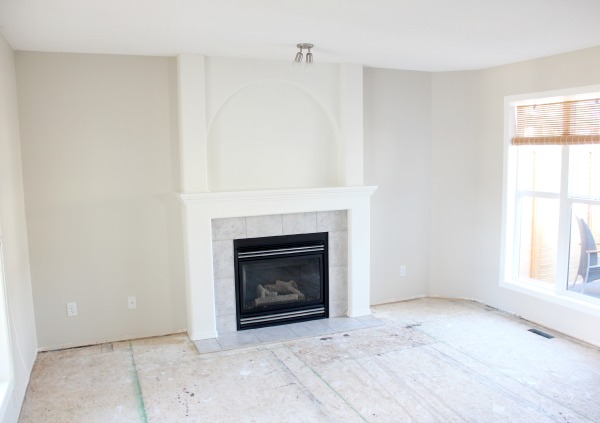 White Fireplace Paint
Since we moved in, I've wanted to change the red undertone stained wood mantel. A light sanding and coat of primer meant it was ready for a couple coats of White Dove (OC-17). This is the same paint colour we plan on using for our kitchen cabinets, as well as all of the trim throughout the house.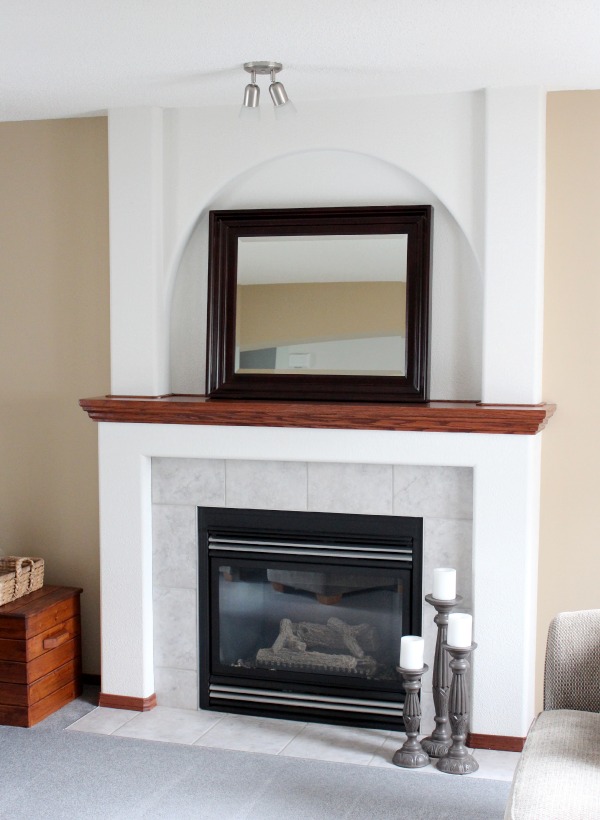 The Result
So much better already, don't you think? The next step will be reworking the fireplace and getting rid of that arch!
Update: See Our Newly Renovated Fireplace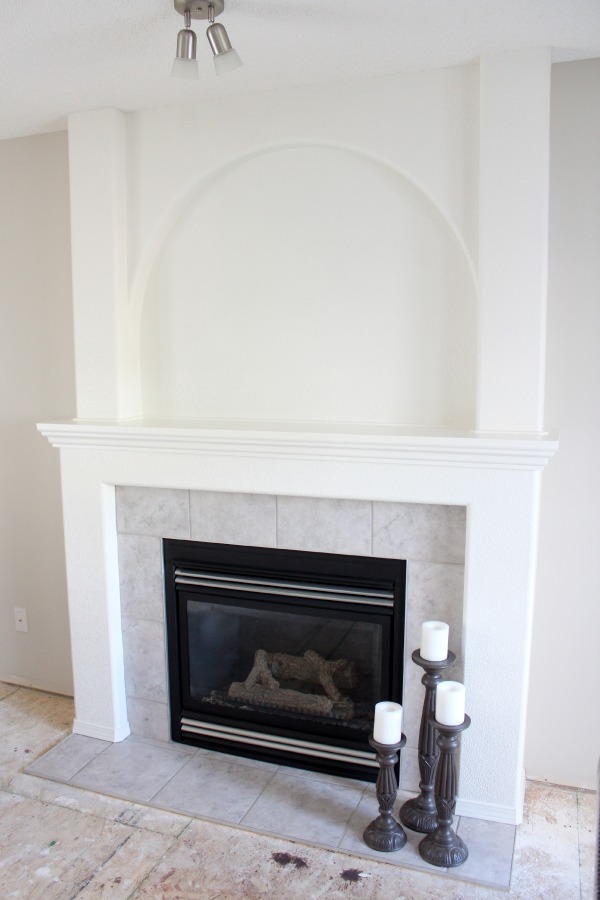 Here's a look at the living room paint BEFORE…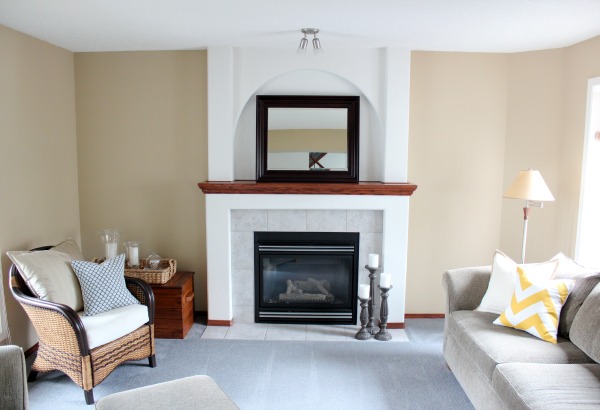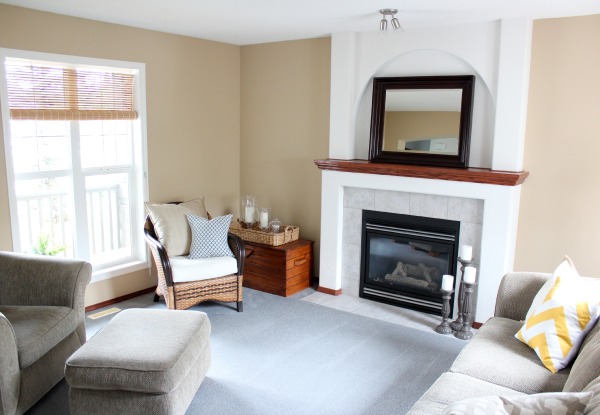 Here's the AFTER, with Benjamin Moore Baby Fawn walls and White Dove fireplace.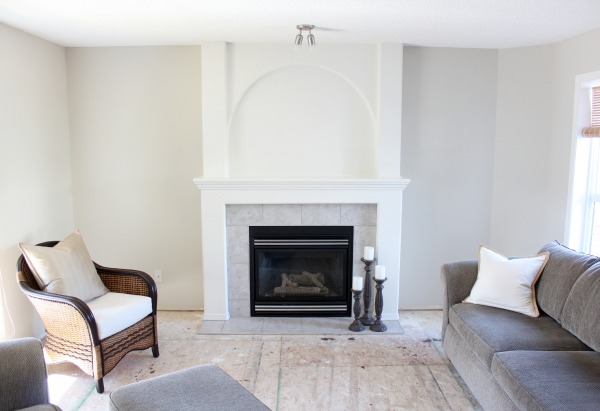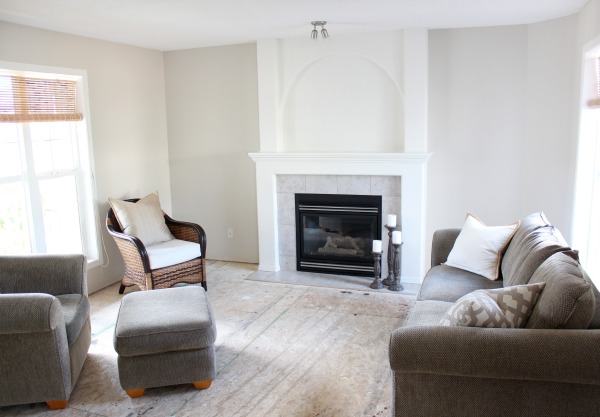 Although we still have a few tasks ahead to complete our living room, I'm thrilled with how this paint refresh turned out. New flooring, along with some accessories and artwork, and the room will be the welcoming space we envisioned.
Like this living room paint project? PIN IT for later!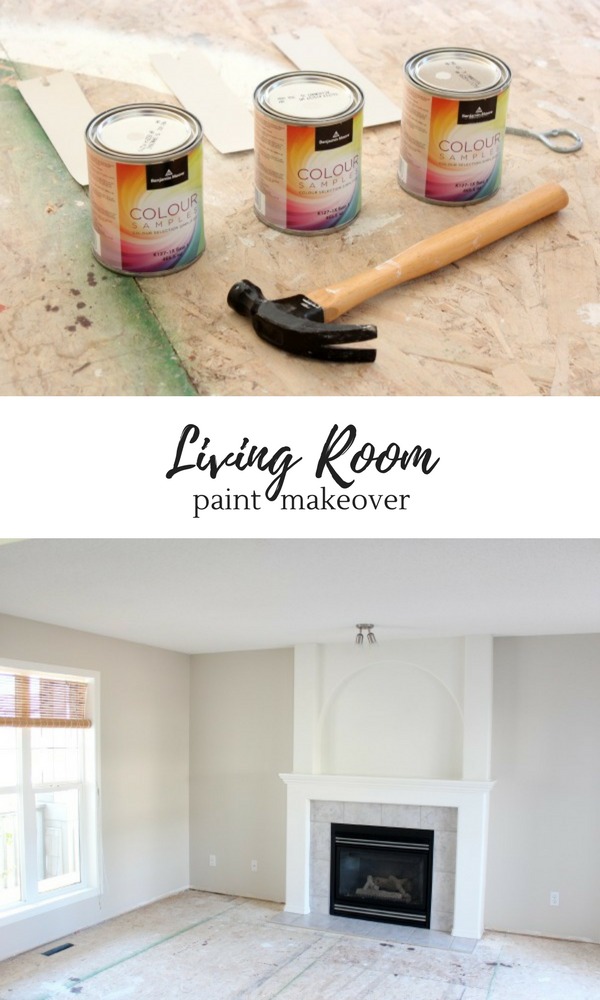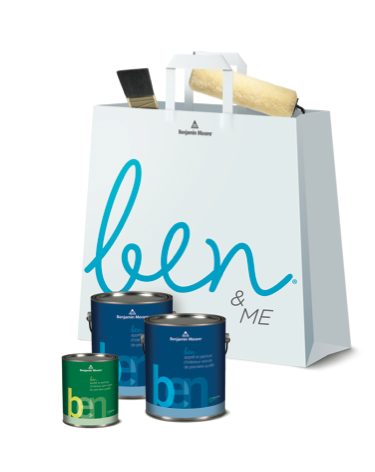 In the coming weeks, I'll be sharing more living room updates. In the meantime, I'd love to know what paint projects you have on the go. Struggling with your colour choice? Do you take the steps I did to find the right one?
Update: See our Fully Painted Living Room
Disclosure: Although this living room paint post has been generously sponsored by Benjamin Moore, the opinions and language are all my own, and in no way do they reflect Benjamin Moore.
Want more paint colour suggestions like these sent directly to your inbox? Be sure to SUBSCRIBE.
Enjoy your day!