I Heart Kate Spade + Things We Love Giveaway
Kate Spade New York is one of my favourite designers, and I want to share her vibrant inspiration with you!
While in California last week (and whenever else I can), I visited one of my favourite designer shops, Kate Spade New York. Kate's style can be described as bold, colourful, and geometric, being predominantly known for her her signature green and love of polka dots. Kate's career may have kicked off with handbags, but she's branched out into jewelry, clothing, stationery, home decor and more. Oh yes!
Last time I was in California, I picked up a gorgeous blue-green wallet and I've been wanting a fun new handbag ever since. It's so hard to make a choice, especially since I know I won't be back for a while (we don't have a store in western Canada and shipping/duty costs from the US can be exorbitant). Eventually, after much pondering, I decided on a green leather shoulder bag (similar to this one below). And even better yet, I got it on sale!
Aside from the quality, one of the characteristics I love best about Kate's wallet and handbag designs is the use of bold, fun fabrics for the linings. It's that attention to detail that makes each and every one so adorable and chic.
I also adore Kate's quotes that adorn the storage bags and care cards.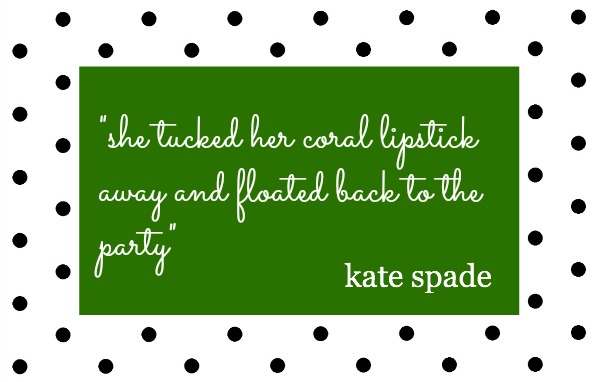 Being a designer, colour happens to be a big part of my life, and I can't help but smile when I read this. Kate's quotes are so darling! (You can find a few more on my Words to Live By Pinterest board if you so wish.)
If I didn't have a son going to college this fall (budgets can be a real damper!), I would've also picked up one of her watches or bracelets, or perhaps, a set of earrings.
Now on to the GIVEAWAY!
Kate Spade New York released a new book this year titled Things We Love. It celebrates 20 years of design and is chock full of vibrant inspiration. I picked up a copy and I also want to give this incredible book away to one of my readers!
To enter:
Note: This giveaway has ended. Wait for the rafflecopter box to load below (if it takes too long, try another browser) and log in using the facebook tab or your email (spam safe). Follow the instructions. Good luck!